Nashville Songwriters Spotlight
The top country musicians in conversation
Four Songwriters in Session
First published in Country Music International, November 1994
Nashville has been like a magnet for aspiring songwriters ever since the first recording studios started springing up in the mid-1950s. Over the years it has become a Mecca for song publishers and is now country music's own Tin Pan Alley.
Many struggling songwriters are paid a weekly salary while working a nine-to-five office job in publishing houses on Music Row. Some of these writers came to Nashville to launch careers as country singers, but soon found a more stable and lucrative career writing hits for the more flamboyant and outgoing major stars.
Songwriters started hanging out together in the early 1970s and soon there was a community of writers who would review each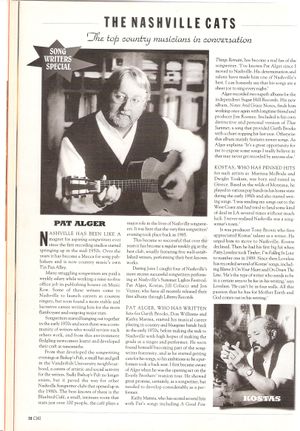 other's work, and from this environment fledgling newcomers learnt and developed their craft as tunesmiths.
From that developed the songwriting evenings at Bishop's Pub, a small bar and grill in Vanderbilt University neighbourhood, a centre of artistic and social activity for the writers. Sadly, Bishop's Pub no longer exists, but it paved the way for other Nashville Songwriter clubs that opened up in the 1980s. The best-known of these is the Bluebird Café, a small, intimate room that seats just over 100 people, the café plays a major role in the lives of Nashville songwriters. It was here that the very first songwriters' evening took place back in 1985.
This became so successful that over the years it has become a regular weekly gig at the best club, usually featuring five well-established writers, performing their best-known works.
During June I caught four of Nashville's more recent successful songwriters performing at Nashville's Summer Lights Festival: Pat Alger, Kostas, Jill Colucci and Jon Vezner, who have all recently released their first albums through Liberty Records.
Pat Alger
Pat Alger, who has written hits for Garth Brooks, Don Williams and Kathy Mattea, started his musical career playing in country and bluegrass bands back in the early 1970s, before making the trek to Nashville with high hopes of making the grade as a singer and performer. He soon found himself becoming part of the songwriter fraternity, and as he started getting cuts for his songs, so his ambitions to be a performer took a back seat. I first became aware of Alger when he was the opening act on the Everly Brothers' reunion tour. He showed great promise, certainly, as a songwriter, but needed to develop considerably as a performer.
Kathy Mattea, who has scored several hits with pat's songs including A Good Few Things Remain, has become a real fan of the songwriter. 'I've known Pat Alger since I moved to Nashville. His determination and talent have made him one of Nashville's best. I can honestly say that his songs are sheer joy to sing every night.'
Alger recorded two superb albums for the independent Sugar Hill Records. His new album, Notes And Grace Notes, finds him working once again with long-time friend and producer Jim Rooney. Included is his own distinctive and personal version of That Summer, a song that provided Garth Brooks with a chart-topping hit last year. Otherwise his album mainly features newer songs. As Alger explains: 'It's a great opportunity for me to expose some songs I really believe in that may never get recorded by anyone else.'
Kostas
Jostas, who has penned hits for such artists as Martina McBride and Dwight Yoakam, was born and raised in Greece. Based in the wilds of Montana, he played in various pop bands in his home state during the early 1980s and also started writing songs. 'I was sending my songs out to the West Coast and had tried to land some kind of deal in LA several times without much luck. I never realised Nashville was a songwriter's town.'
It was producer Tony Brown who first appreciated Jostas' talent as a writer. He urged him to move to Nashville. Kostas declined. Then he had his first big hit when Patty Loveless took Timber, I'm Falling In Love to number one in 1989. Since then Loveless has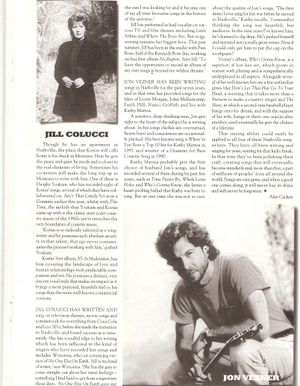 recorded several of Kostas' songs, including Don't Blame It On Your Heart and On Down The Line. 'He's the type of writer who needs to be in a certain area to be free in his writing,' says Loveless. 'He can't be in four walls. All this passion that he has for Mother Earth and God comes out in his writing.'
Though he has an apartment in Nashville, the place that Kostas still calls home is his shack in Montana. Here he gets the peace and quiet he needs and is close to the real elements of living. Sometimes his co-writers will make the long trip up to Montana to write with him. One of these is Dwight Yoakam, who has recorded eight of Kostas' songs, several of which they have collaborated on. Ain't That Lonely Yet won a Grammy earlier this year, whilst with This Time, the melody that Yoakam and Kostas came up with is the classic west coast country music of the 1960s yet it stretches the very boundaries of country music.
'Kostas I so radically talented as a songwriter and he possesses such absolute security in that talent, that ego never contaminates the process of working with him,' gushed Yoakam.
Kostas' first album, Xs In Moderation, has him covering the landscape of love and human relationships with predictable compassion and wit. He possesses a distinct, very sincere vocal style that makes an impact as it brings a more personal, heartfelt feel to his songs than the more well-known commercial versions.
Jill Colucci
Jill Colucci has written and sung on television themes, movie songs and commercials for everything from Coca Cola and Levi 501s, before she made the transition to Nashville and found success as a tunesmith. She has a soulful edge to her writing which has been reflected in the kind of singers who have recorded her songs and includes Wynonna, who cut a stunning version of No One Else On Earth. 'Jill is my kind of writer,' says Wynonna. 'She has the guts to come straight out about her inner feelings- something I find hard to get from songwriters these days. No One Else On Earth gave me the sass I was looking for and it became one of my all-time favourite songs in the history of the universe.'
Jill has performed as lead vocalist on a various TV and film themes including Little Nikita and Where The Boys Are. But songwriting remains her biggest love. This past summer, Jull has been in the studio with Pam Rose, half of the Kennedy Rose duo, working on her first album No Regrets. Says Jill: 'To have the opportunity to record an album of my own songs is beyond my wildest dreams.'
Jon Vezner
Jon Vezner has been writing songs in Nashville for the past seven years, and in that time has provided songs for the likes of Lorrie Morgan, John Mellencamp, Faith Hill, Nanci Griffith and his wife Kathy Mattea.
A sensitive, deep-thinking man, Jon gets right to the heart of the subject he is writing about. In his songs cliches are overturned, hearts burst and consciences are occasionally pricked. His best-known song is Where've You Been a Top 10 hit for Kathy Mattea in 1991 and winner of a Grammy for Best Country Song in 1990.
Kathy Mattea probably gets the first choice of husband Jon's songs, and has recorded several of them during the past few years, such as Time Passes By, Whole Lotta Holes and Who's Gonna Know, the latter a heart-probing ballad that Kathy was born to sing. But at one time she was not so sure about the quality of Jon's songs. 'The first demo I ever sang for Jon was before he moved to Nashville,' Kathy recalls. 'I remember thinking the song was heartfelt, but mediocre. In the nine years I've known him, he's learned to dig deep. He's pushed himself and matured into a really great writer. Now if I could only get him to put the cap on the toothpaste!'
Venzer's album, Who's Gonna Know, is a superior, if low-key set, which grows in stature with playing and is sympathetically underplayed in all aspects. Alongside several of his well-known hits are a few unfamiliar gems like Don't Let That Hat Go To Your Head, a warning that it takes more than a Stetson to make a country singer and The Show, in which a second-rate baseball player hangs on his dream, and with the support of his wife, hangs in there one season after another, until eventually he gets the chance of a lifetime.
That staying ability could easily be applied to all four of songwriters. They have akk been writing and singing for years, waiting for that lucky break. In that time they've been polishing their craft creating songs that will eventually become standards and, more than that, a part of millions of people's lives all around the world. Songs are rare gems, and when a good one comes along, it will never lose its shine and will never be forgotten.