Monty Holmes - The Nashville Cats
First Published in Country Music International – August 1998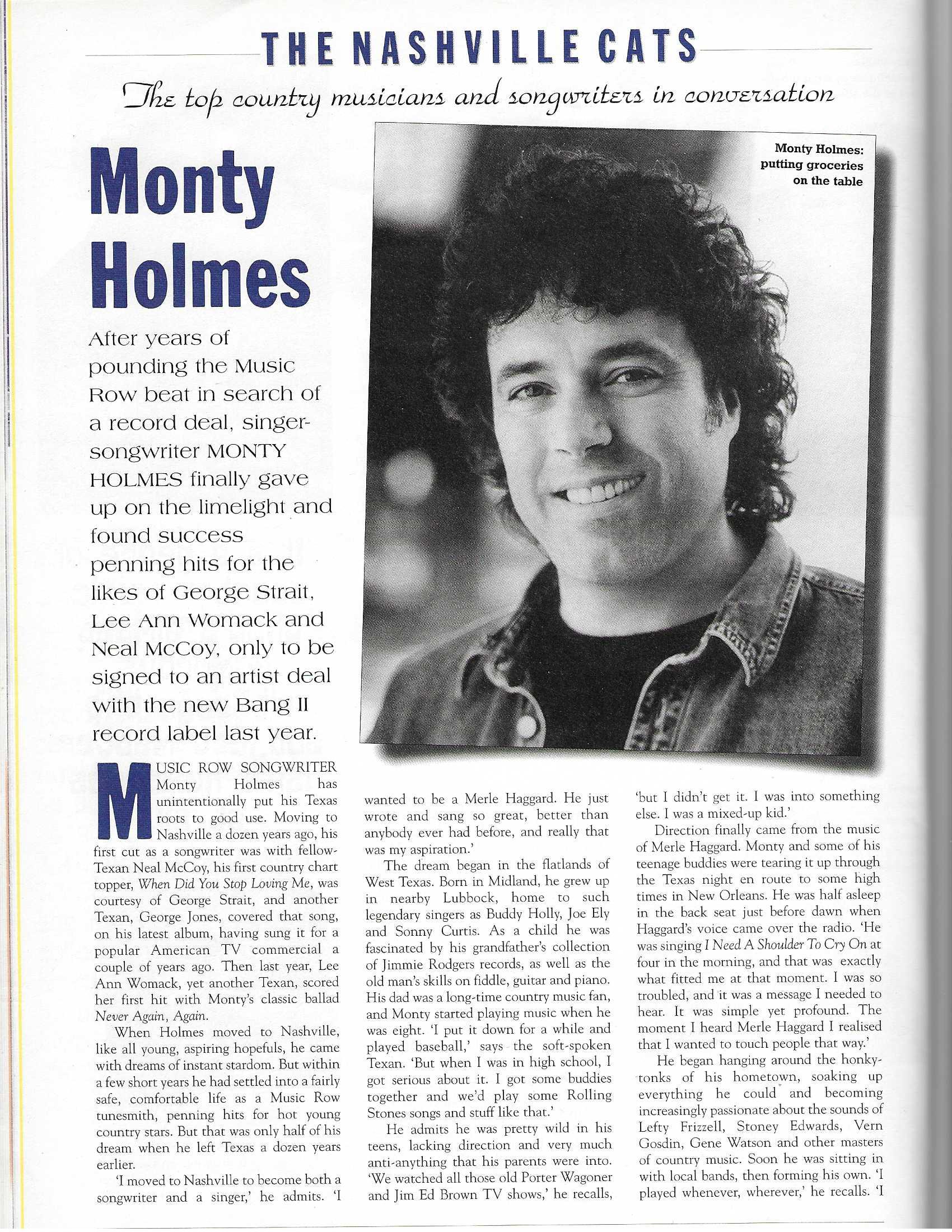 After years of pounding the Music Row beat in search of a record deal, singer-songwriter Monty Holmes finally gave up on the limelight and found success penning hits for the likes of George Strait, Lee Ann Womack and Neal McCoy, only to be signed to an artist deal with the new Bang II record label last year.
Music row songwriter Monty Holmes has unintentionally put his Texas roots to good use. Moving to Nashville a dozen years ago, his first cut as a songwriter was with fellow-Texan Neal McCoy, his first country chart topper, When Did You Stop Loving Me, was courtesy of George Strait, and another Texan, George Jones, covered that song, on his latest album, having sung it for a popular American TV commercial a couple of years ago. Then last year, Lee Ann Womack, yet another Texan, scored her first hit with Monty's classic ballad Never Again, Again.
When Holmes moved to Nashville, like all young, aspiring hopefuls, he came with dreams of instant stardom. But within a few short years he had settled into a fairly safe, comfortable life as a Music Row tunesmith, penning hits for hot young country stars. But that was only half of his dream when he left Texas a dozen years earlier.
"I moved to Nashville to become both a songwriter and a singer," he admits. "I wanted to be a Merle Haggard. He just wrote and sang so great, better than anybody ever had before, and really that was my aspiration."
The dream began in the flatlands of West Texas. Born in Midland, he grew up in nearby Lubbock, home to such legendary singers as Buddy Holly, Joe Ely and Sonny Curtis. As a child he was fascinated by his grandfather's collection of Jimmie Rodgers records, as well as the old man's skills on fiddle, guitar and piano. His dad was a long-time country music fan, and Monty started playing music when he was eight. "I put it down for a while and played baseball," says the soft-spoken Texan. "But when I was in high school, I got serious about it. I got some buddies together and we'd play some Rolling Stones songs and stuff like that."
He admits he was pretty wild in his teens, lacking direction and very much anti-anything that his parents were into. "We watched all those old Porter Wagoner and Jim Ed Brown TV shows," he recalls, "but I didn't get it. I was into something else. I was a mixed-up kid."
Direction finally came from the music of Merle Haggard. Monty and some of his teenage buddies were tearing it up through the Texas night en route to some high times in New Orleans. He was half asleep in the back seat just before dawn when Haggard's voice came over the radio. "He was singing I Need A Shoulder To Cry On at four in the morning, and that was exactly what fitted me at that moment. I was so troubled, and it was a message I needed to hear. It was simple yet profound. The moment I heard Merle Haggard I realised that I wanted to touch people that way."
He began hanging around the honky-tonks of his hometown, soaking up everything he could and becoming increasingly passionate about the sounds of Lefty Frizzell, Stoney Edwards, Vern Gosdin, Gene Watson and other masters of country music. Soon he was sitting in with local bands, then forming his own. "I played whenever, wherever." he recalls. "I think the first place I ever played was called the Feed Lot. I just wanted to get out and play. I'd go into clubs and ask the musicians if I could sing"'
Eventually he moved to Austin and assembled a band that played the club circuit throughout Texas, New Mexico and Colorado during the 1980s. he recorded his first single, In The Arms Of A Beautiful Woman, for Christy Records, and scored a regional hit. "I made a couple of little things," he recalls. "They played 'em locally there. Didn't make a big national splash or anything, but it got me to thinking."
Soon after he decided to try his luck in Nashville. "I thought my songs were good," he says. "I really started dabbling in writing when I was in high school, but I came to Nashville to become better. I had $47 in my pocket and the will to learn. I soon found out that nobody will listen to unsolicited material. No one would let me in the door."
He worked by day as a respiratory therapist at Baptist Hospital, where he met his wife. With her support he continued working on his songwriting in his spare time, pounding the Music Row pavements on his days off. Eventually one of those closed doors opened when songwriter Don Sampson listened to some of Monty's songs. "I'd gone around a bunch of publishing companies and nobody was accepting outside material. New Clarion Music, the company Don was working for, was the only one that would. I signed up with them and gradually eased out of the respiratory therapy."
Soon he was writing and singing demos at Combine Music and then moved on to Opryland Music (formerly known as Acuff-Rose). Along the way he recorded small-label singles that he hoped would lead to a major label contract and stardom. One of those was with Ashley records, for whom he cut A Way To Survive. "Hank Cochran produced it," he says proudly. "A friend I met when I was working in the hospital put up the money for it. We cut that out at Hank's house."
Co-writing with established writers such as Sampson, Donny Kees, Kim Williams, Kent Blazy and Michael Huffman, Holmes' performing and recording took a back seat to his writing success. George Strait included All Of Me (Loves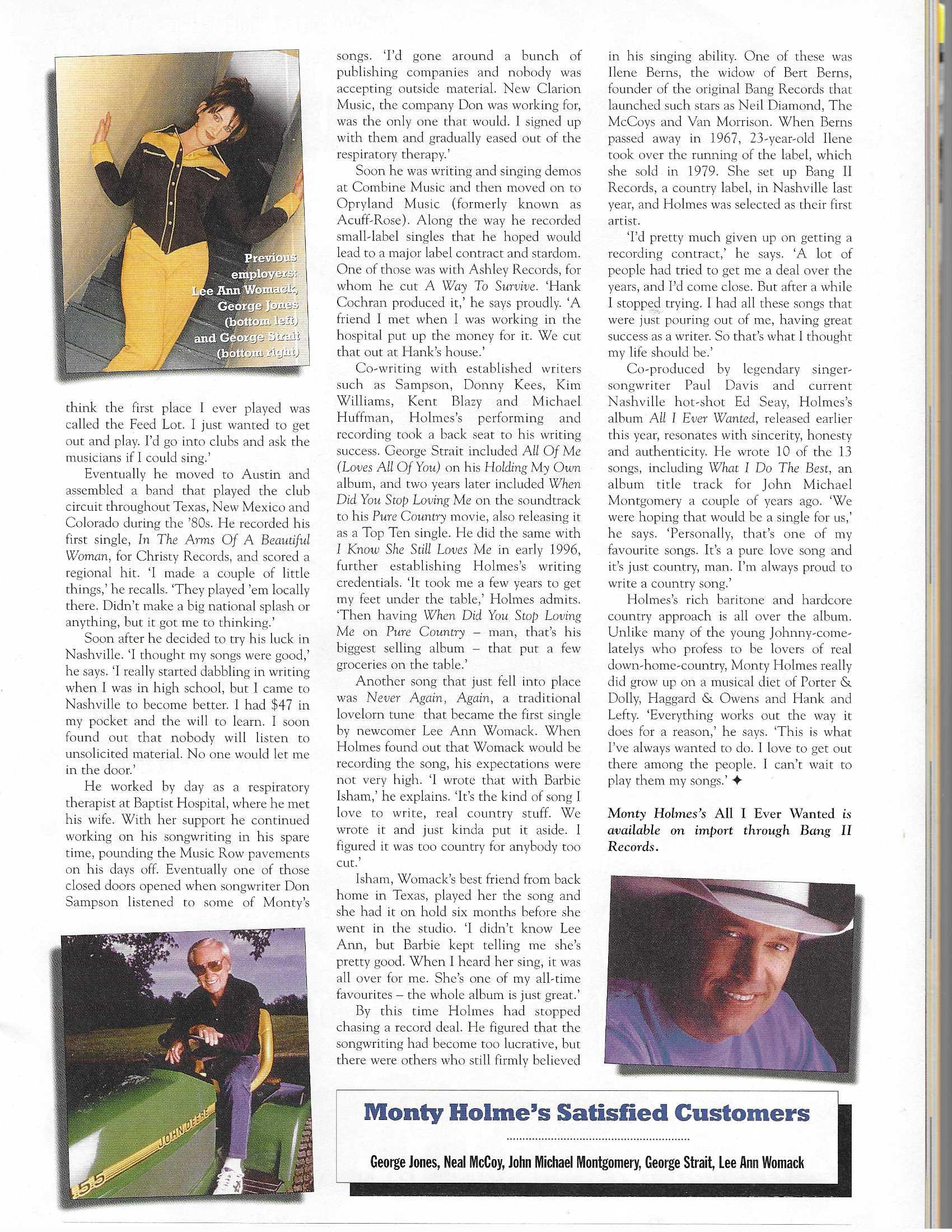 All Of You) on his HOLDING MY OWN album, and two years later included When Did You Stop Loving Me on the soundtrack to his Pure Country movie, also releasing it as a Top Ten single. He did the same with I Know She Still Loves Me in early 1996, further establishing Holmes' writing credentials. "It took me a few years to get my feet under the table," Holmes admits. "Then having When Did You Stop Loving Me on PURE COUNTRY—man, that's his biggest selling album—that put a few groceries on the table."
Another song that just fell into place was Never Again, Again, a traditional lovelorn tune that became the first single by newcomer Lee Ann Womack. When Holmes found out that Womack would be recording the song, his expectations were not very high. "I wrote that with Barbie Isham," he explains. "It's the kind of song I love to write, real country stuff. We wrote it and just kinda put it aside. I figured it was too country for anybody to cut."
Isham, Womack's best friend from back home in Texas, played her the song and she had it on hold six months before she went in the studio. "I didn't know Lee Ann, but Barbie kept telling me she's pretty good. When I heard her sing, it was all over for me. She's one of my all-time favourites—the whole album is just great."
By this time Holmes had stopped chasing a record deal. He figured that the songwriting had become too lucrative, but there were others who still firmly believed in his singing ability. One of these was Ilene Berns, the widow of Bert Berns, founder of the original Bang Records that launched such stars as Neil Diamond, The McCoys and Van Morrison. When Berns passed away in 1967, 23-year-old Ilene took over the running of the label, which she sold in 1979. She set up Bang II Records, a country label, in Nashville last year, and Holmes was selected as their first artist.
"I'd pretty much given up on getting a record contract," he says. "A lot of people had tried to get me a deal over the years, and I'd come close. But after a while I stopped trying. I had all these songs that were just pouring out of me, having great success as a writer. So that's what I thought my life should be."
Co-produced by legendary singer-songwriter Paul Davis and current Nashville hot-shot Ed Seay, Holmes' album ALL I EVER WANTED, released earlier this year, resonates with sincerity, honesty and authenticity. He wrote ten of the 13 songs, including What I Do The Best, an album title track for John Michael Montgomery a couple of years ago. "We were hoping that would be a single for us," he says. "Personally, that's one of my favourite songs. It's a pure love song and it's just country, man. I'm always proud to write a country song."
Holmes' rich baritone and hardcore country approach is all over the album. Unlike many of the young Johnny-come-latelys who profess to be lovers of real down-home-country, Monty Holmes really did grow up on a musical diet of Porter & Dolly, Haggard & Owens and Hank and Lefty. "Everything works out the way it does for a reason," he says. "This is what I've always wanted to do. I love to get out there among the people. I can't wait to play them my songs."