Mindy McCready - Under The Spotlight
First Published in Country Music International, August 1996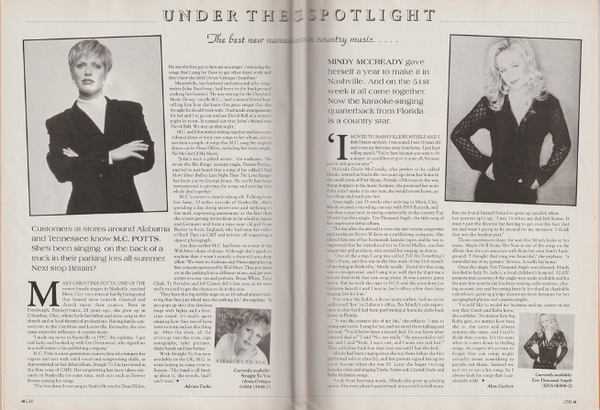 MINDY MCCREADY gave herself a year to make it in Nashville. And on the 51st week it all came together. Now the karaoke-singing quarterback from Florida is a country star.
"I moved to Nashville by myself and I didn't know anybody. I was scared. I was 18 years old and it was my first time away from home. I just kept telling myself, 'You're here because you want to be a singer, so you'd better give it your all, because you've only got one year.'"
Malinda Gayle McCready, who prefers to be called Mindy, arrived in Nashville two years ago from her home in the small town of Fort Myers, Florida. Oblivious to the way things happen in the music business, she promised her mom if she didn't make it in one year, she would return home, go to college and study pre-law.
Amazingly, just 51 weeks after arriving in Music City, Mindy secured a recording contract with BNA Records, and less than a year later, is sitting comfortably in the country Top 10 with her first single, Ten Thousand Angels, the title song of her impressive debut album.
The day after she arrived in town she met veteran songwriter and producer Norro Wilson at a publishing company. She played him one of her homemade karaoke tapes, and he was so impressed that he introduced her to David Malloy, another songwriter and producer, who started her singing on demos.
"One of the songs I sang was called Tell Me Something I Don't Know, and this was in the first week of the 11th month of me being in Nashville," Mindy recalls. "David felt that song was so exceptional, and I sang it so well that he'd get me a record deal with that one song alone. It was a pretty gutsy move. But he took the tape to RCA and the president Joe Galante heard it and I was in Joe's office a few days later singing live for him."
Not since the Judds, a dozen years earlier, had an artist auditioned 'live' in Galante's office. But Mindy's sole experience in this field had been performing at karaoke clubs back home in Florida.
"It was the scariest day of my life," she reflects. "I was so young and naive. I sang for Joe, and we stood there talking and Joe said, 'You'd better have a record deal. Do you know what a record deal is?' I said: 'No, not really.' He proceeded to tell me, and I said: 'Yeah, I want one, and I want one real bad.' They called me back four days later and said I had the deal."
Mindy had been singing since she was three (when she first performed solo at church), and her parents signed her up for vocal lessons when she was 10. Later she began visiting karaoke clubs and singing Trisha Yearwood, Crystal Gayle and Reba McEntire songs.
Aside from learning music, Mindy also grew up playing sports. She even played quarterback in a co-ed football team. But she found herself forced to grow up quickly when her parents split up. "I was 11 when my dad left home. It wasn't just the divorce but having to get over the fact that my dad wasn't going to be around for me anymore. I think that was the hardest part."
Those experiences shape the way that Mindy looks at her music. Maybe He'll Notice Her Now is one of the songs on the album that she can associate with from her own family background. "I thought that song was beautiful," she explains. "It reminded me of my parents' divorce. It really hit home."
Once the single Ten Thousand Angels was released, Mindy decided to help St. Jude's, a local children's hospital. 10,000 promotional cassettes of the single were made available and for the past few months she has been touring radio stations, playing acoustic sets and becoming heavily involved in charitable radiothons, gaining pledge donations from listeners for her autographed photos and cassette singles.
"I would like to model my business and my career in the way that Garth and Reba have"' she confides. "No matter how big Reba gets, no matter how busy she is, she cares and always remains the same, and I really think that counts. It's the same when it comes down to finding songs. As singers it's so easy to forget that our songs might actually mean something to people out there. Instead we just try to cut a hit song. So I always look for songs that I can identify with."