Mila Mason - Under The Spotlight
First Published in Country Music International, February 1997
She was once described as Tennessee's Most Unforgettable Woman, but after singing jingles, modelling clothes and acting in other people's videos, Mila Mason is ready for a music career of her own.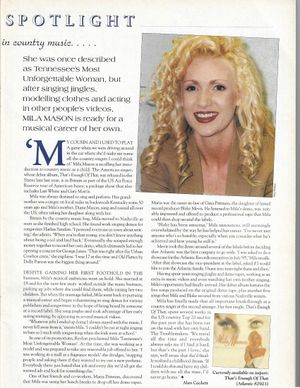 "My cousin and I used to play a game when we were driving around in the car where she'd make me name all the country singers I could think of." Mila Mason is recalling her introduction to country music as a child. The American singer, whose debut album, THAT'S ENOUGH OF THAT, was released in the States last year, is in Britain as part of the US Air Force Reserve tour of American bases; a package show that also includes Lari White and Gary Morris.
Mila was always destined to sing and perform. He grandmother was a singer on local radio in backwoods Kentucky some 50 years ago and Mila's mother, Diane Mason, sang and toured all over the US, often taking her daughter along with her.
Bitten by the country music bug, Mila moved to Nashville as soon as she finished high school. She found work singing demos for songwriter Harlan Sanders. "I pestered everyone in town about writing," she admits. "When you're that young, you don't know anything about being cool and laid back." Eventually she scraped enough money together to record her own demo, which ultimately led to her opening a concert for George Jones. "That was right after the Urban Cowboy craze," she explains. "I was 17 at the time and Old Flames by Dolly Parton was the biggest thing around."
Despite gaining her first foothold in the business, Mila's musical ambitions went on hold. She married at 19 and for the next few years worked outside the music business, picking up jobs where she could find them, while raising her two children. But when the marriage failed, Mila went back to pursuing a musical career and began volunteering to sing demos for various publishers and songwriters in hope of being heard by someone at a record label. She sang jingles and took advantage of her early acting training, by appearing in several music videos.
"Whatever jobs I ended up doing I always stayed with music, I never fell away from it," insists Mila. "I couldn't be out at night singing in bars so I stuck with songwriting when the kids were at school."
In one of its promotions, Revlon proclaimed Mila 'Tennessee's Most Unforgettable Woman'. At the time, she was working as a model and prepared to take any reasonable job offered to her. "I was working in a mall as a fragrance model," she divulges, "stopping people and asking them if they wanted to try out a new perfume. Everybody there just hated that job and every day we'd all get the wanted ads and look for something else."
One of her friends and co-workers, Maria Pittman, discovered that Mila was using her lunch breaks to drop off her demo tapes. Maria was the sister-in-law of Gina Pitman, the daughter of famed record producer Blake Mevis. He listened to Mila's demo, was suitably impressed and offered to produce a professional tape that Mila could then shop around the labels.
"Blake has been amazing," Mila announces, still seemingly overwhelmed by the way he has helped her with her career. "I've never met anyone who's so humble, especially when you consider what he's achieved and how young he still is."
Mevis took the demo around several of the labels before deciding that Atlantic was the best company to go with. "I was asked to do a showcase for the Atlantic Records executives in July 1995," Mila recalls. "After that showcase the vice-president at the label, asked if I would join the Atlantic family. I burst into tears right there and then."
Having spent years singing jingles and demo tapes, working as an extra in music videos and even watching her own mother singing, Mila's opportunity had finally arrived. Her debut album features the five songs produced on the original demo tape, plus another five songs that Mila and Blake secured from various Nashville writers.
Mila has finally made that all important breakthrough as a country singer at the second attempt. Her first single, That's Enough Of That, spent several weeks in the US country Top 20 and for the past year she has been out on the road with her own band, The Troublemakers. "We travel all the time and everybody always asks me if I find it hard, but that's the part I love," she says, well aware that she'd finally realised a childhood dream. "If I could do this and have my children with me all the time, I'd never go home."