Midland - The Last Resort
Big Machine Records
***1/2
I've been hearing a lot about this trio over the past four years or so and though I've heard the odd track, I've never sat down to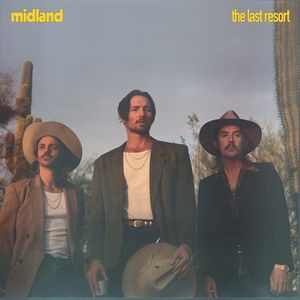 really listen to them. This new 5-track EP is filled with dignified, well-written and performed songs. Comprising lead singer/guitarist Mark Wystrach, bass player Cameron Duddy and lead guitarist Jess Carson, Midland has been credited with bringing traditional-sounding honky-tonk country music back to the mainstream country radio airwaves. They cite their influences as being such almost forgotten legends as Gary Stewart, George Jones, Buck Owens, Waylon Jennings, Merle Haggard, Porter Wagoner and Conway Twitty and the three Hanks—Williams, Snow and Thompson. It almost seems as if they've read a Whos' Who of country music legends, but for those anticipating music on par with the best of those listed singers, disappointment might well be the order of the day. If you enjoy smooth and pure country music, the kind Moe Bandy, Johnny Lee and Mark Wills used to produce, you'll find Midland particularly comely. Mark Wystrach's sweetly soothing vocals, enhanced by sublime three-part harmonies, imbue each of these offerings with an underlying assurance, one that makes each selection a gentle respite from the more materialistic concerns of today's workaday world. Some of the songs have a barroom feel, some as if sung on a front porch on the 4th of July, but what they have in common are thoughts, feelings, and experiences that are common to all. With an astute ensemble supporting their efforts, the trio maintain a devotion to a sound that gives added emphasis to melodies that are, by equal measure, both enduring and endearing.
Each track is delivered with earnest engagement and a determined delivery, a collective effort that's especially well expressed on And Then Some, a tender ballad that takes the point of view of a jilted lover, wholly stunned by his rejection. This features a lush arrangement of softly strummed acoustic guitars, wispy strains of pedal steel and electric guitar meanderings as the lyrics play out how much a former lover is missed. The best songs are, by nature, overtly entwined with sentiment. Several look at big problems through the intimate, personal lens of ill-fated relationships. Writ large, the microaggressions and mini betrayals that people commit against each other spell out a much bigger conflict. The Strait-flavoured Adios Cowboy, is a classic break-up song with the inevitable farewell note and ring left in the kitchen by the lover who's had enough of being left at home alone. Even though this is a song that is inspired by heartbreak, there is a sense of soothing calm that comes across in the mellow music and the swooning vocals.
They enter into barroom territory with Two To Two-Step. Set to a twangy dance-hall soundtrack, the electric guitar driven upbeat jamboree features ensemble vocals creating visions of knots of people two-stepping to the trio's harmony-driven country music. There's honky-tonk on offer with Take Her Off Your Hands as Mark taps into some of his finest crooning with a touch of love and longing coaxing tender tones from Cameron and Jess as he offers to move in on a beauty who is seemingly being ignored by her partner. The warm harmonies and wonderfully tasteful and very simple instrumentation really let their voices and the song shine. Sunrise Tells The Story is lyrically the highlight of the album. A sensual, sexy romantic yarn with flourishes of guitars and keyboards the chiming expressionist colours heighten the drama of the retelling.
Though this set of songs is hardly hard-edged country, the expertly played arrangements are a perfect fit for their lyrics, both settling into and slightly pushing the envelope of today's mainstream country. Consequently, credit these three musicians for developing a formula of vintage stature in such a new, and dare I say, provocative way. Beyond all that, you realise this is a style that will endure in a world where music has seemingly become disposable. 
July 2021