First published in Country Music People, April 1977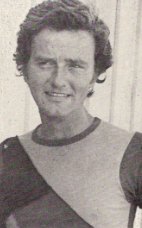 During the past dozen years Mickey Newbury has provided the world of country music with an impressive array of hit parade material. His songs have become standards of both the contemporary scene and the legendary 'Nashville Sound', yet the man's own individualistic interpretations are rarely heard by the average country fan. Songs like
Funny Familiar Forgotten Feelings, She Even Woke Me Up To Say Goodbye, Sweet Memories
and
Good Morning Dear
are known only from the successful versions by Don Gibson, Jerry Lee Lewis and other major stars.
Newbury was born on May 19, 1940 in Houston, Texas, and though he grew up in a sprawling city, his people were from the country and naturally retained their rural heritage. The country/city influence makes Newbury's musical roots hard to define, and although he argues that he's been a country artist for many years, most have believed him to be 'too way out' for Nashville.
His interest in music began early, and by the time he was in his teens he had become a member of a pop group. In the mid-1950s there was a noticeable emphasis on vocal sounds. Many of the top outfits were the black groups from New York who worked hard on intricate harmony and falsetto sounds. The quartet Mickey joined, known as The Embers, followed the same pattern, and Mickey became the tenor singer. After three years the group disbanded and Mickey devoted more time to his high school studies and to his hobby of writing poems.
At the time he had no real thoughts of a musical career—rock'n'roll was now the rage of the country, and the heavy beat and lack of serious lyrics didn't suit the young Newbury. In early 1958 he decided to head to Shreveport, Louisiana, to find a job, and wound up in the Air Force. This lasted for four years and included a three-year stint in Britain, based mainly at Banbury, with many visits to London and especially Swiss Cottage, from which came
Swiss Cottage Place
, the big hit for Roger Miller almost 10 years later.
When he returned home from Britain in 1963 he was demobbed from Military Service and spent almost 18 months working on shrimp boats in Eastern Texas. By now his interest in music had been rekindled. He discovered that the many poems he'd written during his travels, could very simply be turned into songs. Using an old 12-string guitar and simple chord progressions, Mickey soon had several songs ready-made.
Nearing 25 years of age and no definite future in front of him, he decided that perhaps a return to music could be useful, and so in 1965 he packed his bags and moved to Nashville. For almost 18 months he lived in an old Pontiac car. He discovered very quickly that you don't become a success overnight. He would spend hours every day hawking his songs around music publishers and record companies, returning to that old car disillusioned by more brush-offs and half-baked promises.
Eventually he was singed to a writer's contract with Acuff-Rose and after two years in Nashville, his songs were beginning to turn up: firstly as filler tracks on albums and then, one by one, the songs were put out as singles—
Here Comes The Rain Baby
by Eddy Arnold in 1967, Johnny Darrell with
Why You Been Gone So Long
and Don Gibson who hit with
Funny Familiar Forgotten Feelings, Good Morning Dear
and later
Sweet Memories
, a duet with Dottie West.
Soon Newbury's songs were being recorded by a diverse section of singers—artists like Tom Jones, Joan Baez, Andy Williams, Buffy St. Marie, Kenny Rogers & The First Edition and Roy Head all took his songs into the charts around the world.
In late 1967 RCA signed Newbury to a recording contract, but a string of quality singles and one album HARLEQUIN MELODIES, hardly set the world alight. He was even persuaded to perform at a few selected nightspots, but for some reason it just didn't come together.
A little later he cut a masterful album for Mercury under the direction of Jerry Kennedy and Bob Beckham. LOOKS LIKE RAIN was a cleverly devised programme linked together with sound effects of rain and train noises from the Mystic Moods Orchestra. This was the album that really brought the talents of Newbury to the fore. His own personal interpretations of songs like
She Even Woke Me Up To Say Goodbye
and
I Don't Think Much About Her No More
, really cut deep.
But again the public were not ready for Newbury's vocal talents, and there was a two-year gap before he signed with Elektra Records, who allowed him the freedom of the studio he needed. They gave Mickey a big promotional push which resulted in a patriotic pasticcio called
An American
Trilogy
, which starts with
Dixie
, segues into
Battle Hymn Of The Republic
and concludes with
All
My Trials
. It resulted as a smash hit in the American charts.
The album FRISCO MABEL JOY continued from where LOOKS LIKE RAIN left off. A very individualistic album, it had a concept of sadness and memories. The lyrics are sensitive and imaginative, the musicianship beautifully creative. Newbury's voice, rough and raw, is the voice of experience. His compositions tell of life today, its sad sides and its happy ones.
Between 1971-75 Mickey Newbury recorded five superb albums for Elektra, including a 'live' set, which was released as a double with the LOOKS LIKE RAIN Mercury album. The 'live' recording featured just the singer with his songs and guitar. His style and sheer performance are so laid back he has no need of additional musicians: Newbury is a compelling, total performer. This album gives a fair indication of what to expect when he makes his appearance at the Wembley Festival this Easter.
His high voice is cracked, but there's a sad sweetness that lingers on in one's mind. His guitar styling is unusual, intricate and interesting, yet never too busy. The tone of his classical guitar seems warm, remarkably similar to that of his voice. Voice and guitar complementing one another.
Here is a man who is a master in the art of sentimentality. He deals in pain, misery and tragedy with such a dedication that the effect is heart piercing. Songs like
Love Look (At Us Now), Heaven Help
The Child, Cortelia Clark
and
When Do We Stop Starting Over
are amongst his best creations of recent years and destined to become standards.
His recording contract with Elektra is now completed, and towards the end of 1976 he followed Don Gibson to ABC/Hickory Records, so that he is also under the same umbrella for both songwriting and recording. It will bring about change in the fortunes of Mickey Newbury as a recording artist. Hopefully it may allow him to be more readily accepted by the country fan than he currently is.