Michael Johnson - Whatever Happened To......
First Published in Country Music International – January 1998
After early 1960s folk beginnings with The Chad Mitchell Trio and a bash at Broadway acting, Michael Johnson has topped the country charts and performed a beautiful duet with Alison Krauss.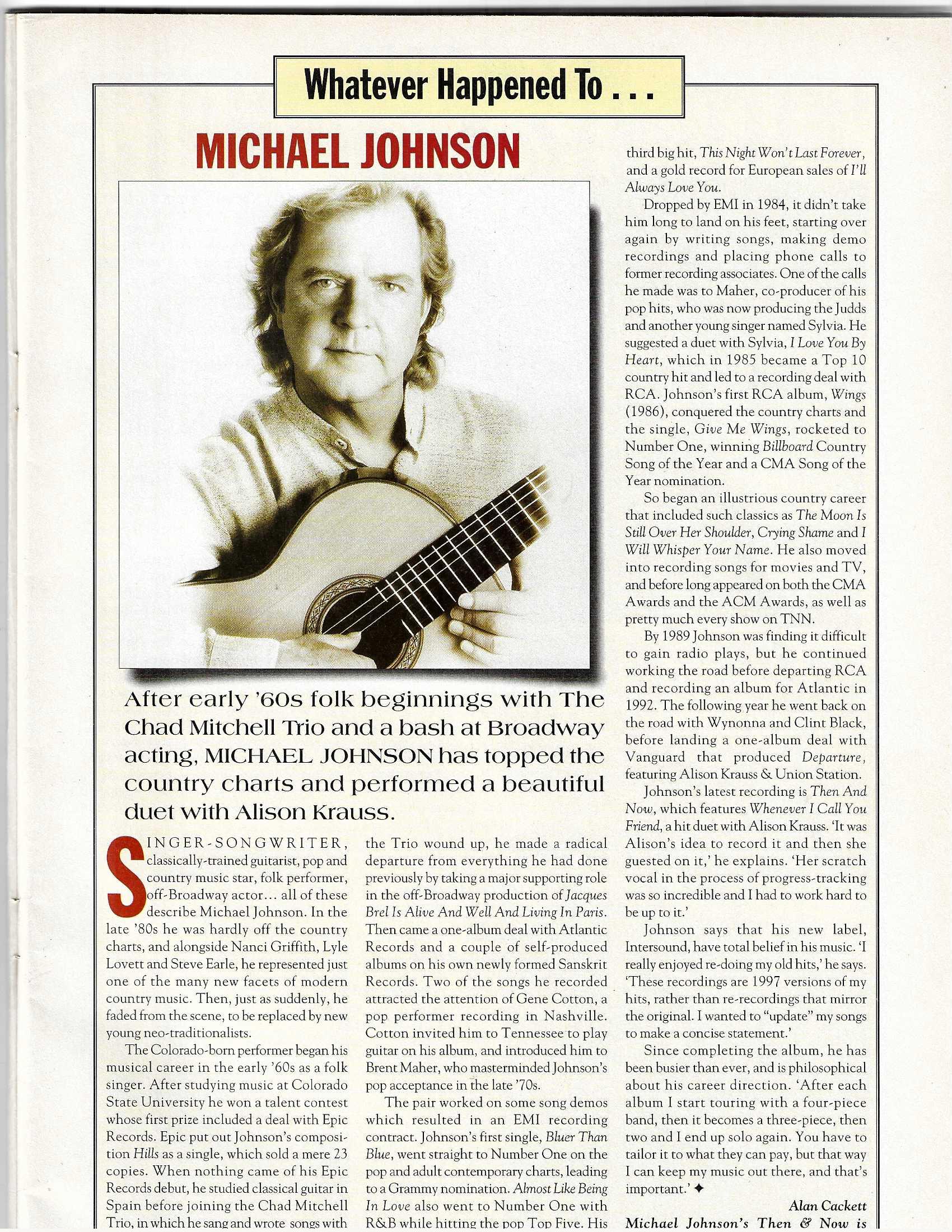 Singer-songwriter, classically trained guitarist, pop and country music star, folk performer, off-Broadway actor ... all of these describe Michael Johnson. In the late 1980s he was hardly off the country charts, and alongside Nanci Griffith, Lyle Lovett and Steve Earle, he represented just one of the many new facets of modern country music. Then, just as suddenly, he faded from the scene, to be replaced by new young neo-traditionalists.
The Colorado-born performer began his musical career in the early 1960s as a folk singer. After studying music at Colorado State University, he won a talent contest whose first prize included a deal with Epic Records. Epic put out Johnson's composition Hills as a single, which sold a mere 23 copies. When nothing came of his Epic Records debut, he studied classical guitar in Spain before joining the Chad Mitchell Trio, in which he sang and wrote songs with fellow Trio member John Denver. When the Trio wound up, he made a radical departure from everything he had done previously by taking a major supporting role in the off-Broadway production of Jacques Brel Is Alive And Well Living In Paris. Then came a one-album deal with Atlantic Records and a couple of self-produced albums on his own newly formed Sanskrit Records. Two of the songs he recorded attracted the attention of Gene Cotton, a pop performer recording in Nashville. Cotton invited him to Tennessee to play guitar on his album, and introduced him to Brent Maher, who masterminded Johnson's pop acceptance in the late 1970s.
The pair worked on some song demos which resulted in an EMI recording contract. Johnson's first single, Bluer Than Blue, went straight to number one on the pop and adult contemporary charts, leading to a Grammy nomination. Almost Like Being In Love also went to number one with r&b while hitting the pop top five. His second EMI album, DIALOGUE, provided his third big hit, The Night Won't Last Forever, and a gold record for European sales of I'll Always Love You.
Dropped by EMI in 1984, it didn't take him long to land on his feet, starting over again by writing songs, making demo recordings and placing phone calls to former recording associates. One of the calls he made was to Maher, co-producer of his pop hits, who was now producing the Judds and another young singer named Sylvia. He suggested a duet with Sylvia, I Love You By Heart, which in 1985 became a top ten country hit and led to a recording deal with RCA. Johnson's first RCA album, WINGS (1986), conquered the country charts and the single, Give Me Wings, rocketed to number one, winning Billboard Country Song of the Year and a CMA Song of the Year nomination.
So began an illustrious country career that included such classics as The Moon Is Still Over Her Shoulder, Crying Shame and I Will Whisper Your Name. He also moved into recording songs for movies and TV, and before long appeared on both the CMA Awards and the ACM Awards, as well as pretty much every show on TNN.
By 1989 Johnson was finding it difficult to gain radio plays, but he continued working the road before departing RCA and recording an album for Atlantic in 1992. The following year he went back on the road with Wynonna and Clint Black, before landing a one-album deal with Vanguard that produced DEPARTURE, featuring Alison Krauss & Union Station.
Johnson's latest recording is THEN AND NOW, which features Whenever I Call You Friend, a hit duet with Alison Krauss. "It was Alison's idea to record it and then she guested on it," he explains. "Her scratch vocal in the process of progress-tracking was so incredible and I had to work hard to be up to it."
Johnson says that his new label, Intersound, have total belief in his music. "I really enjoyed re-doing my old hits," he says. "These recordings are 1997 versions of my hits, rather than re-recordings that mirror the original. I wanted to 'update' my songs to make a concise statement."
Since completing the album, he has been busier than ever, and is philosophical about his career direction. "After each album I start touring with a four-piece band, then it becomes a three-piece, then two and I end up solo again. You have to tailor it to what they can pay, but that way I can keep my music out there, and that's important."