Merle Haggard - Fightin' Man
A Tribute To Merle Haggard by Alan Cackett
Merle Haggard, one of the truly legendary figures of American country music, has been one of its most influential singers since Hank Williams. For years, younger country performers have been mentioning him in glowing terms, not just as an influence, but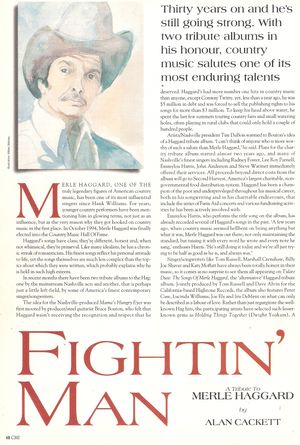 as the very reason why they got hooked on country music in the first place. In October 1994, Merle Haggard was finally elected into the Country Music Hall Of Fame.
Haggard's songs have class; they're different, honest and, when not whimsical, they're primeval. Like many idealists, he has a chronic streak of romanticism. His finest songs reflect his personal attitude to life, yet the songs themselves are much less complex than the topics about which they were written, which probably explains why he is held in such high esteem.
 In recent months ther have been two tribute albums to the Hag: one by the mainstream Nashville acts and another, that is perhaps a little left-field, by some of America's finest contemporary singer/songwriters.
The idea for the Nashville-produced MAMA'S HUNGRY EYES was first mooted by producer/steel guitarist Bruce Bouton, who felt that Haggard wasn't receiving the recognition and respect that he deserved. Haggard's had more number one hits in country music than anyone, except Conway Twitty, yet, less than a year ago, he was $5 million in debt and was forced to sell the publishing rights to his songs for more  than $3 million. To keep his head above water, he spent the last few summers touring country fairs and small watering holes, often playing in rural clubs that could only hold a couple of hundred people. Arista/Nashville president Tim DuBois warmed to Bouton's idea of a Haggard tribute album. "I can't think of anyone who is more worthy of such a salute than Merle Haggard," he said. Plans for the charity album started almost two years ago, and many of Nashville's finest singers including Radney Foster, Lee Roy Parnell, Emmylou Harris, John Anderson and Steve Wariner immediately offered their services. All proceeds beyond direct costs from the album will go to Second Harvest, America's largest charitable, non-governmental food distribution system. Haggard has been a champion of the poor and under-privileged throughout his musical career, both in his songwriting and in his charitable endeavours, that include the series of Farm Aid concerts and various fundraising activities he has been actively involved with.
Emmylou Harris, who performs the title song of the album, has already recorded several of Haggard's songs in the past. "A few years ago, when country music seemed hellbent on being anything but what it was, Merle Haggard was out there, not only maintaining the standard, but raising it with every word he wrote and every note he sang," enthuses Harris. "He's still doing it today and we're all just trying to be half as good as he is, and always was."
Singer-songwriters like Tom Russell, Marshall Crenshaw, Billy Joe Shaver and Katy Moffatt have always been totally honest in their music, so it comes as no surprise to see them all appearing on TULARE DUST: THE SONGS OF MERLE HAGGARD, the 'alternative' Haggard tribute album. Jointly produced by Tom Russell and Dave Alvin for the Californian-based Hightone Records, the album also features Peter Case, Lucinda Williams, Joe Ely and Iris DeMent on what can only be described as a labour of love. Rather than just regurgitate the well-known Hag hits, the participating artists have selected such lesser-known gems as Holding Things Together (Dwight Yoakam), A Working Man Can't Get Nowhere Today (Peter Case) and My Own Kind Of Hat (Rosie Flores).
"Merle Haggard is like medicine to me," says Iris DeMent. "When I'm down or discouraged, I often put on one of his records and,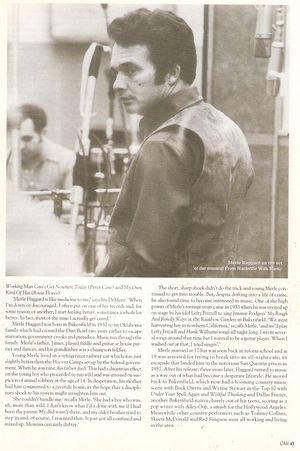 for some reason or another, I start feeling better, sometimes a whole lot better. In fact, most of the time I actually get cured."
Merle Haggard was born in Bakersfield in 1937 to an Oklahoma family which had crossed the Dust Bowl two years earlier to escape starvation, government crooks and prejudice. Music ran through the family. Merle's father, James, played fiddle and guitar at house parties and dances, and his grandfather was a champion fiddler.       
Young Merle lived in a refrigerator railway car which was just slightly better than the Hoover Camps set up by the federal government. When he was nine, his father died. This had a disastrous effect on the young boy who proceeded to run wild and was arrested on suspicion of armed robbery at the age of 14. In desperation, his mother had him committed to a juvenile home, in the hope that a disciplinary shock to his system might straighten him out.
"She couldn't handle me," recalls Merle. "She had a boy who was, ugh, more than wild. I don't know what I'd done with me if I had been the parent. My dad wasn't there, and my older brother tried to step in and, of course, I resented that. It just got all confused and mixed up. Momma certainly did try."
The short, sharp shock didn't do the trick and young Merle continued to get into trouble. But, despite drifting into a life of crime, he also found time to become interested in music. One of the high points of Merle's teenage years came in 1953 when he was invited up on stage by his idol Lefty Frizzell to sing Jimmie Rodgers' My Rough And Rowdy Ways at the Rainbow Garden in Bakersfield. "We were harvesting hay in northern California," recalls Merle, "and we'd play Lefty Frizzell and Hank Williams songs all night long. I wrote several songs around that time but I wanted to be a guitar player. When I washed out at that, I tried singing."
Merle married at 17 but was soon back in reform school and at 19 was arrested for trying to break into an all-night café; an escapade that landed him in the notorious San Quentin prison in 1957. After his release, three years later, Haggard turned to music as a way out of what had become a desperate lifestyle. He moved back to Bakersfield, which now had a booming country music scene with Buck Owens and Wynn Stewart in the Top 10 with Under Your Spell Again and Wishful Thinking and Dallas Frazier, another Bakersfield native, barely out of his teens, scoring as a pop writer with Alley-Oop, a smash for the Hollywood Argyles. Meanwhile other country performers such as Tommy Collins, Skeets McDonald and Red Simpson were all working and living in the area.
Merle took to playing guitar in various bands appearing regularly at such Bakersfield clubs as the High Pockets, Tex's Barrelhouse and the Blackboard. The latter, known locally as Beer Can Hill, proved to be a school of hard knocks, but a good grounding for Haggard to develop both his writing and vocal skills.
Haggard cut his first recordings in 1962. Produced by cousins Charlie 'Fuzzy' Owens and Lewis Talley and released on the small Tally label, he made his chart debut with his second release, Sing Me A Sad Song, at the end of 1962. Three more hits for Tally,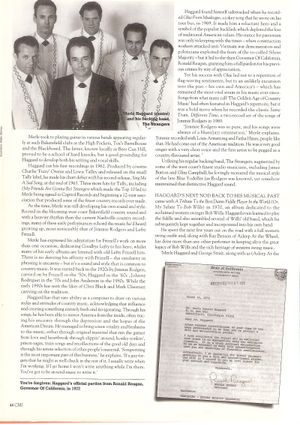 including (My Friends Are Gonna Be) Strangers which made the Top 10, led to Merle being signed to Capitol Records and beginning a 12 year association that produced some of the finest country records ever made.
At the time, Merle was still developing his own sound and style. Rooted in the blooming west coast Bakersfield country sound and with a heavier rhythm than the current Nashville country recordings, many of these early performances echoed the music he'd heard growing up, most noticeably that of Jimmie Rodgers and Lefty Frizzell.
Merle has expressed his admiration for Frizzell's work on more than one occasion, dedicating Goodbye Lefty to his hero, whilst many of his early albums are littered with old Left Frizzell hits. There is no denying his affinity with Frizzell—the similarity in phrasing is uncanny—but it's a sound and style that is common to country music. It was started back in the 1920s by Jimmie Rodgers, carried on by Frizzell in the 1950s, Haggard in the 1960s, Johnny Rodriquez in the 1970s and John Anderson in the 1980s. While the early 1990s has seen the likes of Clint Black and Mark Chesnutt carrying on the tradition.
Haggard has that rare ability as a composer to draw on various styles and attitudes of country music, acknowledging that influence and creating something entirely fresh and invigorating. Through his songs, he has been able to mirror America from the inside, often tracing his ancestry through the depression and the hopes of the America Dream. He managed to bring a new vitality and freshness to music, either through original material that ran the gamut from love and heartbreak through slippin' around, honky-tonkin', prison sagas, trains songs and recollections of the good old days and through his astute selection of other people's material. "Songwriting is the most important part of this business," he explains. "If a guy forgets that he might as well chuck in the rest of it. I usually write when I'm working. If I go home I won't write anything while I'm there. You've got to be around music to write it."
Haggard found himself side-tracked when he record Okie From Muskogee, a jokey song that he wrote on his tour bus, in 1969. It made him a reluctant hero and a symbol of the populist backlash which deplored the loss of traditional American values. His stance for patriotism was only in keeping with the time—when construction workers attacked anti-Vietnam war demonstrators and pliticans exploited the fears of the so-called Silent Majority—but it led to the then Governor Of California, Ronald Regan, granting him a full parsdon for his previous crimes by way of appreciation.
Yet his success with Okie led not to a repetition of flag-waving sentiments, but to an unlikely excursion into the past—his own and America's—which has remained the most vital strain of his music ever since. Songs from what many call 'The Golden Age of Country Music' had often featured in Haggard's repertoire, but it was a bold move when he recorded the classic SAME TRAIN, DIFFERENT TIME, a two-record set of the songs of Jimmie Rodgers in 1969.
"Jimmie Rodgers was so pure, and his songs were always of a blues/jazz orientation"' Merle explains. "Jimmie recorded with Louis Armstrong and Fatha Hines, people like that. He had come out of the American tradition. He was a very good singer with a very clear voice and the first artist to be pegged as a country-flavoured artist."
Utilising his regular backing band, The Strangers, augmented by some of the west coast's finest studio musicians, including James Burton and Glen Campbell, he lovingly recreated the musical style of the late Blue Yodeller (as Rodgers was known), yet somehow maintained that distinctive Haggard sound.
Haggard's next nod back to his musical past came with A TRIBUTE TO THE BEST DAMN FIDDLE FLAYER IN THE WORLD (OR MY SALUTE TO BOB WILLS) in 1970, an album dedicated to the acclaimed western swinger Bob Wills. Haggard even learned to play the fiddle and also assembled several of Wills' old band, which he subsequently kept together and incorporated into his own band.
He spent the next few years out on the road with a full western swing outfit and, along with Ray Benson of Asleep At The Wheel, has done more than any other performer in keeping alive the great legacy of Bob Wills and the rich heritage of western swing music.
"Merle Haggard and George Strait, along with us (Asleep At The Wheel) are the people who really brought western swing music on record and on the radio," explains Ray Benson. "I think people all over the country love it and when you love it you're passionate about it. There are elements of western swing in all the modern honky tonk music of today."
Western swing and the blues have always played a major role in the music of Haggard (he even recorded a live album, I LOVE DIXIE BLUES… SO I RECORDED 'LIVE' IN NEW ORLEANS in 1973. But whatever he may sing or record, the country side of the man is always at the fore. More than any other artist, Merle Haggard personifies what country music is all about.
Most, however, would agree that his finest work was produced during his 12 years with Capitol Records. He wrote and recorded some classic songs and many of his albums had a grand theme running through them. LET ME TELL YOU ABOUT A SONG, the CMA's Album Of The Year in 1972, is a concept in which the Hag explains the background behind each song.
And what great songs he chose. One of them, Irma Jackson, had sat in Capitol's vaults for almost three years. An inter-racial love song, Haggard had intended it as the follow-up to Okie From Muskogee, but the record company refused to release it. "They (the record company executives) just weren't ready for a black and white love song at that time," recalls Haggard. "I think it would have been good. But they were still in charge more than I was tat that time, so I went along. but I think it would have let people understand that a song like Okie is just music, not necessarily a person standin' on a soapbox makin' a speech."
Several of his songs, such as A Workin' Man Can't Get Nowhere Today, If We Make It Through December and Workin' Man Blues, are dedicated to the desires and dreams of the working man. Haggard strings together a series of variations on the theme of songs appealing to the common man. He also turns his hand to memories of the past, reliving what he would term as the good old days in The Way It Was In '51, Daddy Frank (The Guitar Man) and The Roots Of My Raising, the latter written by his good friend Tommy Collins, who has been another major influence on the music of Haggard.
In 1977, Merle Haggard joined MCA Records and produced a series of high-quality albums that easily matched the best of his Capitol recordings. He caught many out when he made MY FAREWELL TO ELVIS, an album that offered 10 Elvis-made-famous tunes delivered in a spirit of gratitude for what Elvis Presley contributed to the music world. As Merle explained in the liner notes: 'This is Merle's way of saying thanks to Elvis for all the rules he changed, and for all the doors he opened for everyone.' In no way does Haggard mimic the Elvis style. Rather, his identifiable delivery captures the soul of Elvis' music, creating an enjoyably nostalgic encounter with past Presley hits.
Haggard's finest moment during his five-year tenure with MCA came with SERVING 190 PROOF, a lesser-known album, released in 1979, that captured Haggard in a deeply depressed mood. Honky tonks and love-gone-wrong are the main themes of this record as Hag lays bare his soul in some of the most honest songwriting he has ever put down on record.
He moved on to Epic Records in 1981, and though he never allowed the quality of his recordings to suffer, his songwriting became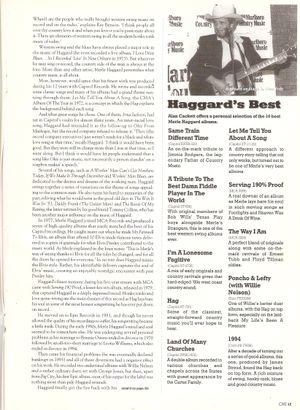 a little weak. During the early 1980s, Merle Haggard's mind and soul seemed to be somewhere else. He was undergoing several personal problems as his marriage to Bonnie Owens ended in divorce in 1978 followed by an all-too-short marriage to Leona Williams, which also ended in divorce in 1984.
Then came his financial problems (he was eventually declared bankrupt in 1993) and all of these diversions had a negative effect on his work. He recorded two underrated albums with Willie Nelson and a rather ordinary duets set with George Jones, but then, apart from BIG CITY, his first Epic album, most of his output for the label was nothing more than pale Haggard retreads.        
Haggard finally got the fire back with his most recent album, 1994, in which all the grand themes that ran through those classic Haggard alums are intact: a little western swing, a touch of honky-tonkin', a slice of the blues, a nod back to Jimmie Rodgers and some meaningful love ballads.
Haggard was, and still is, one of the most compelling ballad writers around, with a propensity for writing songs conversationally in the second person. Some of those songs are both sad and reflective. But the real key to the man's communication and sincerity has always been a liberal supply of other people's work in his repertoire. This way, his own compositions come across all the more powerful and human, where other ego-chasing songwriters lose contact; and in these interpretations there is a conscious affinity with his roots and influences and not the slightest hint of pretentiousness.
"We're never going to have another songwriter like Merle Haggard," reckons Collin Raye. "There's never going to be another Sing Me Back Home or Mama Tried or Mama's Hungry Eyes. We take these songs for granted because we've heard them so many times. We lived that. Those songs need to be heard again."
If anyone can rest on past achievements and sheer talent, it's Merle Haggard. There are three qualities which make him stand out above his peers; firstly, his songwriting has amazing depth of feeling; secondly he is an upfront stage performer with an aura about him that demands respect; finally he is one of the finest song interpreters in country music.
We now have a whole bunch of Haggard-wannnabes and it must make Haggard very proud to have all these youngster trailing at his heels. "Haggard's my man," admits Tracy Byrd. "I get what the band calls Hag Attacks, and I've been getting them for years. I know every Haggard song that's ever been done. It's kind of a prerequisite. The band has to study up on Merle Haggard and know all the songs, 'cos I might jump into anyone of them during a concert. I've jumped out of a set before and done 12 Merle Haggard songs in a row. So that's a Hag Attack. I dunno, somethin' just
comes over me."