First published in Country Music People, June 1975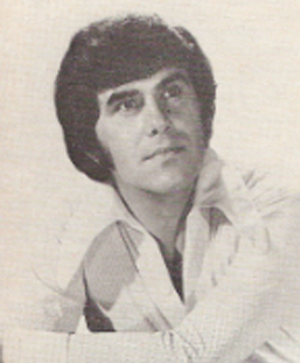 The emergence of young good-looking country singers is a growing trend in Nashville. Though it is true to say that most of them do not have the same kind of roots as, say, the country singers who began their careers twenty years ago, it is a fact that these young men are going to be the backbone of country music in ten or fifteen years time.
Most of them have a smooth, sophisticated vocal style, but still retain a steel guitar and fiddle in their backing units. They are accomplished musicians themselves, write much of their own material and grew up in the rural areas of America that have always spawned the best country singers throughout the years.
One of this new wave of young singers is Mel Street. In his mid-twenties, Street was born and raised in West Virginia. He is extremely good-looking, dresses well and has stylishly long hair. At first glance you'd take him for an aspiring young businessman, at most you might consider him a pop singer, but if you stick with the age-old image of a country star, then Mel Street just does not fit the bill.
Mel was born in the mountainous region of Virginia near the town of Grundy. Like many rural American families used to do, his family sang the old songs together. By the time he was fifteen he was singing on local radio shows around West Virginia. After he was married, Mel with his wife Betty, moved to Niagara Falls, New York, to work as a construction worker.
He took with him his enthusiasm for singing and entertaining. After a few months out East he landed himself a regular job in a nightclub. For almost four years Mel Street was a construction worker by day and an entertainer by night. During that time he built his savings up sufficiently to return to West Virginia and open up his own automobile paint and body work shop.
Five years ago he got own his television show in Bluefield, West Virginia, called Country Showcase. At the time he was playing regularly at a local club with his own group and building up a steady following. The exposure on television led to a recording contract with the small Tandem Records. His first session was held at the RCA studios in Nashville, where he recorded
House of
Pride
for his first single release, and one of his own songs,
Borrowed Angel
, for the coupling.
Nothing much happened with the records, and after a year had gone by, label owner Jim Prater decided that perhaps the self-written
Borrowed Angel
stood a better chance of success. It worked! The record began catching on nationally and the small Tandem label found that they couldn't keep pace with the sales so they sold the master to Royal American Records, who quickly pushed Mel Street into the country charts.
Just to complicate matters, Royal American was purchased by the Metromedia Country label, and they then re-released
Borrowed Angel
yet again on their label. The new label continued to handle Mel Street's recordings, issuing
Loving On A Back Street
as a follow-up to
Borrowed Angel
and also an album titled after the big hit single.
Mel Street's debut album was an appealing mixture of modern country music. During the course of the album he scored with enough of his own original material to suggest that he possesses sufficient potential to take himself further creatively into country music. He turned in good versions of other country tunes, such as Jacky Ward's
Big Blue Diamond
and Waylon Jennings'
Good Hearted
Woman
, on the latter avoiding the trap of trying to match the intensity of the Jennings original. He give it a wistful quality which makes it compelling in an entirely different way.
His third single release,
Walk Softly On The Bridges
was also his third hit and Mel Street was well on the way to an established career in country music. Recording now for the go-ahead GRT Records in Nashville, Mel's second album, TWO-WAY STREET, was released in the summer of 1974 and showed a further improvement and authority about his singing. His clear and clean style worked well on the standard country ballads. It is an album country fans in Britain are likely to miss, but it should be heard, as it clearly is a creation that transcends pedestrian talent. It's an album that puts Mel Street a conspicuous head and shoulders above many of the current crop of country music newcomers.
A few years ago a singer like Mel Street would almost certainly have ended up with a career in pop music. But easy-on-the-ear, unpretentious pop singers are a thing of the past. Those who have survived from the early 1960s have either turned to country music or become part of the ever-growing singer-songwriter's syndrome. Street hasn't got the depth in his involvement in country music as people like Merle Haggard or Johnny Cash, but as a smooth country ballad singer, he has a long and successful career in front of him.