Pickin' in the parlour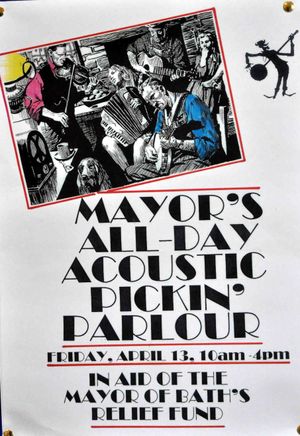 The 'parlour' in question was the Mayor of Bath's in the UNESCO world heritage site's historic Guildhall. On Friday April 13 the hallowed Victorian walls echoed to the sounds of ceilidh, bluegrass, folk and old-time country musicians letting down their hair for a six-hour bonanza of acoustic delights.

The man behind this truly unique and innovative event was the 784th Mayor of Bath, Councillor Bryan Chalker, who just happens to be a veteran of the British country music scene, recording artist of note, highly respected broadcaster and journalist and Artistic Director of the city's Americana Festival, which made its debut in May 2011.

Chalker dislikes the term 'country & western', preferring instead to describe the music of his choice as Appalachian, with folk, blues, ceilidh, western-swing, Cajun and Tex-Mex thrown in for good measure.

The original idea for an official musical get-together in the Mayor's Parlour was mooted by fellow councillor Ian Gilchrist, who plays mandolin and is an avid supporter of a local mummers group and various acoustic music. Ian is also a keen participant in many of Bath's folk-based events. The 'get-together' gradually evolved into 'The Mayor's All-Day Acoustic Pickin' Parlour' and became a novel way of raising money for the Mayor of Bath's Relief Fund.

The event was literally thrown open to all and sundry by way of local musicians and members of the public and it wasn't long before the historic Parlour was rocking to the melodic sounds of mandolins, banjos, guitars, autoharps, concertinas, melodeons, fiddles, harmonicas, jewsharps, bhodran and tabla—and even a French horn! The session ran from 10am until 4pm and at various times there were up to 18 accomplished musicians playing together in the biggest hootenanny the historic Roman/Georgian city has ever seen.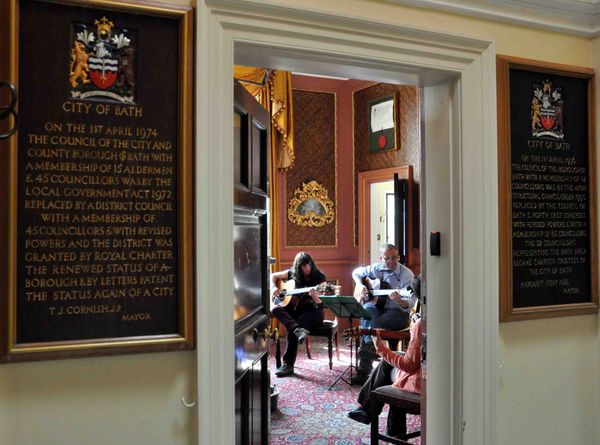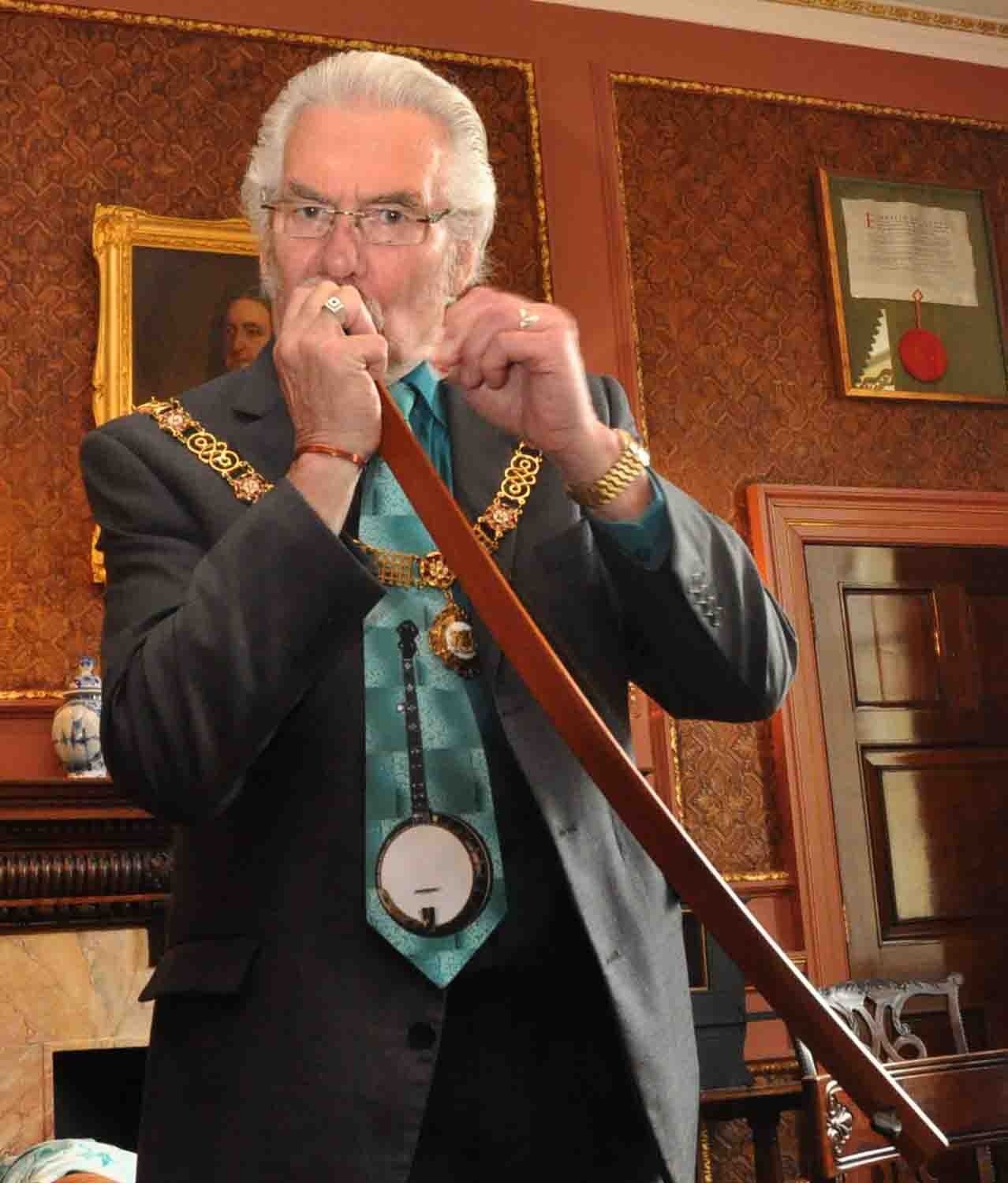 The material ranged from Carter Family, Woody Guthrie and Willie Nelson classics and ancient British balladry, through to the hits of Hoagy Carmichael and Dolly Parton. The event was also billed as a 'Coffee Morning and Afternoon Tea' experience—but with a difference and one that will surely never be repeated, as the Mayor's tenure in Bath is just for twelve months and with no second bite of the Civic cherry. Nevertheless, Cllr. Chalker has certainly made his musical mark on Bath since becoming a councillor in 2003. On the day in question Bryan sang and played jewsharp, harmonica, mouthbow and autoharp to accompaniment from Nick Jones, Tjaye Martin, Ruhi Farmer and Kathryn Cresweller (guitars) and Simon Fossey (banjo).

Other musicians attending this superb extravaganza included Richard Abrahams (guitar, mandolin, tenor banjo), Andrew Kimber (harmonica, bodhran), Robert Coles (autoharp), Tom Kimber (mandolin, tenor banjo), Rosemary Wells (fiddle), Chris Timson (concertina), Anne Gregson (fiddle), Sally Harris (concertina), Nick Nicholls (melodeon), Sally Phillips (melodeon), June Brassington (fiddle), Julia Burton (French horn), Satyen (tabla), Tjaye Martin (guitar, vocals) and Tom Boden (fiddle, vocals).

At the end of the Mayor's day of pure musical magic, a sum approaching £1,000 was raised for the Relief Fund, with generous contributions from Bath's Students' Unions' fundraising organisation RAG (Raise and Give), who gave £500, the Rotary Club of Bath pitched in with £250 (personally handed over by Chairman Brian Lowden) and other sizeable sums from Cllr. Peter Edwards, Chairman of Bath & North East Somerset Council, and Grenville Jones, who initiated and presides over the amazing Golden Oldies choirs here in the West Country.



PHOTOGRAPHY BY Robert Coles