Matraca Berg - The Nashville Cats
First Published in Country Music International, September 1997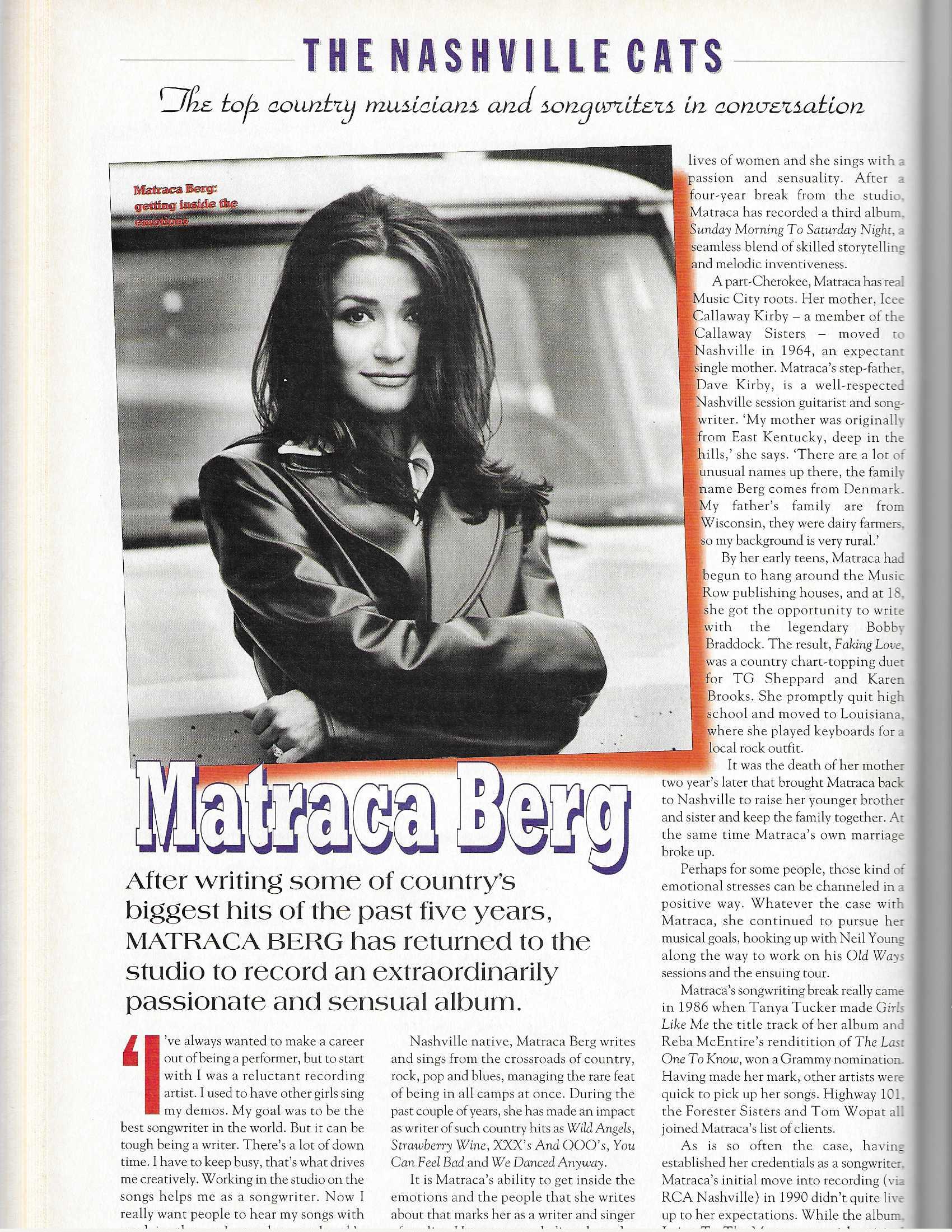 After writing some of country's biggest hits of the past five years, Matraca Berg has returned to the studio to record an extraordinarily passionate and sensual album.
"I've always wanted to make a career out of being a performer, but to start with I was a reluctant recording artist. I used to have other girls sing my demos. My goal was to be the best songwriter in the world. But it can be tough being a writer. There's a lot of down time. I have to keep busy, that's what drives me creatively. Working in the studio on the songs helps me as a songwriter. Now I really want people to hear my songs with me doing them as I want them produced."
Nashville native, Matraca Berg writes and sings from the crossroads of country, rock, pop and blues, managing the rare feat of being in all camps at once. During the past couple of years, she has made an impact as writer of writer of such country hits as Wild Angels, Strawberry Wine, XXX's And OOO's, You Can Feel Bad and We Danced Anyway.
It is Matraca's ability to get inside the emotions and the people that she writes about that marks her as a writer and singer of quality. Her songs speak directly to the lives of women and she sings with a passion and sensuality. After a four-year break from the studio, Matraca has recorded a third album, SUNDAY MORNING TO SATURDAY NIGHT, a seamless blend of skilled storytelling and melodic inventiveness.
A part-Cherokee, Matraca has real Music City roots. Her mother, Icee Callaway Kirby – a member of the Callaway Sisters – moved to Nashville in 1964, an expectant single mother. Matraca's stepfather, Dave Kirby, is a well-respected Nashville session guitarist and songwriter. "My mother was originally from East Kentucky, deep in the hills," she says. "There are a lot of unusual names up there, the family name Berg comes from Denmark. My father's family are from Wisconsin, they were dairy farmers, so my background is very rural."
By her early teens, Matraca had begun to hang around the Music Row publishing houses, and at 18, she got the opportunity to write with the legendary Bobby Braddock. The result, Faking Love, was a country chart-topping duet for TG Sheppard and Karen Brooks. She promptly quit high school and moved to Louisiana, where she played keyboards for a local rock outfit.
It was the death of her mother two years later that brought Matraca back to Nashville to raise her younger brother and sister and keep the family together. At the same time Matraca's own marriage broke up.
Perhaps for some people, those kind of emotional stresses can be channelled in a positive way. Whatever the case with Matraca, she continued to pursue her musical goals, hooking up with Neil Young along the way to work on his Old Ways sessions and the ensuing tour.
Matraca's songwriting break really came in 1986 when Tanya Tucker made GIRLS LIKE ME the title track of her album and Reba McEntire's rendition of The Last One To Know, won a Grammy nomination. Having made her mark, other artists were quick to pick up her songs. Highway 101, the Forester Sisters and Tom Wopat all joined Matraca's list of clients.
As is so often the case, having established her credentials as a songwriter. Matraca's initial move into recording (via RCA Nashville) in 1990 didn't quite live up to her expectations. While the album, LYING TO THE MOON, met with critical acclaim, she failed to score that all important hit single in the US. The record made more impact in Europe, where I Got It Bad made the charts in Holland and gained extensive radio play across the continent, but by US country standards, it was a disappointing debut.
"It was one of those situations where the record label couldn't figure out what to do with me," she explains. "I was dropped by RCA Nashville and given the choice between not making another record or making a record with RCA in New York, so I chose the latter. It was a bad decision and it took a long time to get accepted again in Nashville."
The album, THE SPEED OF GRACE, found Matraca all at sea, as she was thrust at an indifferent alternative pop audience. The album was recorded in Los Angeles with producer Stewart Levine (whose credits include Simply Red, Hothouse Flowers and Minnie Ripperton) and with a top notch group of musicians, including Jim Keltner, Freddie Jackson, Michael Landau and Neil Larson. To support the album she toured small clubs and coffeehouses with only a trio to back her and discovered in the process that the audience was inevitably there to hear her perform country songs.
One of the highlights of that album was a dark and moody version of Jolene. Sadly Matraca's version didn't sit too well with country radio. "My step-dad Dave Kirby played guitar on the original version of Jolene," she says. "It was my version that got me thrown off the country label. Of course, Dolly's version is the definitive version, but I thought it would be an insult to do it the way she did it."
Once the dust settled on her desertion to Los Angeles, Matraca returned to the Nashville studios and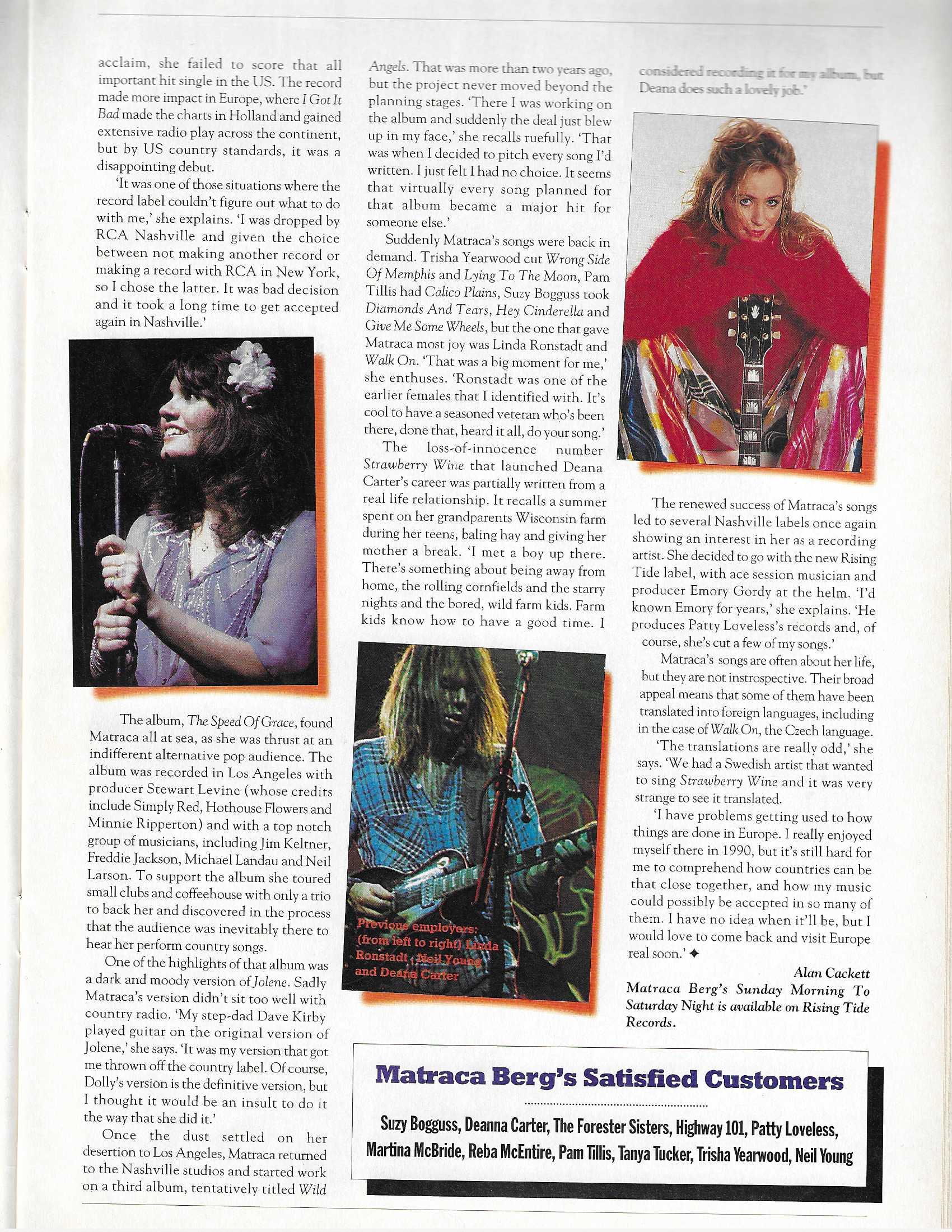 started working on a third album, tentatively titled WILD ANGELS. That was more than two years ago, but the project never moved beyond the planning stages. "There I was working on the album and suddenly the deal just blew up in my face," she recalls ruefully. "That was when I decided to pitch every song I'd written. I just felt I had no choice. It seems that virtually every song planned for that album became a major hit for someone else."
Suddenly Matraca's songs were back in demand. Trisha Yearwood cut Wrong Side Of Memphis and Lying To The Moon, Pam Tillis had Calico Plains, Suzy Boggus took Diamonds And Tears, Hey Cinderella and Give me Some Wheels, but the one that gave Matraca the most joy was Linda Ronstadt and Walk On. "That was a big moment for me," she enthuses. "Ronstadt was one of the earlier females that I identified with. It's cool to have a seasonal veteran who's been there, done that, heard it all, do your song."
The loss-of-innocence number Strawberry Wine that launched Deana Carter's career was partially written from a real life relationship. It recalls a summer spent on her grandparents Wisconsin farm during her teens, baling hay and giving her mother a break. "I met a boy up there. There's something about being away from home, the rolling cornfields and the starry nights and the bored, wild farm kids. Farm kids know how to have a good time. I considered recording it for my album, but Deana does such a lovely job."
The renewed success of Matraca's songs led to several Nashville labels once again showing an interest in her as a recording artist. She decided to go with the new Rising Tide label, with ace session musician and producer Emory Gordy at the helm. "I'd known Emory for years," she explains. "He produces Patty Loveless's records and, of course, she's cut a few of my songs."
Matraca's songs are often about her life, but they are not introspective. Their broad appeal means that some of them have been translated into foreign languages, including in the case of Walk On, the Czech language.
"The translations are really odd," she says. "We had a Swedish artist that wanted to sing Strawberry Wine and it was very strange to see it translated."
"I have problems getting used to how things are in Europe. I really enjoyed myself there in 1990, but it's still hard for me to comprehend how countries can be that close together, and how my music could possibly be accepted in so many of them. I have no idea when it'll be, but I would love to come back and visit Europe real soon."