First published in Country Music People, October 1976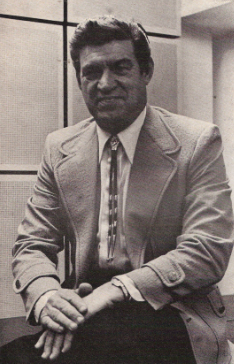 Following a very successful period in the late 1950s, Marvin Rainwater faded into obscurity, especially in the Sates where stars tended to be discarded like old coats. In Britain, where both pop and country fans have longer memories, he is still held in high esteem.
His British tours of the last few years have rekindled the interest of many a mature pop and country fan, and his latest tour this month should stoke that fire. He appeared at the Wembley Festival last year and although his short spot revealed that his voice isn't quite the melodic instrument it once was, it still reverberated with the same conviction.
Born Marvin Percy on July 2, 1925 in Wichita, Kansas with Cherokee blood in his veins, he became interested in music from a very early age. The family moved to a small town in Oklahoma whilst Marvin was quite young and he can recall church-going with his grandmother and the great effect the music had on him.
The 1930s were very much the period of the singing cowboys and like most American boys of the time, Marvin loved to see Gene Autry, Tom Mix and Hopalong Cassidy. From these films he picked up more music and would often think of new words still making use of the western melodies he had heard at the local movie house.
Living in the country the young Marvin became attached to all forms of animal life and decided to train as a veterinary surgeon. He attended college in Walla Walla, Washington finishing with full veterinary qualifications. When it was time for him to do his military service he opted for the navy where his vet training led to him becoming pharmacist's mate.
On the long sea trips he would pass the time away by indulging in his favourite hobby of writing songs. Often he would try these little ditties out on his fellow shipmates. Urged on by their enthusiasm he thought it might be a good idea to try and get his songs published and recorded by some major country artists.
Following his discharge he found this more difficult than he had ever imagined. Most of the major country singers wrote their own material and were not too keen on recording the songs by the young newcomer. To enable himself to live Marvin went to work at a logging camp in Oregon, built up his savings, then embarked on a career in showbusiness.
He decided that if singers were not prepared to sing or record Marvin Percy's songs, he would. He adopted his mother's maiden name, Rainwater, and set out with his guitar to find fame and fortune. He made his debut on Red Foley's Ozark Jubilee radio show as a guest artist in late 1946. The Springfield, Missouri radio station received so many requests to hear more from 'that new singer with the Indian name' that Red Foley gave him a regular spot on the show.
This was at a time when radio was very important in establishing new singers, and his regular appearances on the Ozark Jubilee led to offers for personal tours all over the USA including a residency at the Shamrock Club in Washington D.C., guest appearances on the Wheeling Jamboree on radio WWVA, West Virginia, and then came a tour of the Mid-West with a Grand Ole Opry troupe.
In the early 1950s, like so many of America's struggling country stars, Marvin cut sessions for Four Star Records. This was a small budget operation, which released discs of dubious quality by singers like Jimmy Dean, Patsy Cline and Webb Pierce before they achieved success on the major labels.
Naturally, Marvin Rainwater is not too happy with these recordings, some of which were no more than demos of songs he had written, with only solo guitar accompaniment. Following his major success, Four Star added bass, drums and other instrumentation and then released them as fully finished recordings.
The turning point in Marvin's career, which led to this success, came when he entered the Arthur Godfrey CBS TV Talent Scouts Show in 1995. He won that week and was brought back for four consecutive weeks. This was a show syndicated right across the States and it brought Marvin Rainwater in front of a mass audience for the first time. Just previously he had recorded two songs for Coral Records, but these had proved unsuccessful, so in January 1956 he moved to MGM Records where his first record coupled
Sticks And Stones
with
Albins Stallion
.
It was his second MGM release that really established Marvin Rainwater. The self-penned
Gonna Find Me A BlueBird
, was a slow country weeper that made the country charts and by 1958 had sold more than a million copies to win the singer a gold disc. This has been his most successful song with dozens of versions by singers like Brenda Lee, Conway Twitty and Slim Whitman.
MGM felt they had a hot name in Marvin Rainwater and went to work on his Indian name and background. They promoted him as a full-blooded Cherokee chief and even convinced the young singer it would help his career if he wore Indian feathers to prolong the legend. Although Marvin went along with these gimmicks, he considered himself a country singer and was not to keen on the ideas of the big promotion men.
He continued to make country discs like
I Gotta Go Get My Baby
and
Tennessee Hound Dog
Yodel
, both self-penned, but MGM were insistent on pushing him into the pop and rock'n'roll scene which was rapidly mushrooming around the world. In 1957 he was teamed with Connie Francis, a new signing to MGM, and this resulted in another gold disc with
Majesty Of Love
. Connie then went on to make her mark as a top pop singer whilst Marvin Rainwater trod the uneasy path between country and rock.
The year 1958 was his most successful with million selling records like
My Love Is Real, My
Brand
Of Blues
and the John D. Loudermilk song,
Half Breed
. This was also the year that he conquered Britain. His own song,
Whole Lotta Woman
, a raucous hillbilly rock'n'roll tune, topped the British pop charts and led to Marvin appearing at the famous London Palladium, touring for close on two months and then recording in EMI's London studios.
Unfortunately this song also finished Marvin's career in America. Several of the more conservative radio stations felt the song was suggestive and had it banned. Quite soon the ban spread right across the States and sales, which were looking promising, tapered off completely.
In Britain he followed
Whole Lotta Woman
with
I Dig You Baby
, a British recording which lacked excitement of his big hit and only just scraped into the Top 20. Marvin Rainwater has never been near the British charts since.
On his return to the States he recorded an album for MGM then severed all ties with the company, which explains the lack of releases from Marvin Rainwater in the early 1960s. Throughout the decade he recorded for short spells for Warner Brothers, United Artists, Warwick and his own company Brave Records, but never successfully recaptured any of his past glories.
Even as a songwriter Marvin Rainwater faded from the limelight. During the 1950s he had written songs recorded by Faron Young, Carl Smith, Patsy Cline and Brenda Lee. Probably his biggest success as a writer was with
I Miss You Already (And You're Not Even Gone)
which Faron Young recorded.
Part of Marvin Rainwater's non-involvement with music at this time could be attributed to a serious throat ailment. A heavy work schedule had caused strain and meant an operation. This put singing out of the question for four years, and it was only at the latter part of the 1960s that he started making tentative steps back into a full-time show-business career.
His tour of Britain in the spring of 1971 gave him the necessary incentive to really try and re-establish himself. He was possibly quite taken aback by the reception he received. He proved to be one of the finest professionals in Britain. At the time, when he was trying to update his material, he still could inject fresh energy into the kind of time-honoured classics that the crowds wanted to hear.
Whilst on that tour he recorded an album in Britain. MARVIN RAINWATER GETS COUNTRY FEVER, released on the Philips Pineridge label, was one of those cheap British budget recordings, rushed through without enough thought about production and balance. The result was an inferior album, but it did demonstrate the range of the man and his ability to handle newer material like Charley Pride's
Is Anyone Goin' To San Antone
and
All I Have To Offer You Is Me
.
That same album has been re-issued on Decca's Emerald label as NEW COUNTRY SOUNDS, this time without any reference to Country Fever, the British country band that accompanied Marvin on both the tour and the recording session.
Since 1971 Marvin Rainwater has returned to tour Britain several times and like Slim Whitman, George Hamilton, IV, Jimmy Payne and Wanda Jackson, is finding his following in Britain considerably larger than back home in the States.
Earlier this year another Marvin Rainwater album surfaced on the Westwood label. SOME OLD, SOME NEW, ESPECIALLY FOR YOU features new versions of his old hits like
I Dig You Baby,
Darling Where Are You
and
Whole Lotta Woman
plus newer songs—
Happiness Is For Loving You
and
I Saw A Bluebird Today
.
As far as Britain is concerned the Marvin Rainwater career is looking quite bright. He is much older now and carrying more weight, but he does command quite a large and loyal following. While much of his material is not really in vogue with today's styles, he is always well received by his fans. It's a case of a few of his old rock style songs blended with some new, country-orientated material and some country standards redone in the distinctive Marvin Rainwater way.