The few singers who have been going strong for more than twenty years have had so much written and said about them, that you would assume each has been completely analysed, discussed and talked about. You would be wrong to assume that about Marty Robbins.
When listening to Marty Robbins' songs, picking up pieces that Marty's given us over the past twenty years I still feel that no one really knows the essence of Marty Robbins.
One of the first recordings I ever heard by Marty Robbins was Singin' The Blues. It dates from the mid-50s, and in this country it's best remembered by Guy Mitchell and Tommy Steele. This was the music that first kindled my interest in country music. At the time that Singin' The Blueswas in the British top ten, I found I preferred Mitchell's version to that of Steele's. The reason, I suppose, was that to my young ear, Mitchell had the right accent for the song, whereas Steele with his cockney style was a poor imitation. It was a few years later, though, that I first heard Marty Robbins' original version of Singin' The Blues. It was the most countrified tune I'd heard from Robbins, and it completely finished my admiration for Guy Mitchell, the very person who had got me interested in pop music a few years earlier. This was Marty's tune, though, and I just didn't like the idea of anyone else making a hit with it. It was a country tune; just give a listen to the country yodelling technique in the bridge: 'cry-i-i-i- over you'.
Just prior to discovering this side of Marty Robbins, I had caught the cowboy bug after hearing his classic versions of El Pasoand Big Iron. I know that to this day many people in Britain just associate Marty Robbins with gunfighter ballads—it's just not true!
After several years of delving into the past, I came up with a unique recording history for Marty Robbins. I'd long believed that Singin' The Blues, a great Melvin Endsley song, was Marty Robbins first disc. Upon checking more diligently, I found that Marty had made his first recordings for the American Columbia Company in the summer of 1952 in their Hollywood Studios. The outcome was Tomorrow You'll Be Goneand Love Me or Leave Me Alone, two of Robbins own compositions. After this session he recorded in Columbia's Dallas or New York studios, for almost three years, keeping solely to his own material, which was in the main, very sad love songs that were enhanced by a wonderful steel guitar that seemed to 'cry' with Robbins as he sang his way through the weepers. 
These early recordings of Marty Robbins were raw and somewhat simple in construction, though to me they illustrate the ultimate in pure country music. Listening to the recordings it's hard to believe that he made some of them in New York, the very centre of co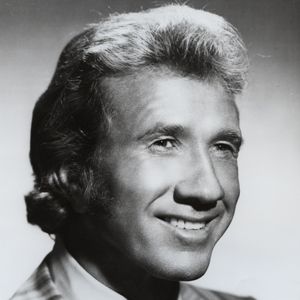 mmercial recordings. The performances were natural, not a bit of city life about them—it was straight from the country. Marty Robbins is a man of style, but words like 'style' have so often been mis-used that they are almost meaningless. Long ago having style did not mean having a sharp eye for copying new fashions or anticipating fade, it meant to have characteristics and mannerisms totally one's own. You have to think of Marty Robbins and style in that traditional way.
His voice was violating several unspoken but long-standing rules. It didn't have the husky, melodramatic earnestness country male voices were supposed to have. Marty's songs were short on slang and catch words that other country songs relied heavily upon. On top of this, Marty Robbins didn't have much of a Southern accent when he sang. 
During the early 50s Marty Robbins was not too successful with his straight country recordings, although these same recordings are now regarded as classics from the era. Of the twenty-two singles released before Singin' The Blues, only two or three strayed from the straight and narrow path of authenticity and were more rock'n'roll than country. Standing out in my mind is that beautiful steel guitar that was featured behind Robbins as he sang his way through such great weepers as Your Heart's Turn To Break, You're Breaking My Heart, Gossipand my own particular favourite, I'll Love You Till The Day I Die. Mention should also be made of the outstanding sacred tunes Robbins cut at this time. These were all his own compositions except for Have Thine Own Way Lord, and the three singles are amongst his most sought-after recordings. They have a simplicity about them, that combined with Robbins great feeling and outstanding accompaniment of steel and fiddle make for some of the finest sacred material ever cut in the country music field.
Although Marty had achieved a handful of hit records between 1952 and 1956, it wasn't until Singin' The Bluesthat he really made his mark on the country charts. Within a few years he was the biggest-selling country artist on the Columbia label with dubious 'country' hits of A White Sport Coat, The Story Of My Lifeand Stairway Of Love, three pop songs, which he recorded in New York under the direction of Ray Conniff. Rather surprisingly, at the same time he was hitting the charts with these out-and-out pop numbers Columbia released two albums from him which must have set country music lovers aglow for the sheer beauty and authenticity of them. 
SONG OF ROBBINS and MARTY ROBBINS were two of the finest country music albums of the 50s. With a basic country backing including fiddles, steel guitar and light drum work, Robbins put all the feeling he could muster into such classics as Rose Of 'Ol Pawnee, Wedding Bellsand Shackles and Chains. This was music that was natural without the pop influence which was beginning to creep into Nashville.
During the late 50s and early 60s another phase in the remarkable career of Marty Robbins was to unfold. While still in his teens, Marty spent about three or four years as a real-life cowboy on a ranch in Arizona. It was from these experiences of this life that enabled him to write his famous cowboy ballads, and apart from perhaps Tex Ritter, Marty Robbins is America's greatest composer and interpreter of cowboy life. It's often said that 'cowboy' songs have prevented country music from having an adult image and held back its progress, this maybe true, but there's no denying that Marty Robbins introduced a whole new audience to country music with his gunfighter ballads.
During Marty Robbins career he has tried to encompass many different kinds of music. Though he is basically a simple country singer, his own tastes know no boundaries, and this is reflected in the wide range of material he has recorded. Spanish love songs, the beautiful music of Hawaii, teen ballads of the 50s, rock'n'roll, cowboy ballads, country love songs, or out and out pop music, Marty Robbins has proved he's a master of all these styles of music.
After all these years of collecting Marty Robbins' recordings I can't tell you what it is about Marty Robbins' voice that is—musically—unique. Technical descriptions fall down. There is a certain way of clipping phrases, a sparkle in the timbre of the voice, and a sharp clear statement in his style, but really these are just words. I can tell you this—Marty Robbins' lures you away. It's the voice for an escapist listener—the kind who realises that the place he's escaping to is just as real as the place he's escaping from.
When he relates a story, you can really believe that it has happened, and when he sings about a far off place you can imagine being there—Marty Robbins voice is full of realism. When he sings of the beauty of Hawaii, the heartache of a broken romance or the drama of a gunfight, his vocal really lives the part. He sounds as if it's really happening around him, and you, the listener, feel as if you are right there beside him. He remains elusive, and the voice remains seductive and slightly foreign.
If I seem a bit breathless about the Marty Robbins' mystique, it's because his voice spins visions before my eyes and beckons me to look deeper into the lyrics—his voice has knocked the wind out of me so many times, even when listening to recordings I must have heard dozens of times.
There have been many highlights in the recording career of Marty Robbins. Too many country singers discover a successful style and stick doggedly to it, but not Robbins. Many people have commented that Marty Robbins is not really a country singer, as on much of his later material the arrangements are often too lush, and the material is aimed straight at the pop market. This comment is partly true, but you must remember that Marty's voice just knows no boundaries. For my money he is the most talented singer in any style of music, but when he does record straight country music he is superb. If ever you're in any doubt as to Marty Robbins talent as a country singer just give a listen to either his RFD album or the later MY KIND OF COUNTRY. His technique at handling those ballads of lost love is unique, he can be sentimental or wryly humorous, and the unspoilt country accompaniment of fiddle and steel guitar complements Robbins plaintive voice.
It would be true to say that Marty Robbins has made better use of his unique voice during the past five years than any other time in his career. With his maturity as an artist he has attempted songs which have been complicated and difficult to sing, and yet his vocal technique could never be faulted. I first noted a difference both with Robbins' delivery and the lyrical content of his songs with the TONIGHT CARMEN album. The title song, one of Robbin's own compositions, is brilliantly constructed, and exceptionally difficult to sing, yet Robbins simply glides effortlessly through it. Many of the other songs like Love's Gone Awayand Bound For Old Mexicowould also prove taxing for a lesser singer.
Choosing difficult songs, and arrangements that made a mockery of simple country chords continued in Marty's next album, BY THE TIME I GET TO PHOENIX, which was highlighted by a complicated but controlled version of Am I That Easy To Forget, which simply dwarfed any other versions. To Robbins credit though, with this new, modern approach to his recordings, he never swamped his voice with choruses and heavy symphonic orchestras. He knew just what his voice was capable of, and never had to camouflage any faults—he just didn't have any.
The climax of this new found approach was reached with My Woman, My Woman, My Wife, the absolute definitive. His vocal control is almost beyond belief. This was not a song of lyric alone, nor just music, and certainly it's not simply a lyric set to music—but something beyond that—My Woman, My Woman, My Wifeis an expression of human emotion that is poetry, sound and total commitment to life.
Throughout the album that followed Marty Robbins vocals reached a new peak. With the backing laid well back, the album won or lost on his voice. Could it alone hold the listener's attention— perhaps it was the ultimate in a career marked by highlights, but somehow Marty Robbins implanted more of his own personal life on that one album than he ever did on his previous twenty-three albums. 
The few singles that were released after that album all had a similar quality about them without being either the same or as outstanding. Robbins had found a way to build a song without being overdramatic, he subdued the quiver in his voice and produced masterpieces likeJolie Girl, Padreand Camelia Girl, all told a unique story, all were about life, and all contained complicated phrases which lesser singers would never have attempted.
After twenty years with Columbia, Marty Robbins left them last year and joined the Decca label. I for one wondered just what style he would revert to, and I was quite surprised to find that Robbins was to continue to produce his own recordings. His first single, though, was a masterpiece. This Much A Man, written by Robbins himself, is one of the most unusual songs he's ever written. It deals with the love of an older man for a younger girl and the implications are devastating. Never has a song been so brilliantly conceived and put together, and it takes a master like Marty Robbins to achieve that sort of perfection—and his vocal is so incredible, I almost believed that Marty Robbins was actually experiencing that very problem himself.
Marty Robbins is one of the few singers who sprung up in the early 50s and has never undergone a slump since his initial success. Since his first big hit in 1956 Marty Robbins has never been out of the country charts for more than a few weeks. Of all the great American country artists I've seen during the past few years on stage, the one artist I've always looked forward to seeing is Marty Robbins, and at last he will be appearing in Britain—the most talented country singer of our time. Adrian Cooke
First published in Country Music Review,  April 1973