Martina McBride - Infamous Angel
First Published in Country Music International, November 1995
She once sold T-shirts for Garth Brooks. Then she ended up opening shows for him. Today, she's one of Nashville's expanding group of working mothers, a TV awards show host and a platinum-selling country star, with her long awaited third album released this month … By Alan Cackett
"I was always taught that you had to work hard for everything you achieved.  I   guess it's just the way I was raised," Martina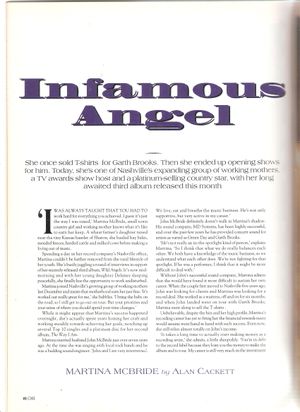 McBride, small town country girl and working mother knows what it's like to earn her keep. A wheat farmer's daughter raised near the tiny Kansas hamlet of Sharon, she hauled hay bales, mended fences, herded cattle and milked cows before making a living out of music.
Spending a day in her record company's Nashville office, Martina couldn't be further removed from the rural lifestyle of her youth. She's busily juggling a round of interviews in support of her recently released third album, WILD ANGELS. It's now mid-morning and with her young daughter Delaney sleeping peacefully, she finally has the opportunity to work undisturbed.
Martina joined Nashville's growing group of working mothers last December and insists that motherhood suits her just fine. "It's worked out really great for me," she bubbles. "I bring the baby on the road, so I still get to go out on tour. But your priorities and your sense of where you should spend your time changes."
While it might appear that Martina's success happened overnight, she's actually spent years honing her craft and working steadily towards achieving her goals, notching up several Top 10 singles and a platinum disc for her second album, THE WAY I AM.
Martina married husband John McBride just over seven years ago. At the time she was singing with local rock bands and he was a budding sound engineer. "John and I are very intertwined. We live, eat and breathe the music business. He's not only supportive, but very active in my career."
John McBride definitely doesn't walk in Martina's shadow. His sound company, MD Systems, has been highly successful, and over the past few years he has provided concert sound for artists as varied as Green Day and Garth Brooks.
"He's not really an in-the-spotlight kind of person," explains Martina. "So I think that what we do really balances each other. We both have a knowledge of the music business, so we understand what each other does. We're not fighting for that spotlight. If he was a performer, I think that it might be more difficult to deal with."
Without John's successful sound company, Martina admits that she would have found it more difficult to sustain her own career. When the couple first moved to Nashville five years ago, John was looking for clients and Martina was looking for a record deal. She worked as a waitress, off and on for six months, and when John went on tour with Garth Brooks, Martina went along to sell the T-shirts.
Unbelievably, despite the hits and her high profile, Martina's recording career has yet to bring her the financial rewards many would assume went hand-in-hand with such success. Even now, she still relies almost totally on John's income.
"It takes a long time to actually start making money as a recording artist," she admits, a little sheepishly. "You're in debt to the record label because they loan you the money to make the album and to tour. My career is still very much in the investment stage, though this year might be a good one. I still haven't made any
record royalties yet, but the money we get from playing live shows has gone up this year. We might actually be able to keep some of it at the end of the tour, which would be nice."
Martina is obviously pinning her hopes on WILD ANGELS, an album peppered with feisty, assertive songs. She has always been highly involved in the recording and production of her albums, and oversees every stage of the job right through to the final mix.
"When I'm making a record, I want it to be something that people will hear and think, 'Wow! This is a strong woman!,'" she enthuses. "I want to give people hope and inspire them. I don't write songs myself, so it's important that I make albums that represent me." Bad lyric writers shouldn't submit any material to Martina, as they won't get past a first reading. "I have to listen to at least two thousand demo tapes just to find enough songs for one album."
From the assertive Swingin' Doors to the dramatic Phones Are Ringin' All Over Town, Martina puts her whole self into the material on WILD ANGELS and sings in her own unique style as well as tackling some pretty potent lyrics.
"I'm very grateful that I had a song like Independence Day," she reflects, referring to the stand-out track on her 1994 album, THE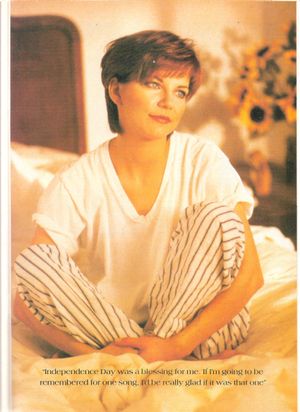 WAY I AM, a gritty social drama detailing the story of a woman who leaves her abusive husband. "That song actually made a difference to some people's lives. If I'm going to be remembered
for any song, I'd be really glad if it was for that one. Independence Day was a blessing for me."
Martina is one of the new breed of Nashville singers who grew up on country music, but has also absorbed other musical influences along the way. She readily admits that nowadays she listens to pop, rock, jazz, blues and classical as well as country, but believes that it's still important to keep the core of her music as traditional as possible.
One of the songs on the new album is a barnstorming, almost live version of Delbert McClinton's Two More Bottles Of Wine, a song she originally picked up from Emmylou Harris.
"I listened to Emmylou a lot while I was growing up, especially her BLUE KENTUCKY GIRL album. I devoured that record. Emmylou was a big influence.  I love the way she's always been true to her music and kept her integrity. I just hope that l can stay that way."
Martina is passionate about her music and takes herself seriously. She readily admits that her cover girl looks have sometimes stood in the way of the music. Image is important in today's country market, but she hopes that it won't detract from the quality of her material, and that most listeners will look beneath the surface and discover some meaningful messages in her songs.
She admits that she finds it hard to pick out a favourite song from the new album. "That's impossible. I'd choose them all for different reasons, but also because they all move me in some way emotionally. But it's like asking you to choose your favourite kid!"
After mentioning that I thought Beyond The Blue from the new record had a captivating Beatles-esque quality, Martina seems delighted.
"My husband has always been a huge fan of the Beatles. He's eight years
older than I am and I've really only listened to the Beatles intensely over the past two or three years. When I first heard that song I thought it sounded like a melody that Lennon and McCartney would have written. It reminded me of the Beatles so much, and it was just a guitar/vocal demo when I heard it. Straight away I knew what I wanted to do with it and I had the idea of recording the song in the way I thought they might have done."
If she had the chance to cover a Beatles song which one would she choose?
"There's so many great ones. I've always liked And Your Bird Can Sing and Two Of Us. God! it would be really hard to pick just one. But I'd try and do something a little less obvious, rather than one of their really well-known songs like Yesterday or In My Life, which are just perfect th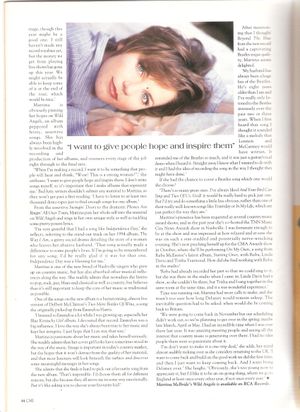 e way they are."
Martina's presence has been requested at several country music award shows, and in the past year she's co-hosted the TNN Music City News Awards show in Nashville. I was fortunate enough to be at the show and was impressed at how relaxed and at ease she was on such a star-studded and potentially nerve-wracking
evening. She's now psyching herself up for the CMA Awards show in October, where she'll be performing On My Own, a song from Reba McEntire's latest album, STARTING OVER, with Reba, Linda Davis and Trisha Yearwood. How did she find working with Reba in the studio?
"Reba had already recorded her part so that we could sing to it, but she was there in the studio when I came in. Linda Davis had a show, so she couldn't be there, but Trisha and I sang together in the same room at the same time, and it was a wonderful experience."
Time was running out, Martina had more calls to make, and she wasn't too sure how long Delaney would remain asleep. The inevitable question had to be asked: when would she be coming back to Britain.
"We were going to come back in November but our scheduling didn't work out, so we're planning to get over in the spring; maybe late March, April or May. I had an incredible time when I was over there last year. It was amazing meeting people and seeing all the interest that country music is generating over there. I had no idea people there were so passionate about it."
"I'm don't want to make it a one-trip deal," she adds, her mind almost audibly ticking over as she considers returning to the UK. "I want to come back and build on the good work we did the first time. and then I just want to keep coming back. And I want bring Delaney over," she laughs. "Obviously, she's too young now to appreciate it, but I'd like it to be an on-going thing, where we go to England at least once every other year, if not once every year."