Mark Collie - Whatever Happened To.....
First Published in Country Music International April 1998
Despite keeping a low profile on the music front, Mark Collie has certainly not been slouching around. As well as pursuing his hobby of car racing, he's starred in a movie, and he's finished work on a new LP.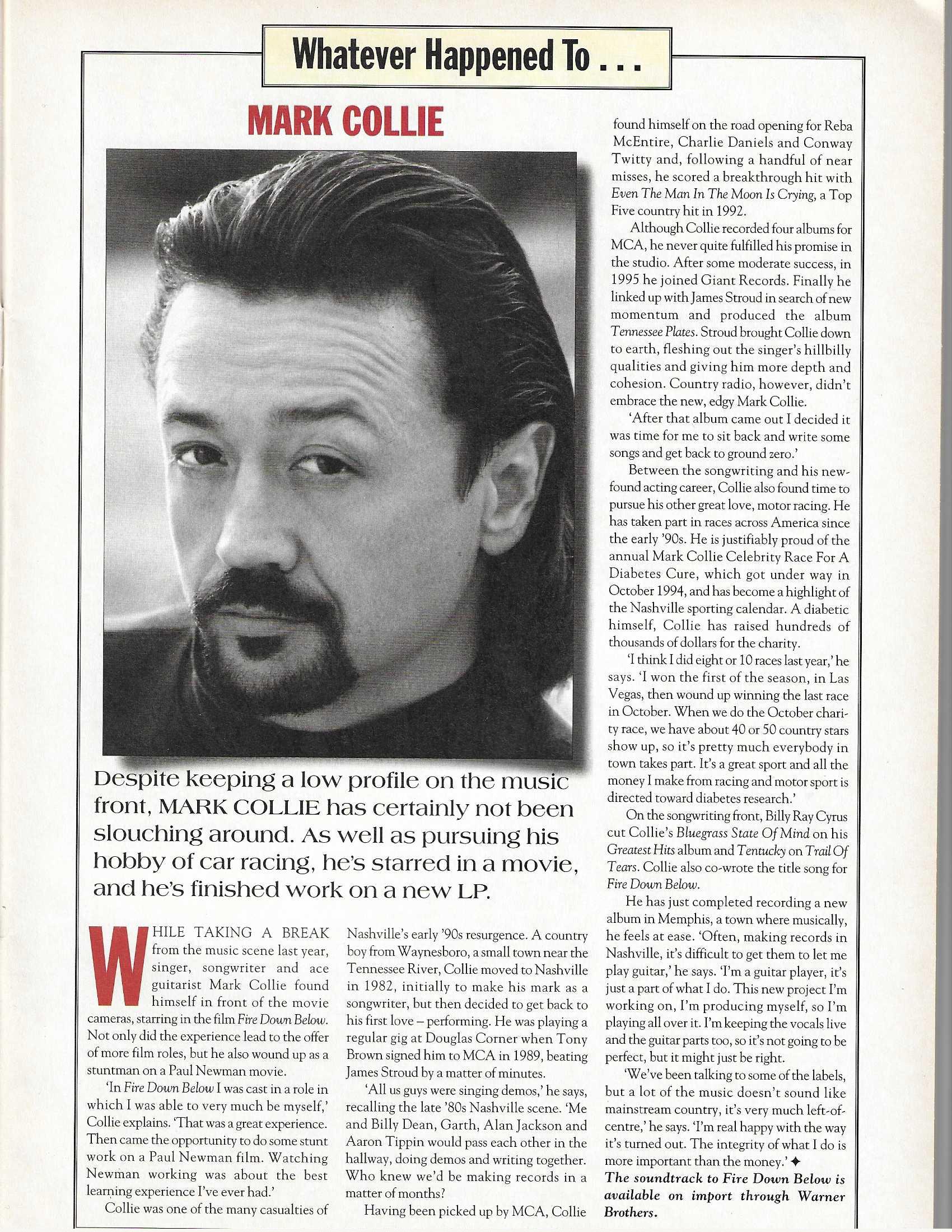 While taking a break from the music scene last year, singer, songwriter and ace guitarist Mark Collie found himself in front of the movie cameras, starring in the film Fire Down Below. Not only did the experience lead to the offer of more film roles, but he also wound up as a stuntman on a Paul Newman movie.
"In Fire Down Below I was cast in a role in which I was able to very much be myself," Collie explains. "That was a great experience. Then came the opportunity to to do some stunt work on a Paul Newman film. Watching Newman working was about the best learning experience I've ever had."
Collie was one of the many casualties of Nashville's early 1990s resurgence. A country boy from Waynesboro, a small town near the Tennessee River, Collie moved to Nashville in 1982, initially to make his mark as a songwriter, but then decided to get back to his first love—performing. He was playing a regular gig at Douglas Corner when Tony Brown signed him to MCA in 1989, beating James Stroud by a matter of minutes.
"All us guys were singing demos," he says, recalling the late 1980s Nashville scene. "Me and Billy Dean, Garth, Alan Jackson and Aaron Tippin would pass each other in the hallway, doing demos and writing together. Who knew we'd be making records in a matter of months?"
Having been picked up by MCA, Collie found himself on the road opening for Reba McEntire, Charlie Daniels and Conway Twitty and, following a handful of near misses, he scored a breakthrough hit with Even The Man In The Moon Is Crying, a top five country hit in 1992.
Although Collie recorded four albums for MCA, he never quite fulfilled his promise in the studio. After some moderate success, in 1995 he joined Giant Records. Finally he linked up with James Stroud in search of new momentum and produced the album TENNESSEE PLATES. Stroud brought Collie down to earth, fleshing out the singer's hillbilly qualities and giving him more depth and cohesion. Country radio, however, didn't embrace the new, edgy Mark Collie.
"After that album came out I decided it was time for me to sit back and write some songs and get back to ground zero."
Between the songwriting and his new-found acting career, Collie also found time to pursue his other great love, motor racing. He has taken part in races across America since the early 1990s. He is justifiably proud of the annual Mark Collie Celebrity Race For A Diabetes Cure, which got under the way in October 1994, and has become a highlight of the Nashville sporting calendar. A diabetic himself, Collie has raised hundreds of thousands of dollars for charity.
"I think I did eight or 10 races last year," he says. "I won the first of the season, in Las Vegas, then wound up winning the last race in October. When we do the October charity race, we have about 40 or 50 country stars show up, so it's pretty much everybody in town takes part. It's a great sport and all the money I make from racing and motor sport is directed toward diabetes research."
On the songwriting front, Billy Ray Cyrus cut Collie's Bluegrass State Of Mind on his GREATEST HITS album and Tentucky on TRAIL OF TEARS. Collie also co-wrote the title song for Fire Down Below.
He has just completed recording a new album in Memphis, a town where musically he feels at ease. "Often, making records in Nashville, it's difficult to get them to let me play guitar," he says. "I'm a guitar player, it's just a part of what I do. This new project I'm working on, I'm producing myself, so I'm playing all over it. I'm keeping the vocals live and the guitar parts too, so it's not going to be perfect, but it might just be right."
"We've been talking to some of the labels, but a lot of the music doesn't sound like mainstream country, it's very much left-of-centre," he says. "I'm really happy with the way it's turned out. The integrity of what I do is more important than the money."