Mark Chesnutt - The Return Of The Human Jukebox
First published in Country Music International, January 1996
He's never swung from a rope on stage, or smashed up a guitar, or hung out with the rich and famous in Hollywood, and he's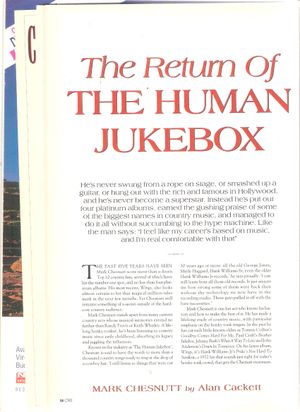 never become a superstar. Instead, he's put out four platinum albums, earned the gushing praise of some of the biggest names in country music, and managed to do it all without succumbing to the hype machine. Like the man says: "I feel like my career's based on music, and I'm real comfortable with that"
The past five years have seen Mark Chesnutt score more than a dozen Top 10 country hits, several of which have hit the number one spot, and no less than four platinum albums. His most recent, WINGS, also looks almost certain to hit that magical million-sales mark in the next few months. Yet, Chesnutt still remains something of a secret outside of the hardcore country audience.
Mark Chesnutt stands apart from many current country acts whose musical memories extend no further than Randy Travis or Keith Whitley. A lifelong honky-tonker, he's been listening to country music since early childhood, absorbing its legacy and juggling the influences.
Known in the industry as 'The Human Jukebox,' Chesnutt is said to have the words to more than a thousand country songs ready to sing at the drop of a cowboy hat. "I still listen to things that were cut 30 years ago or more: all the old George Jones, Merle Haggard, Hank Williams Sr, even the older Hank Williams Jr records," he says proudly. "I can still learn from all those old records. It just amazes me how strong some of them were back then without the technology we now have in the recording studio. Those guys pulled it off with the bare necessities."
Mark Chesnutt is one 'hat act' who knows his history and how to make the best of it. He has made a lifelong study of country music, with particular emphasis on the honky-tonk singers. In the past he has cut such little-known oldies as Tommy Collins' Goodbye Comes Hard For Me, Paul Craft's Brother Jukebox, Johnny Bush's What A Way To Live and John Anderson's Down In Tennessee. On his latest album, WINGs, it's Hank Williams Jr's Pride's Not Hard To Swallow, a 1972 hit that sounds just right for today's honky-tonk crowd, that gets the Chesnutt treatment.
"That's a song that I've been singing in my show; for years," explains the singer. "I was singing that one in the bars in Beaumont, Texas, back in the early days. I finally got around to recording it."
Chesnutt has achieved his current country stardom the old-fashioned way: paying his dues with dogged, determined hard work. He started out on the toughest, seamiest side of country music, working the Texas roadhouses and honky-tonk dives. His father, the late Bob Chesnutt, was an aspiring country entertainer in Beaumont, who had several singles released on Nashville independent labels in the late 1960s and early 1970s.
Mark followed in his father's footsteps, but forged his own trail. By the age of 17 he was leading his own band and recording for local labels. It was Chesnutt's first recording of Too Cold At Home, on Cherry Records, that caught the attention of MCA Records' Tony Brown. Chesnutt was regularly packing in crowds at a big Beaumont dance hall called Cutter's when Brown saw his act. He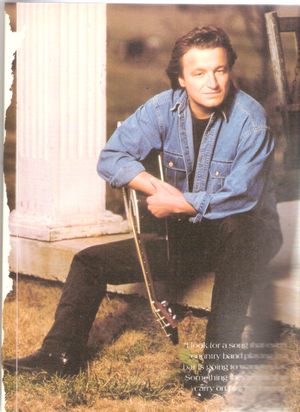 was signed to the label shortly after, in 1990.
Chesnutt's musical hero, George Jones, had also made Beaumont his home for several years. As had Moon Mullican, known as the King of the Hillbilly Piano Players, and the writer of I'll Sail My Ship Alone, and Lefty Frizzell when he worked with the Cherokee Cowboys, later to became Ray Price's famous band.
"At the time I was playing Beaumont, I was the only one singing straight country," Chesnutt ruefully recalls. "Most of the bands were playing a little Haggard along with some rock stuff like Van Halen and ZZ Top. They covered everything. All I ever played was country."
Singing is all he ever wanted to do. "I remember going into those honky-tonks with my parents and hearing those songs and seeing the people dancing, and I still enjoy that now. I'd rather listen to an old cryin'-in-your-beer George Jones or Merle Haggard song than anything else."
The years of club experience have given Chesnutt's voice a worldly-wise maturity. A fine synthesiser, echoing everyone from Jones and Owens to Strait and Travis, without sacrificing his own distinct style, he can use his voice for fun as well as for emotion, as he slinks, dips and swells with the best of them while demonstrating the ability to bridge the gap between standard country ballads and up-tempo honky-tonk numbers.
The road to success has been slower for Chesnutt than some of his peers. He didn't suddenly achieve superstar status like Garth Brooks or Clint Black. But he has kept plugging away, steadily releasing successful albums and slowly amassing a legion of fans.
The need to tour so extensively is now behind him and WINGS, produced by label chief Tony Brown, took just 10 days, from cutting tracks and vocals to mixing. Compared to Chesnutt's early Mark Wright-produced Nashville sessions, which were crammed in between grinding tour schedules and could often take weeks from start to finish, this was a much more civilised way of recording.
"I had a lot more input on this album," he states. "I was there right from the beginning and all the way to completion. I got the chance to pick the songs and they're more me than they have been in the past. Because Mark (Wright) and I were so close, and he was also a writer, we clashed a few times over songs. But Tony (Brown) gave me a free rein. I was in charge this time and I picked songs I thought would make me shine."
What matters most to Chesnutt are the songs and the honest emotions that come with them. "I look for a song that every country band playing in a bar—just like I used to—is going to want to play. I want a song that's going to be a classic, something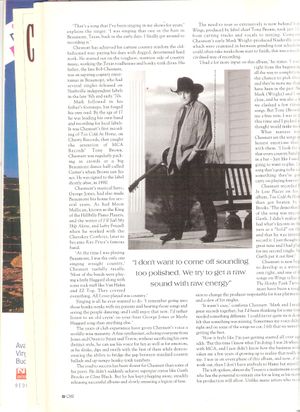 they're going to carryon playing forever."
Chesnutt recorded Friends In Low Places on his debut album, TOO COLD AT HOME, and then got beaten by Garth Brooks. "The demo that I heard of the song was recorded by Garth. I didn't realise that he had what's known in the business as a 'hold' on the song and that he was intending to record it. I just thought it was a great tune and 1 had planned it for my second single, but then Garth put it out first!"
Chesnutt is now beginning to develop as a writer in his own right, and one of the best songs on WINGS is his own, As The Honky-Tonk Turns. But it must have been a tough decision to change the producer responsible for four platinum albums and a slew of hit singles.
"It wasn't easy," confirms Chesnutt. "Mark and I made some great records together, but I'd been thinking for some time that I needed something different. I could never quite tie it down, but I felt that something was missing. Sometimes my voice didn't sound right and on some of the songs we cut, I felt that we weren't always getting the best."
"Now it feels like I'm just getting started all over again," he adds. "But this time I know what I'm doing. I was 26 when I signed with MCA, and I just didn't know how the business worked. It's taken me a few years of growing up to realise that really it's up to me. I was in on every phase of this album, and now, if it doesn't work out, then I don't have anybody to blame but myself."
The soft-spoken, almost shy, Texan is a mainstream country artist who has the potential to remain one for as long as his material and his production will allow. Unlike many artists who record their vocals after the musicians have played and departed the studio, Chesnutt insists on doing it live.
"We get in the studio and we all work together. I like to work with a live band. We found out right from the beginning that I don't work too well the other way. I don't want to be slick, or come off sounding too cluttered and polished. We try to get a raw sound with raw energy."
Chesnutt's musical sound reflects the regional mix of sounds he heard while growing up: honky-tonk, western swing, Cajun, outlaw country, even rhythm and blues. "Country music was the first kind of music I can ever recall hearing. There was always a radio tuned into a country station, and my daddy was always playing records by people like George Jones and Charley Pride. Music was always around. It seems to me that country music had a lot more heart and soul in the old days. Back then, those guys were singing from the heart, from experience."
Chesnutt still owns many of those old records, as part of a formidable collection of country albums, 45s and 78s. Though most of them belonged to his father, he continues to add to the collection himself and still likes to play the records he heard while growing up.
"I have this old collection of 78s that my daddy gave to me," he reveals. "He bought them when they first came out, way back in the early 1950s. He was a real big Hank Williams' fan and in those days they used to put out these albums that you could keep your 78s in, so he had one with all the old Hank Williams records in. He gave that to me just b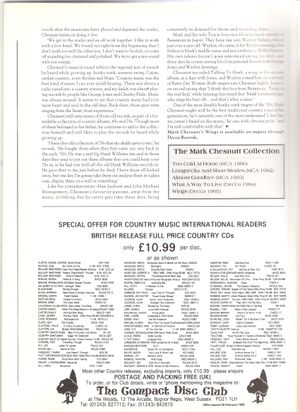 efore he died. I have them all locked away, but one day I'm gonna take them out and put them in a glass case, display them on a wall or something."
Like his contemporaries Alan Jackson and John Michael Montgomery, Chesnutt's favourite pastime, away from the music, is fishing, but he rarely gets time these days, being constantly in demand for shows and recording dates.
Mark and his wife Tracie live on a 60-acre ranch outside of Beaumont in Jasper. They have one son, Waylon Nelson, who is just over a year old. Waylon, of course, is for Waylon Jennings, but Nelson is Mark's middle name and not a tribute to Willie Nelson. His own talents haven't gone unnoticed among his idols, and these days he counts among his close personal friends both George Jones and Waylon Jennings.
Chesnutt recorded Talking To Hank, a song on his second album, as a duet with Jones, and Waylon joined him on a revival of Rainy Day Woman. Both singers rate Chesnutt highly. Jones is on record saying that: "I think this boy from Beaumont, Texas, is the real deal," while Jennings has stated that: "Mark's a talented guy who sings his butt off … and that's what counts."
One of the most durable honky-tonk singers of the 1990s, Mark Chesnutt might well be the best traditional country voice of his generation; he's certainly one of the most underrated. "I feel like my career's based on the music," he says with obvious pride, "and I'm real comfortable with that."
The Mark Chesnutt Collection
Too Cold At Home (MCA 1990)
Longnecks And Short Stories (MCA 1992)
Almost Goodbye (MCA 1993)
What A Way To Live (Decca 1994)
Wings (Decca 1995)