Texan singer-songwriter Maren Morris, signed to Sony Music Nashville last year, will be returning to the UK in March to appear at Country to Country 2016. I say return, as I was involved in bringing Maren (and her family) to the UK in the summer of 2006 for a handful of club and festival gigs. I first came across Maren's music a year before when I got hold of her WALK ON debut album recorded when she was 14. I was suitably impressed, and after reviewing the album for Maverick magazine, I set about helping Maren to get her music more widely known and established in the UK. This was not for me to make money or boost advertising revenue in the magazine, this was entirely down to the fact that I believed in Maren's talent and her enthusiasm and drive io bring her music to UK audiences. Below is a feature that I wrote about Maren that was published in Maverick in March 2006—ten years ago, but I believe, still relevant today.

First published in Maverick, March 2006
Maren Morris
Little Bundle of Country Soul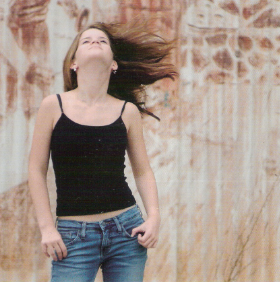 Teen stars in country music are nothing new. Back in the 1930s some of the most popular names in hillbilly music got their start whilst still teenagers. It's a trend that has continued through the country mainstream with such well-known names as Wanda Jackson, Jean Shepard, Brenda Lee, Tanya Tucker, Leann Rimes, Lila McCann and Jessica Andrews, all having made their mark before they turned twenty. The latest destined to join their ranks is Texas teen Maren Morris, who unlike most of her predecessors, is not only a distinctive singer, but also a talented songwriter who wrote or co-wrote eight of the ten songs on her WALK ON indie-label debut album released when she was just 14.
That was eighteen months ago, and since then the youngster has been approached by several of the major labels, shared the stage with acts ranging from Jack Ingram, to Marty Stuart, to the Bellamy Brothers, and has been headlining at a growing list of notable venues throughout Texas. Maren also finished in the finals of last year's B.W. Stevenson Songwriters' Competition, along with published songwriters many times her age. Dixie Chicks' producer and steel guitarist extraordinaire Lloyd Maines was floored by Maren's voice in the studio as she recorded her CD. 'This girl has everything it takes to make it,' said Maines. 'She does vocal acrobatics most grown-ups can't do,' said Tommy Alverson, of Una Mas Cerveza fame.
When I spoke to Maren on the phone at her Grand Prairie home, she was slightly overawed that someone in Britain had not only heard her music, but wanted to talk to her about her music. "I had no idea that it would go so far," she said breathlessly, "but it's really awesome."
Maren Morris is anything but a typical teenager. During the week she is a sophomore at Bowie High School in Arlington, where she sings in the choir and plays soccer. Then on the weekends, she is part of the Texas music scene, playing gigs all over with her all-male band, and when time permits, honing her songwriting and guitar playing. She has been hailed as the next Leann Rimes—though she's a more soulful, rootsy version, who also writes most of her material.
"Well I still go to school and I practice guitar whenever I can," she explained. "My gigs are normally at the weekends and I practice whenever I have spare time. I get my guitar out and just play and learn new things. It doesn't get in the way of my social life at all. It's just like extra curricular, but it's really fun. I enjoy it!"
Maren got her start in music at the age of 10, singing around the campfire at the popular Larry Joe Taylor Music Festival. Since then she's made numerous radio and television appearances and played clubs, honky-tonks and last year appeared at the Texas State Fair. She was runner up in the Texas 10 Under 20 contest at the 2004 Dallas Guitar Show and last year was one of only 46 high school students in the USA to be chosen to attend the exclusive Grammy Camp, a nine-day intensive event that covers all aspects of the music industry, and the only Texan to be part of the singer-songwriter speciality group.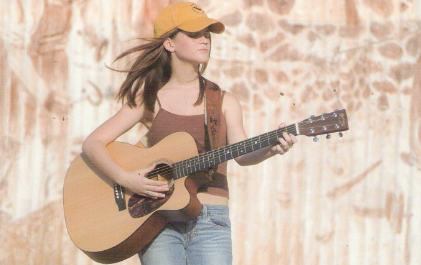 She got to go to Los Angeles and study with music industry greats like Grammy Award-winning producers David Foster and Jimmy Jam, and Cheryl Bentyne of vocal jazz group The Manhattan Transfer.
"I'm still like talking about it, it was so much fun," she enthused. "I had no idea what to expect but flying to California and getting to visit Capitol Records, and I met INXS. The greatest thing was getting to meet other kids from around the country. I am the only kid I know around where I live who does this professionally, so it was neat to meet people who are doing similar things and learn their perspective. Though the other kids are going in a different direction that I'm going in, we still had a lot in common."
The self-described country, rock and blues singer-songwriter-guitarist found new inspiration to write when she returned home after the summer camp. "I kinda hadn't written a song for a while and finally after I was there I came back, I actually wrote a song there and then when I came home I actually had reasons to write about what happened during the summer like crushes, that sort of thing," Maren explained. "At training camp they said you can find inspiration anywhere, and so when I got home I had so many ideas."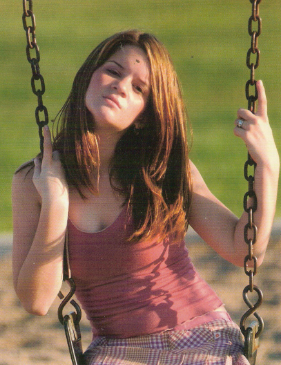 The teenager comes across as quite mature for her years. The evidence of this is not in the clothes she wears or how she behaves. It's in the songs she sings, and more and more people are taking her music very seriously. She is continually honing her craft as a songwriter, striving to capture her life and the world around her and put it into song.  "I really write when it comes to my mind. I don't sit around every day writing songs. I might walk around for a while and then think of something and I usually play the guitar first and then I'll try and put some words to it and then I'll spend some time finishing it off."
"I suppose I do a younger version of what adults go through, like re-writing the songs until they sound right. I do write from things that I've felt and relationships that I've experienced or that I know other people have experienced. I write things that are true to life."
Comparisons can inevitably be drawn to any number of female singers but, make no mistake, Maren's style is like no other. On her impressive WALK ON album debut she has a great blend of the various genres that influence her writing and singing style from blues to country to rock. Production is by Stephen Doster with solid musical support from such Texas heavyweights as Scott Boland, Randy Langley (guitars), Eddie Cantu (drums), Dick Sims (keyboards), Eric Zukoski (bass); and Lloyd Maines (pedal steel and Dobro).
The title track that she co-wrote with Doster stands out as her favourite. "I wrote that song about the need to move on, not getting pigeon-holed in life," she says. The song is featured in an independent film Sweetwater. Other highlights include the sultry
Barrelhouse Blues
, written by Doster, Christ Layton and Tommy Shannon, and
Popular Girl
a powerful coming of age song co-written by Maren and her mom. "That song is so true to kids I know at school," Maren says. "There's so much peer pressure to keep at any cost."
Maren also covers Buddy and Julie Miller's
Help Wanted
, showing that she has impeccable taste when it comes to outside material. She's a serious girl when it comes to her music. There's no girlishness about her. Even the CD photos, including one of her sitting on a swing, there's not even a hint of a smile.  
All of Maren's ongoing success would not be possible without her dedicated family. When parents Scott and Kellie are not running Maren Karsen Salon, named for her and her sister, they are actively involved in her career. Scott runs the business side of things and Kellie contributed lyrics to two of the songs on the album. "They have been so supportive to my music," Maren acknowledges. "They take me out to the shows and really make it all work out so smoothly. They have been so incredible."
Being young, talented and female does present challenges: "Sometimes people don't take me seriously because of my age or are sceptical about booking a young girl to play their club," she says. "Some places are more like bars, and some places they will listen to you and acknowledge that you're there, but at other times, you're background music. There are people talking or whatever. All I ask is to be given a chance to prove myself."
This summer Maren is hoping to come over to the UK, play at a couple of festivals and some of the more discerning listening venues. If you are one of those readers into country that leans a little toward Americana with a strong Texas flavour, then make sure you don't miss this little bundle of country soul.