Marcus Hummon - Let The Good Times Roll
First published in Country Music International, February 1996
Over-educated and over here? Marcus Hummon is a singer-songwriter from Washington D.C. currently warming up audiences on Alison Krauss' UK tour. Alan Cackett wonders if he's too smart for Nashville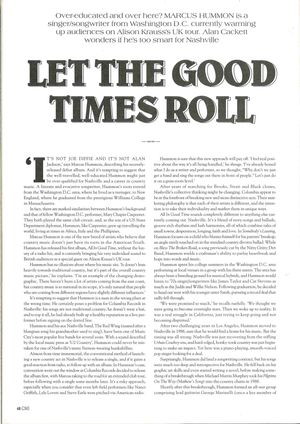 "It's not Joe Diffie and it's not Alan Jackson," says Marcus Hummon, describing his recently released debut album. And it's tempting to suggest that the well-travelled, well-educated Hummon might just be over-qualified for Nashville and a career in country music. A literate and evocative songwriter, Hummon's roots extend from the Washington D.C. area, where he lived as a teenager, to New England, where he graduated from the prestigious Williams College in Massachusetts.
In fact, there are marked similarities between Hummon's background and that of fellow Washington D.C. performer, Mary Chapin Carpenter. They both played the same club circuit, and, as the son of a US State Department diplomat, Hummon, like Carpenter, grew up travelling the world, living at times in Africa, Italy and the Phillipines.
Marcus Hummon is one of the new-breed of artists who believe that country music doesn't just have its roots in the American South. Hummon has released his first album, ALL IN GOOD TIME, without the luxury of a radio hit, and is currently bringing his very individual sound to British audiences as a special guest on Alison Krauss' UK tour.
Hummon has no illusions about where his music sits. "It doesn't lean heavily towards traditional country, but it's part of the overall country music picture," he explains. "I'm an example of the changing demographic. There haven't been a lot of artists coming from the east coast, but country music is so national in its scope, it's only natural that people who are coming from different regions have slightly different influences."
It's tempting to suggest that Hummon is a man in the wrong place at the wrong time. He certainly poses a problem for Columbia Records in Nashville: his songs are not traditional country, he doesn't wear a hat, and to top it all, he had already built up a healthy reputation as a live performer before signing on the dotted line.
Hummon and his ace Nashville band, The Red Wing (named after a bluegrass song his grandmother used to sing), have been one of Music City's most popular live bands for several years. With a sound described by the local music press as 'U2 Country,' Hummon could never be mistaken for one of Nashville's many Stetson-wearing hunkabillies.
Almost from time immemorial, the conventional method of launching a new country act in Nashville is to release a single, and if it gains a good reaction from radio, to follow up with an album. In Hummon's case, convention went out the window as Columbia Records decided to release the album first, with Marcus taking to the road for an extended club tour, before following with a single some months later. It's a risky approach, especially when you consider that even left-field performers like Nanci Griffith, Lyle Lovett and Steve Earle were pitched via American radio.
Hummon is sure that this new approach will pay off. "I feel real positive about the way it's all being handled," he shrugs. "I've already honed what I do as a writer and performer, so we thought: 'Why don't we just get a band and sing the songs out there in front of people.' Let's just do it on a grass-roots level."
After years of searching for Brooks, Strait and Black clones, Nashville's collective thinking might be changing. Columbia appear to be at the forefront of breaking new and more distinctive acts. Their marketing philosophy is that each of their artists is different, and the intention is to take their individuality and market them in unique ways.
ALL IN GOOD TIME sounds completely different to anything else currently coming out Nashville. It's a blend of story-songs and ballads, groove-rich rhythms and lush harmonies, all of which combine tales of small towns, desperation, longing, faith and love. In Somebody's Leaving, Hummon focuses on a child who blames himself for his parents' breakup; an angle rarely touched on in the standard country divorce ballad. While on Bless The Broken Road, a song previously cut by the Nitty Gritty Dirt Band, Hummon wields a craftsman's ability to parlay heartbreak and hope into words and music.
Hummon spent his college summers in the Washington D.C. area performing at local venues in a group with his three sisters. The area has always been a breeding ground for musical hybrids, and Hummon would listen to 1970s singer-songwriters like James Taylor and Cat Stevens as much as the Judds and Willie Nelson. Following graduation, he decided to head out west with his younger sister Sarah, pursuing a record deal that sadly fell through.
"We were promised so much," he recalls ruefully. "We thought we were going to become overnight stars. Then we woke up to reality. It was a real struggle in California, just trying to keep going and not becoming dispirited."
After two challenging years in Los Angeles, Hummon moved to Nashville in 1986, sure that he would find a home for his music. But the timing was all wrong. Nashville was just recovering from the stifling Urban Cowboy-era, and hard-edged, honky-tonk country was just beginning to make an impact. Yet here was a piano-playing, smooth-voiced pop singer looking for a deal.
Surprisingly, Hummon did land a songwriting contract, but his songs were much too deep and introspective for Nashville. He fell back on his graphic art skills and even started writing a novel, before making something of a breakthr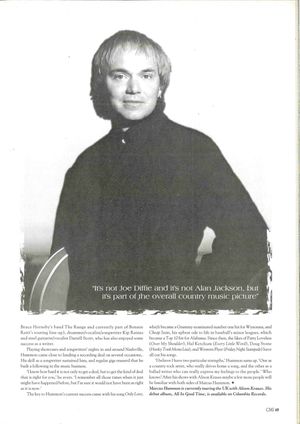 ough when Michael Martin Murphey took his Pilgrims On The Way (Mathew's Song) into the country charts in 1988.
Shortly after this breakthrough, Hummon formed an all-star group comprising lead guitarist George Marinelli (once a key member of Bruce Hornsby's band The Range and currently part of Bonnie Raitt's touring line-up), drummer/vocalist/songwriter Kip Raines and steel guitarist/vocalist Darrell Scott, who has also enjoyed some success as a writer.
Playing showcases and songwriters' nights in and around Nashville, Hummon came close to landing a recording deal on several occasions. His skill as a songwriter sustained him, and regular gigs ensured that he built a following in the music business.
"I know how hard it is not only to get a deal, but to get the kind of deal that is right for you," he avers. "I remember all those times when it just might have happened before, but I'm sure it would not have been as right as it is now."
The key to Hummon's current success came with his song Only Love, which became a Grammy-nominated number one hit for Wynonna, and Cheap Seats, his upbeat ode to life in baseball's minor leagues, which became a Top 10 hit for Alabama. Since then, the likes of Patty Loveless (Over My Shoulder), Hal Ketchum (Every Little Word), Doug Stone (Honky Tonk Mona Lisa), and Western Flyer (Friday Night Stampede) have all cut his songs.
"I believe I have two particular strengths," Hummon sums up. "One as a country rock artist, who really drives home a song, and the other as a ballad writer who can really express my feelings to the people."   Who knows? After his shows with Alison Krauss maybe a few more people will be familiar with both sides of Marcus Hummon.