Mandy Barnett - Out Of Time
First published in Country Music International, July 1996
Mandy Barnett has the kind of voice last heard echoing around the Grand Ole Opry, circa 1955. But its owner is barely out of her teens and marooned in Nashville in 1996. "Sometimes I wish I could have been born 30 years earlier," she tells Alan Cackett.
"From the time I was 12, until I was 18, I had people telling me what to do. And I thought, 'Well, they've had hit records, so whatever they say is what I should do.'  So I did a lot of songs that were good, but just weren't my style."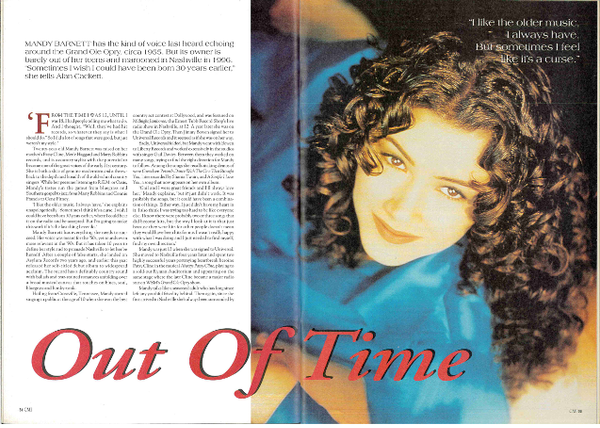 Twenty-year-old Mandy Barnett was raised on her mother's Patsy Cline, Merle Haggard and Marty Robbins records, and is a country stylist with the potential to become one of the great voices of the early 21st century. She is both a slice of genuine modernism and a throwback to the depth and breadth of the old-school country singers. While her peers are listening to R.E.M. or Oasis, Mandy's tastes run the gamut from bluegrass and Southern gospel to jazz; from Marty Robbins and Connie Francis to Gene Pitney.
"I like the older music, I always have," she explains unapologetically. "Sometimes I think it's a curse. I wish I could have been born 30 years earlier, where I could hear it on the radio and be accepted. But I'm going to make this work if it's the last thing I ever do."
Mandy Barnett has everything she needs to succeed. Her voice was meant for the 1950s, yet sounds even more relevant in the 1990s. But it has taken 10 years to define her style and to persuade Nashville to let her be herself. After a couple of false starts, she landed on Asylum Records two years ago, and earlier this year released her self-titled debut album to widespread acclaim. The record has a definably country sound with ballads and tear-stained romances unfolding over a broad musical canvas that touches on blues, soul, bluegrass and honky-tonk.
Hailing from Crossville, Tennessee, Mandy started singing in public at the age of 10 when she won the best country act contest at Dollywood, and was featured on Midnight Jamboree, the Ernest Tubb Record Shop's live radio show in Nashville, at 12. A year later she was on the Grand Ole Opry. Then Jimmy Bowen signed her to Universal Records and it seemed as if she was on her way.
Sadly, Universal folded, but Mandy went with Bowen to Liberty Records and worked extensively in the studios with singer Gail Davies. Between them they worked on many songs, trying to find the right direction for Mandy to follow. Among the songs she recalls making demos of were Gretchen Peters' Dance With The One That Brought You, later recorded by Shania Twain, and A Simple I Love You, a song that now appears on her own album.
"Gail and I were great friends and I'll always love her," Mandy explains, "but it just didn't work. It was probably the songs, but it could have been a combination of things. Either way, I just didn't have my heart in it. I also think I was trying too hard to be like everyone else. I know there were probably two or three songs that did become hits, but the way I look at it is that just because they were hits for other people doesn't mean they would have been hits for me. I wasn't really happy with what I was doing and I just needed to find myself, find my own direction."
Mandy was just 13 when she was signed to Universal. She moved to Nashville four years later and spent two highly successful years portraying heartbreak heroine Patsy Cline in the musical Always Patsy Cline, playing to a sold-out Ryman Auditorium and appearing on the same stage where the late Cline became a major radio star on WSM's Grand Ole Opry show.
Mandy talks like a seasoned adult who has long since left any youthful frivolity behind. Then again, since she first arrived in Nashville she's always been surrounded by older people. Her co-star in Always Patsy Cline was 40-year-old Tere Myers; Gail Davies, who worked so closely with her in the studio, is also in her 40s; and most of the music business executives, songwriters and musicians she has worked with are old enough to be her parents.
Although signed to a major record label, Mandy was still struggling to make ends meet, and was relieved when Liberty dropped her from their roster. They hadn't released a single record, and despite the fact that she wasn't yet 18 her dream of country music stardom seemed to be floundering.
"I needed them to let me go," she says candidly, "and eventually they [Liberty] did drop me. I think that was probably the best thing that could have happened, because it gave me the time to do some thinking without anyone else giving me their opinion. I wanted to be able to think about it on my own."
But she wasn't left alone for long. A friend phoned her one morning to tell her that there were auditions taking place downtown for a Patsy Cline show and that she ought to go along and try her luck. Mandy had just finished a late shift in the care home where she was now working and was more interested in getting some sleep.
"I didn't know whether it was going to be worth my time," she recalls. "But then I got to thinking that I needed the money. I didn't know that it was a musical, I thought it would be some little rinky-dink show or something out at Opryland. Eventually I decided I ought to go and check it out. I ended up being number 109, and there were 400 women in there all dressed up like Patsy Cline, and I walked in wearing an old dress and a pair of clogs, looking very plain and nothing like Patsy. Most of them were singing Crazy, so I just went out there and sang Someday (You'll Want Me To Want You). It was very intimidating."
Mandy didn't hold out much hope of landing the part, but a couple of days later she received a call offering her the job. It was to be a two-year stint, playing four, sometimes five days a week.
"Doing Always Patsy Cline really helped me," she readily admits. "I was afraid I would be typecast, but I was determined to be Patsy Cline, not P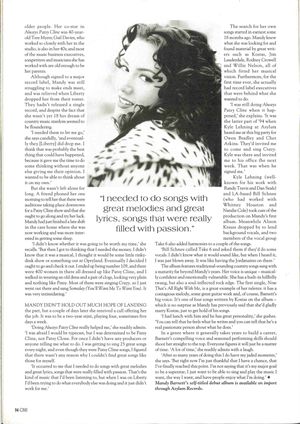 atsy Clone. For once I didn't have any producers or anyone telling me what to do. I was getting to sing 25 great songs every night, and even though they were Patsy Cline songs, I figured that there wasn't any reason why I couldn't find great songs like those for myself."
"It occurred to me that I needed to do songs with great melodies and great lyrics, songs that were really filled with passion. That's the kind of music that I'd been listening to, but when I was on Liberty I'd been trying to do what everybody else was doing and it just didn't work for me."
The search for her own songs started in earnest some 18 months ago. Mandy knew what she was looking for and found material by great writers such as Kostas, Jim Lauderdale, Rodney Crowell and Willie Nelson, all of which fitted her musical vision. Furthermore, for the first time ever, she actually had record label executives that were behind what she wanted to do.
"I was still doing Always Patsy Cline when it happened," she explains. "It was the latter part of 1994 when Kyle Lehning at Asylum heard me at this big party for Owen Bradley and Chet Atkins. They'd invited me to come and sing Crazy. Kyle was there and invited me to his office the next week. That was when he signed me."
Kyle Lehning (well-known for his work with Randy Travis and Dan Seals) and LA-based Bill Schnee (who had worked with Whitney Houston and Natalie Cole) took care of the production on Mandy's first album. Meanwhile Alison Krauss dropped by to lend background vocals, and two members of the vocal group Take 6 also added harmonies to a couple of the songs.
"Bill Schnee called Take 6 and asked them if they'd do some vocals. I didn't know what it would sound like, but when I heard it, I was just blown away. It was like having the Jordanaires on there."
The album features traditional-sounding country songs sung with a maturity far beyond Mandy's years. Her voice is unique -musically confident and emotionally vulnerable. She has a built-in hillbilly twang, but also a soul-inflected rock edge. The first single, Now That's All Right With Me, is a great example of her talents: it has a contagious melody, some great guitar work and, of course, Barnett's big voice. It's one of four songs written by Kostas on the album which is no surprise as Mandy has previously said that she'd gladly marry Kostas, just to get hold of his songs.
"I had lunch with him and he has great personality," she gushes. "You can tell that he feels what he writes and you can tell that he's a real passionate person about what he does."
In a genre where it generally takes years to build a career, Barnett's compelling voice and seasoned performing skills should shoot her straight to the top. Everyone figures it will just be a matter of time. "A lot of time," she readily admits with a laugh.
"After so many years of doing this I do have my jaded moments," she says. "But right now I'm just thankful that I have a chance, that I've finally reached this point. I'm not saying that it's my major goal to be a superstar, I just want to be able to sing and play the music I want, the way I want, and have people enjoy what I'm doing."