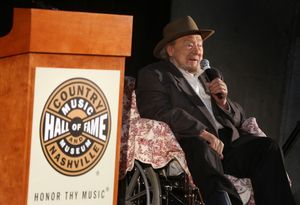 Mac Wiseman, singer, songwriter, instrumentalist, band-leader, record producer, record label executive, radio announcer, voice over specialist, you name it, the veteran entertainer did virtually it all in a career that stretched back to the early 1940s, passed away on February 24, 2019, in a rehab facility in Antioch, Tennessee. He was 93 and had been experiencing kidney failure during the previous few weeks. Famed for his clear and mellow tenor voice, Mac Wiseman recorded with many great bluegrass bands, including those of Molly O'Day, Flatt and Scruggs, Bill Monroe, and the Osborne Brothers. His command of traditional material made him much in demand by bluegrass and folk fans alike. Though for years he had been pigeon-holed solely within the bluegrass genre, for many years he was more straight country and in the mid-1950s, scored a couple of top ten country hits with The Ballad Of Davy Crockett and Jimmy Brown the Newsboy.
I first encountered Mac Wiseman's music in the early 1960s when I heard his versions of Jimmy Brown The Newsboy and Tis Sweet To Be Remembered on a GOLDEN HITS collection on the long-forgotten Dot Records. I was totally smitten by the honesty of his delivery and the simplicity of the musical arrangements that captured a bygone era in a timeless manner. A few short years later—in the mid-1970s—I got to not only meet up with Mac, but also promote a concert in Maidstone, in which he was accompanied by Brian Golbey and a handful of other skilled British musicians. Though obviously tired after a long drive in—compared to American models—a small British car from Yorkshire down to Kent, he still struck me be his genial friendliness and exquisite southern manners. Oh, and by the way, his show was first class, a study in how to present a varied mix of hillbilly,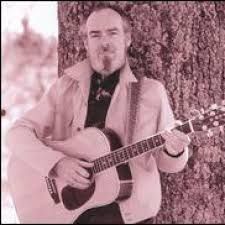 mountain and bluegrass music in a friendly entertaining way.   
Malcolm B. 'Mac' Wiseman was born May 23, 1925, in Crimora, Virginia. At six-months old, he contracted polio. Because of his illness, he was kept inside and was not subjected to the field work that most children of the rural Shenandoah Valley were expected to do. His father would set the phonograph up by the wood stove and young Mac would listen to old records by such singers as Montana Slim, Jimmie Rodgers and Bradley Kincaid over and over. His mother would write the lyrics from songs she heard on the radio into composition books for him.
In 1943, Mac applied for a job at the Merck and Co. chemical plant, but because of the polio damage to his leg, he was turned down. That was when he made the decision to pursue his passion for music. He attended the Shenandoah Conservatory of Music in Virginia with help from the National Foundation for Infantile Paralysis, which would later become the March of Dimes. There he excelled in a radio course and accepted a job offer from WSVA in Harrisonburg, Virginia, where he read the news and farm reports and spun pop and country records.
At the same time, he worked as a singer with Buddy Starcher later forming his own group. He became an integral part of Molly O'Day's band on the Tennessee Barn Dance on WLOX of Knoxville, Tennessee. This led to his first recording sessions in 1946. He played bass on all of the original sixteen tunes that Molly recorded for the Columbia label in their Chicago studios, with the famous Art Satherley.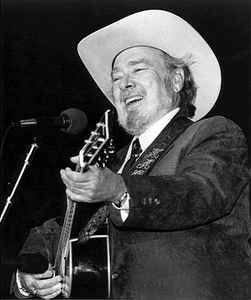 While in Knoxville he became acquainted with many famous bluegrass personalities, though the term bluegrass had not been coined then. He linked up with the Carlisle Brothers and worked with Lester Flatt and Earl Scruggs for a year when they formed the Foggy Mountain Boys in 1948. Mac was featured on Flatt and Scruggs' first session for Mercury and sang and played on three numbers along with Jim Shoemate on fiddle and Cedric Rainwater on bass. In 1949, he joined Bill Monroe's Bluegrass Boys and played the Grand Ole Opry for the first time. He also recorded the classics Traveling This Lonesome Road and Can't You Hear Me Callin' with Monroe. He left the band in 1950 and was soon leading his own band, the Country Boys, with a repertoire that criss-crossed between country, bluegrass and even light pop music.
He joined the famous Louisiana Hayride on radio KWKH in Shreveport, Louisiana and a short time later he became the first country music artist to be signed to the new Dot Records which was formed during 1950 in Gallatin, Tennessee. His first session for Dot was actually held in the studios of the Louisiana Hayride in May 1951 with a line-up of guitar, mandolin, fiddle and Joe Medford on banjo—although Mac Wiseman was basically an old-time hillbilly singer, he immediately became involved in bluegrass music.
Mac's band the Country Boys, featured such pioneering musicians as Eddie Adcock and Scott Stoneman and employed two fiddles to play contemporary songs such as Speedy Drise's Goin' Like Wildfire as well as adaptations of standards such as the Carter Family's Wonder How the Old Folks Are at Home and Mac and Bob's 'Tis Sweet to Be Remembered, his first single released in 1951 that became a career-making song and earned him the nickname the 'voice with a heart.'   
Unlike many of the other bluegrass bands of the early 1950s, Mac Wiseman refused to stand still with his music. While all the other bands were capitalising on the excellent material that flowed from the trend-setting Bill Monroe group, Mac was busy looking elsewhere for his material. He took good material and gave it a bluegrass treatment but dressed it up with twin-fiddles and pleasant electric guitar work—this was the secret of his success.
He recorded several old pop tunes like this and breathed new life into them, retaining the basic melody line so that people could still associate with the song. Mac went on to record several other classics including Love Letters In The Sand, Jimmy Brown, The Newsboy, The Ballad Of Davy Crockett, and Shackles And Chains.
Mac was first of all a hillbilly artist, then became a bluegrass performer and around 1957 he began to move toward the pop field. This latter change was prompted by Randy Wood, owner of Dot Records and Mac's a&r man, who was primarily a pop recording expert and was responsible for the success of Pat Boone during the mid-1950s. It is interesting to note that Mac was very agreeable to the suggestions that he change his style, and he worked hard at attempting to do so. However, he was out of his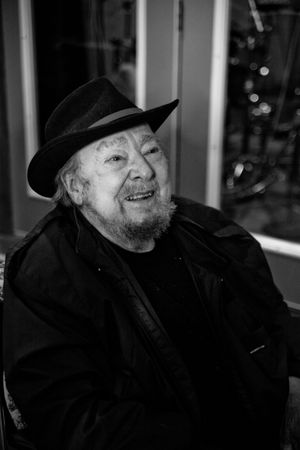 comfort zone and the efforts to make him a pop singer didn't really work.
It was mainly due to Mac's ready acceptance to be geared towards the pop market that he was appointed a&r executive for Dot Records in 1957. He was moved first to California, where Dot had set up headquarters in 1956, to learn all about recording techniques, then he was put in charge of the label's country music operations. Mac worked tirelessly on behalf of other artists, so much so that his own performing and recordings were neglected. His term as an executive was not a successful one for Mac.
Despite this, he was very much business-savvy. Over the years he had been very much hands-on in booking his own shows and tours and managing his career. Though he had been involved in merging pop and country, like many other die-hard country performers of the 1950s, he was concerned by the incursion of rock'n'roll into country music, as he saw record sales decrease and touring opportunities harder to come by. In 1958, Mac was instrumental in the founding of the Country Music Association, becoming the organisation's first Secretary/Treasurer, demonstrating the respect he had earned as both an artist and a record executive.
Another change in Mac's career was his attempt to take advantage of the folk music revival of the late 1950s and early 1960s. Mac delved deep into his folk repertoire and began performing more conventional songs, including folk ballads, late nineteenth century parlour song material and even western material. He was a regular on the folk festival circuit, on college campuses and he also played Carnegie Hall in 1962 on a bill headlined by Johnny Cash, which garnered him rave reviews in The New York Times.
That same year he signed with Capitol Records, recording both country and bluegrass tunes. He left the label after a couple of years and created his own label, Wise Records, on the strength of Bringing Mary Home, a song pitched to him by the Country Gentlemen. Recorded at the RCA Studios in Montreal in 1965, it tied in with a Canadian label (Rodeo Records) and the resulting album mainly comprised Canadian and Irish material, one of the latter, My Molly Bawn, quickly established itself an essential part of his performance repertoire.
The following year he moved to Wheeling, West Virginia, where he was appointed Programme Producer and Talent Director for the WWVA Wheeling Jamboree. During his tenure he stabilised the cast of performers and gave bluegrass prominence, as well as setting up his own booking agency and music publishing operations, both with the title Wise-O-Man. Around the same time he began a spate of recording, producing three albums for his former label, Dot, and a fourth for Rural Rhythm.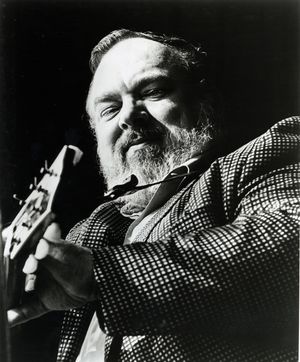 In May 1968 he returned to the Nashville studios to record the single, Got Leavin' On Her Mind for MGM, which returned Mac to the country charts for the first time in more than five years.
It was a ploy by producer Jack Clement to get Mac a deal with RCA Victor. It worked as the label signed Mac to a contract that would last through to 1974. Jack Clement remained as his producer most of the time, with a number of the songs culled from the Clement catalogue. One of these was a novelty song, Johnny's Cash And Charley's Pride (a song that played around with many other artists' names in the lyrics). Another new song to emerge during this period was the sensitive On Susan's Floor, written about Nashville's Sue Brewer who had always a welcome, and a place to stay, for struggling songwriters in Nashville. Written by Vince Matthews, and subsequently frequently recorded, Mac had the original version of a song that's gained near cult status over the years.
Alongside his solo recordings, Mac also recorded prolifically with Lester Flatt, who had recently split from Earl Scruggs. Flatt had signed with RCA roughly the same time as Mac and it was more than just a reunion of old friends—he had worked briefly with Flatt & Scruggs in 1948, soon after the duo had left Bill Monroe—and led to a recording partnership that stretched over three albums. Mac also began to play at bluegrass festivals both with his own band and with Lester Flatt and over the next three decades, he became one of the most popular performers on the circuit.
Though his deal with RCA was to be his last major label affiliation, he continued recording regularly for independent labels such as Vetco, CMH, SugarHill, Churchill, Music Mill, Oh Boy and his own Wise Records. Most notable amongst the more than 30 albums recorded between 1976 and 2010 are 1977's MAC WISEMAN SINGS GORDON LIGHTFOOT, 1979's THE ESSENTIAL BLUEGRASS ALBUM (with the Osborne Brothers), 1982's THE CLAYTON McMICHEN STORY, 1998's DEL, DOC & MAC (with Del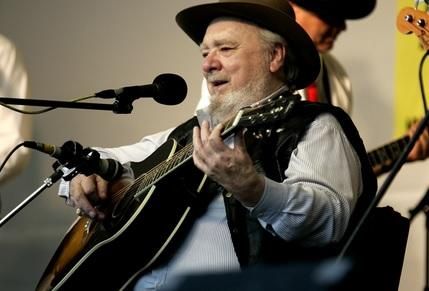 McCoury and Doc Watson) and 2007's STANDARD SONGS FOR AVERAGE PEOPLE (with John Prine).
In 1992, Mac narrated the documentary High Lonesome, a chronicle of bluegrass music, and in 1993 was inducted into the Bluegrass Hall of Fame. There have also been numerous reissues and compilations. In 2014, he released Songs From My Mother's Hand, an album of songs inspired by his mother Ruth's handwritten notebooks of songs she heard on the radio when Mac was a child.
The notebook songs, written in Ruth's hand, are folk songs, with roots in the British Isles. They are foundational to what has come to be known as country music, and they imparted in Mac Wiseman a love of song that would spur one of the longest recording careers of any American singing star. That notebook is now housed in the Country Music Hall of Fame Museum as a vibrant reminder of the rich heritage of country music. In 2014 Mac Wiseman himself was inducted into the Country Music Hall of Fame.
A well-rounded jovial man, always with a twinkle in his eye and a somewhat mischievous grin on his face, Mac Wiseman was that genial favourite uncle that we all adore. His light tenor voice sometimes disguised the passion that he felt for music. He loved the old songs but was never afraid to tackle the new. Though he will always be closely aligned with bluegrass his recorded legacy and the breadth of his live shows tell us a different story. Mac Wiseman was a master showman, skilled musician and a singer that imparted great emotion … but more than anything a loveable human being.