First published in Country Music People, August 1973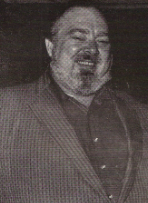 Mac Wiseman is a consummate bluegrass vocalist and guitarist who was born in Virginia's Shenandoah Valley on May 23, 1925. He has been a professional musician for more than twenty-five years.
Although bluegrass music never really achieved the hit parade status of the more conventional country numbers, it sold on a steady and consistent basis. In the mid-1950s Wiseman with his group The Country Boys gained national attention recording both pop and country songs, many of which he had learned in his native Shenandoah Valley.
With a voice similar to that of Bill Monroe and a passion for old-time songs such as
I Wonder How The Old Folks Are At Home
and
The Letter Edged In Black
, Wiseman's songs were played regularly on country shows along with those of the more commercial performers. Wiseman delved deeply into old-time and gospel music for his repertoire and sometimes into vintage pop music, as in his recording of
Love Letters In The Sand
, a popular song from the early 1920s. Regardless of the source, Wiseman's recordings were always characterised by the intense, hard-driving bluegrass style and distinguished by his own dramatic guitar playing.
Mac's first recording opportunities were as a side-man for Molly O'Day in 1946. At that time he was working as a solo artist but as an integral part of Molly's act on the Tennessee Barn Dance on WLOX of Knoxville, Tennessee. He played bass on all of the original sixteen tunes that Molly recorded for the Columbia Label in their Chicago studios, with the famous Art Satherley.
While in Knoxville he became acquainted with many famous bluegrass personalities, though the term bluegrass was not used. He linked up with the Carlisle Brothers, for a time played with the famous Bill Monroe and worked with Lester Flatt and Earl Scruggs when they formed the Foggy Mountain Boys in 1948, for a year. Mac was featured on Flatt and Scruggs' first session for Mercury and sang and played on three numbers along with Jim Shoemate on fiddle and Cedric Rainwater on bass.
In 1950 Mac decided to go solo and formed his own band which played in a semi-bluegrass vein. He joined the famous Louisiana Hayride on radio KWKH in Shreveport, Louisiana and a short time later he became the first country music artist to be signed to the new Dot Records which was formed during 1950 in Gallatin, Tennessee. His first session for Dot was actually held in the studios of Louisiana Hayride with a line-up of guitar, mandolin, fiddle and Joe Medford on banjo—although Mac Wiseman was basically an old-time hillbilly singer he immediately became involved in bluegrass music.
Unlike so many of the other bluegrass bands of the early 1950s, Mac Wiseman refused to stand still with his music. While all of the other bands were capitalising on the excellent material that flowed from the trend-setting Bill Monroe group, Mac Wiseman was busy looking elsewhere for his material. He took good material and gave it a bluegrass treatment, but dressed it up with twin-fiddles and pleasant electric guitar work—this was the secret of Wiseman's success. He recorded several old pop tunes like this and breathed new life into them, still retaining the basic melody line so that people could still associate with the song.
Mac was first of all a hillbilly artist, then became a bluegrass performer and around 1957 he began to move toward the pop field. This later change was prompted by Randy Wood, owner of Dot Records and Mac's a&r man, who was primarily a pop recording expert and was responsible for the success of Pat Boone during the mid-1950s. It is interesting to note that Wiseman was very agreeable to the suggestions that he change his style, and he worked hard at attempting to do so. However, he was out of his depth and the efforts to make him a pop singer failed miserably.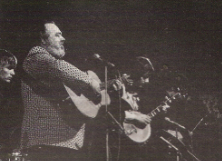 It was mainly due to Mac's ready acceptance to be geared towards the pop market that he was appointed a&r man for Dot Records in Gallatin, Tennessee. He was moved first to California, where Dot had set up headquarters in 1956, to learn all about recording techniques, then he was put in charge of operations out in the country. Mac Wiseman worked tirelessly on behalf of other artists, so much so that his own performing and recording was neglected. His term as an executive was not a successful one for Mac and in late 1960 he left Dot, both as an artist and as a producer.
Throughout his period on Dot, Mac had usually used studio men on his recordings and these included such notables as Hank 'Sugarfoot' Garland, Tommy Jackson, Joe Zinkan, Dale Potter and even on odd occasions Chet Atkins. The banjo work though was usually provided by Donny Bryant, who worked with the Country Boys for about eight years. This method of working with studio personnel rather than band members is very usual in country music, although during the past two or three years there has been a change with more artists actually using their group. In bluegrass though, Wiseman's approach was quite unique, and it was partly due to the use of studio session-men, that he appealed to the general country fan as well as to bluegrass followers.
Another change in Mac's career was his attempt to take advantage of the folk music revival of the late 1950s and early 1960s. Mac delved deep into his folk repertoire and began performing more conventional songs, including folk ballads, late nineteenth-century parlour song material and even western material. The folk fad declined and Mac momentarily returned to bluegrass styles. It is in bluegrass that Mac sounds best—and it's as a bluegrass performer that Mac Wiseman is best remembered.