First published in Country Music People, December 1973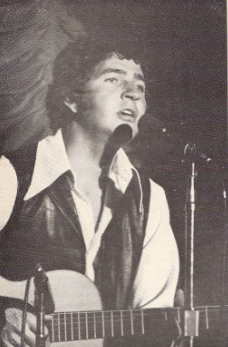 The name of Mac Davis and country music is hardly ever linked, yet this talented Texan songwriter has a lot of connections with country music, which go back further than his success over the past few years as one of the best songwriters in America.
Although Davis was born in Texas he grew up in Atlanta, Georgia, and in the late 1950s he formed a rock'n'roll band and hung around with people like Tommy Roe and Bruce Channel, two pop singers who hit the big time in the early 1960s. This association with music stuck with Mac, who at the time was better known as Scotty Davis, and he landed himself a job as a promotion man for Vee-Jay records, which was heavily into soul music, but also at the time had the Four Seasons signed and a few years later was the first American label to release the Beatles records Stateside. Vee-Jay no longer exists as a label, but Davis did have the chance to record for the label and one single featuring Clyde McPhatter's
Honey Love
owes more to soul music than country. The other side of this record features one of Mac's earliest songs, a rock'n'roll number with a good country backbeat that wouldn't go amiss if released today.
Around 1961 he became more involved with the musical scene around Atlanta that was just beginning to grow and his songs began appearing as either album tracks or coupling titles on singles. He renewed his friendship with Tommy Roe who hit the big-time with
Sheila
, which was cut by Rick Hall in 1962. Felton Jarvis was the producer in Atlanta who had the golden touch and he handled the production of most of Roe's big hits and Mac Davis was one of the many people in the background who played on some really successful sessions and also had his songs recorded by name artists like Roe and Channel. Because of Mac's success in the past as a promotion man he landed a successful job with Liberty Records, which in the early 1960s was the most successful independent label in America. While working with this label from 1964 to late 1967 he came into contact with many interesting session people like Sniffy Garrett and Leon Russell who were both producing for the label, Willie Nelson who was influential from the songwriting standpoint and James Burton who was a successful session guitarist.
Throughout this period he concentrated on his songwriting improving all the time and at last the hits began to appear. Because Davis cannot write music he has always had to make demos of his songs and his recording career which had laid dormant since the early 1960s began to make an appearance again. His songs first began gaining acceptance in country music circles, and though it was Elvis Presley who really set him up when he recorded
In The Ghetto
, others like Kenny Rogers, O.C Smith, Lou Rawls were quicker to see the potential of his strong lyrical songs.
Mac Davis' brand of Southern music with its typical touch of sentiment seems tailor made for country music performers and songs like
A Friend, A Lover, A Woman, A Wife, Watching Scotty Grow, Don't Cry Daddy
and
Everything A Man Could Ever Need
, were soon appearing on the country music charts.
Because of the vivid lyrics that Mac Davis employed in his songs he was soon being referred to as 'a song painter,' and when he made his first album for Columbia it was naturally called MAC DAVIS—SONG PAINTER. Unfortunately the album was swamped with strings, but Davis' strong voice still comes through and his sensitivity with a lyric makes the interpretation complete. Although his songs are mainly sentiment there's no mushiness about him, the songs are all sorts of pieces about Davis which give vent to all sorts of emotions which is highlighted by the beautiful
I Believe In Music
—a title which sums up Mac's attitude to perfection.
The highlight of Mac's recording career came though when he returned to Atlanta. He recorded with Rick Hall at Muscle Shoals and though it took the lightest song, lyrically, that Mac's ever written,
Baby Don't Get Hooked On Me
really established him as a singer as well as a writer. On the album that followed he seemed more assured than ever before, the backing was simple, but effective, a small rhythm section, a touch of steel guitar ably supplied by Leo LeBlanc who never tried to be too clever and some pleasant acoustic guitar work from Travis Wammack. It's interesting to note that the background voices are supplied by Donna and Sandy Rhodes who made a great album in Nashville three or four years ago which unhappily got forgotten about by even those who were lucky enough to hear it.
Apart from Mac's very personal way with a song, the standout point of this album is the lyrics,
Whoever Finds This I Love You
, is one of the best constructed country-weepies I've ever heard, and Mac gives the song plenty of feeling, but never allows the song to be dragged down into the mire.
The Lonesomest Lonesome
, is a country ballad, the sort that Kristofferson does so well, but this one is all Davis' and destined to become a standard country tune. His recollections of early life in the south is put together well on
Naughty Girl
, and I often wonder if this song is slightly autobiographical. Davis married when he was only twenty-years old, and the events in the song would tie in neatly with his life pattern.
Since the release of this album Mac Davis has proved himself to be one of the finest singer-songwriters about and he is now fast making a name for himself as a performer. The album I would consider to be one of the best releases of 1972, but already his new album is making inroads into my playing time with more outstanding love ballads that are really going to grow into some big hits before the end of this year. Davis deserves his success because his songwriting is unique, he combines really strong lyrics with catchy melodies, there's not many writers in country music who are able to do this—and soon Mac Davis is going to be recognised and honoured just like Kristofferson—there's just no keeping talent down.