M. C. Potts - Under The Spotlight
First Published in Country Music International, August 1996
Customers at stores around Alabama and Tennessee know M.C. POTTS.  She's been singing on the back of a truck in their parking lots all summer. Next stop Britain?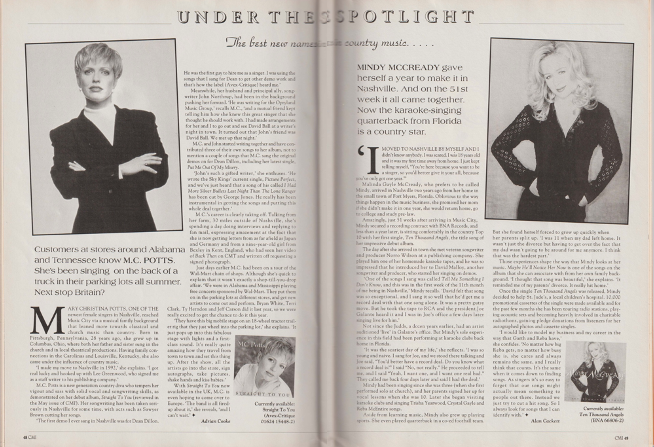 Mary Christina Potts, one of the newest female singers in Nashville, reached Music City via a musical family background that leaned more towards classical and church music than country. Born in Pittsburgh, Pennsylvania, 28 years ago, she grew up in Columbus, Ohio, where both her father and sister sung in the
church and in local theatrical productions. Having family connections in the Carolinas and Louisville, Kentucky, she also came under the influence of country music.
"I made my move to Nashville in 1992," she explains. "I got real lucky and hooked up with Lee Greenwood, who signed me as a staff writer to his publishing company."
M.C. Potts is a new generation country diva who tempers her vigour and sass with solid vocal and songwriting skills, as demonstrated on her debut album, STRAIGHT TO YOU (reviewed in the May issue of CMl). Her songwriting has been taken seriously in Nashville for some time, with acts such as Sawyer Brown cutting her songs.
"The first demo I ever sang in Nashville was for Dean Dillon. He was the first guy to hire me as a singer. I was using the songs that I sang for Dean to get other demo work and that's how the label (Avex-Critique) heard me."
Meanwhile, her husband and principal ally, songwriter John Northrup, had been in the background pushing her forward. "He was writing for the Opryland Music Group," recalls M.C., "and a mutual friend kept telling him how she knew this great singer that she thought he should work with. I had made arrangements
for her and I to go out and see David Ball at a writer's night in town. It turned out that John's friend was David Ball. We met up that night."
M.C. and John started writing together and have contributed three of their own songs to her album, not to mention a couple of songs that M.C. sang the original demos on for Dean Dillon, including her latest single Put Me Out Of My Misery.
"John's such a gifted writer," she enthuses. "He wrote the Sky Kings' current single, Picture Perfect, and we've just heard that a song of his called I Had More Silver Bullets Last Night Than The Lone Ranger has been cut by George Jones. He really has been instrumental in getting the songs and putting this whole deal together."
M.C.'s career is clearly taking off. Talking from her farm, 30 miles outside of Nashville, she's spending a day doing interviews and replying to fan mail, expressing amazement at the fact that she is now getting letters from as far afield as Japan and Germany and from a nine-year-old girl from Bexley in Kent, England, who had seen her video of Back Then on CMT and written off requesting a signed photograph.
Just days earlier M.C. had been on a tour of the Wal-Mart chain of shops. Although she's quick to explain that it wasn't exactly a shop-till-you-drop affair. "We were in Alabama and Mississippi playing free concerts sponsored by Wal-Mart. They put them on in the parking lots at different stores, and get new
artists to come out and perform. Bryan White, Terri Clark, Ty Herndon and Jeff Carson did it last year, so we were really excited to get the chance to do it this year."
"They have this big mobile stage on an 18-wheel tractor trailer rig that they just wheel into the parking lot"' she explains. "It just pops up into this fabulous stage with lights and a first-class sound. It's really quite amazing how they travel from town to town and set this thing up. After the show, all the artists go into the store, sign autographs, take pictures, shake hands and kiss babies."
"With STRAIGHT TO YOU now available in the UK, M.C. is even hoping to come over to Europe. "The band is all fired up about it," she reveals, "and I can't wait."