Lynn Miles - Under The Spotlight
First published in Country Music International, July 1996
The quest for musical success has taken her from Ottawa to Austin and Nashville—via Alaska. Now Lynn Miles has turned her 10-year road trip into an album of great songs.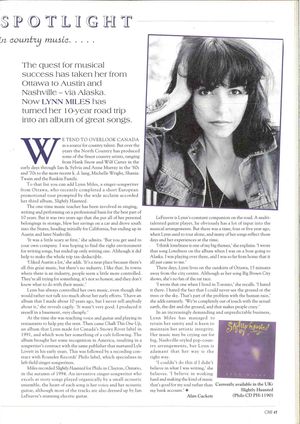 We tend to overlook Canada as a source for country talent. But over the years the North Country has produced some of the finest country artists, ranging from Hank Snow and Wilf Carter in the early days through Ian & Sylvia and Anne Murray in the 1960s and 1970s to the more recent k. d. lang, Michelle Wright, Shania Twain and the Rankin Family.
To that list you can add Lynn Miles, a singer-songwriter from Ottawa, who recently completed a short European promotional tour prompted by the wide acclaim accorded her third album, SLIGHTLY HAUNTED.
The one-time music teacher has been involved in singing, writing and performing on a professional basis for the best part of 10 years. But it was two years ago that she put all of her personal belongings in storage, blew her savings on a car and drove south into the States, heading initially for California, but ending up in Austin and later Nashville.
"It was a little scary at first," she admits. "But you get used to your own company. I was hoping to find the right environment for writing songs, but ended up only writing one. Although it did help to make the whole trip tax-deductible."
"I liked Austin a lot," she adds. "It's a neat place because there's all this great music, but there's no industry. I like that. In towns where there is an industry, people seem a little more controlled. They're all trying for something, it's not so honest, and they don't know what to do with their music."
Lynn has always controlled her own music, even though she would rather not talk too much about her early efforts. "I have an album that I made about 10 years ago, but I never tell anybody about it," she reveals cagily. "It wasn't very good. I produced it myself in a basement, very cheaply."
At the time she was teaching voice and guitar and playing in restaurants to help pay the rent. Then came CHALK THIS ONE UP, an album that Lynn made for Canada's Snowy River label in 1991, and which won her something of a cult following. The album brought her some recognition in America, resulting in a songwriter's contract with the same publisher that nurtured Lyle Lovett in his early years. This was followed by a recording contract with Rounder Records' Philo label, which specialises in left-field singer-songwriters.
Miles recorded SLIGHTLY HAUNTED for Philo in Clayton, Ontario, in the autumn of 1994. An inventive singer-songwriter who excels at story songs played organically by a small acoustic ensemble, the heart of each song is her voice and her acoustic guitar, although most of the tracks are also dressed up by Ian LeFeuvre's stunning electric guitar.
LeFeuvre is Lynn's constant companion on the road. A multi-talented guitar player, he obviously has a lot of input into the musical arrangements. But there was a time, four or five year ago, when Lynn used to tour alone, and many of her songs reflect those days and her experiences at the time.
"I think loneliness is one of my big themes," she explains. "I wrote that song Loneliness on the album when I was on a boat going to Alaska. I was playing over there, and I was so far from home that it all just came to me."
These days, Lynn lives on the outskirts of Ottawa, 15 minutes away from the city centre. Although, as her song Big Brown City shows, she's no fan of the rat race.
"I wrote that one when I lived in Toronto," she recalls. "I hated it there. I hated the fact that I could never see the ground or the trees or the sky. That's part of the problem with the human race," she adds earnestly. "We're completely out of touch with the actual earth, the dirt and the ground, and that makes people crazy."
In an increasingly demanding and unpredictable business, Lynn Miles has managed to retain her sanity and is keen to maintain her artistic integrity. Her music may be crying out for big, Nashville-styled pop-country arrangements, but Lynn is adamant that her way is the right way.
"I couldn't do this if I didn't believe in what I was writing," she believes. "I believe in working hard and making the kind of music that's good for my soul rather than my bank account."