Lorrie Morgan - Blonde On Blonde
First Published in Country Music International, November 1997
Lorrie Morgan may have had more than her fair share of heartache over the years, but she has always managed to bounce back. Following the publication of her biography, Forever Yours, Faithfully and the release of a new LP, Shakin It Up, she tells Alan Cackett, "In many ways, I am a living breathing country song."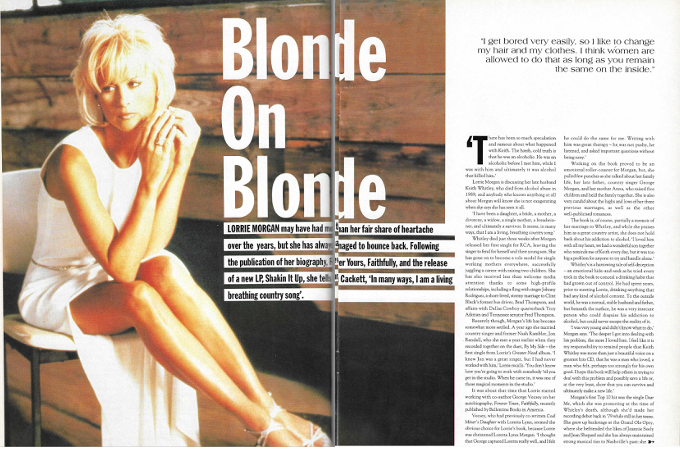 "There has been so much speculation and rumour about what happened with Keith. The harsh, cold truth is that he was an alcoholic. He was an alcoholic before I met him, while I was with him and ultimately it was alcohol that killed him."
Lorrie Morgan is discussing her late husband Keith Whitley, who died from alcohol abuse in 1989, and anybody who knows anything at all about Morgan will know she is not exaggerating when she says she has seen it all.
"I have been a daughter, a bride, a mother, a divorcee, a widow, a single mother, a breadwinner, and ultimately a survivor. It seems, in many ways, that I am a living, breathing country song."
Whitley died just three weeks after Morgan released her first single for RCA, leaving the singer to fend for herself and their young son. She has gone on to become a role model for single working mothers everywhere, successfully juggling a career with raising two children. She has also received less than welcome media attention thanks to some high-profile relationships, including a fling with singer Johnny Rodriguez, a short-lived, stormy marriage to Clint Black's former bus driver, Brad Thompson, and affairs with Dallas Cowboy quarterback Troy Aikman and Tennessee senator Fred Thompson.
Recently though, Morgan's life has become somewhat more settled. A year ago she married country singer and former Nash Rambler, Jon Randall, who she met a year earlier when they recorded together on the duet, By My Side—the first single from Lorrie's GREATER NEED album. "I knew Jon was a great singer, but I had never worked with him," Lorrie recalls. "You don't know how you're going to work with somebody 'til you get in the studio. When he came in, it was one of those magical moments in the studio."
It was about that time that Lorrie started working with co-author George Vecsey on her autobiography, Forever Yours, Faithfully, recently published by Ballentine Books in America.
Vecsey, who had previously co-written Coal Miner's Daughter with Loretta Lynn, seemed the obvious choice for Lorrie's book, because Lorrie was christened Loretta Lynn Morgan. "I thought that George captured Loretta really well, and felt he could do the same for me. Writing with him was great therapy—he was not pushy, he listened, and asked important questions without being nosey."
Working on the book proved to be an emotional roller-coaster for Morgan, but she pulled few punches as she talked about her family life, her late father, country singer George Morgan, and her mother Anna, who raised five children and held the family together. She is also very candid about the highs and lows of her three previous marriages, as well as the other well-publicised romances.
The book is, of course, partially a memoir of her marriage to Whitley, and while she praises him as a great country artist, she does not hold back about his addiction to alcohol. "I loved him with all my heart, we had a wonderful son together who reminds me of Keith every day, but it was too big a problem for anyone to try and handle alone."
Whitley's is a harrowing tale of self-deception—an emotional hide-and-seek as he tried every trick in the book to conceal a drinking habit that had grown out of control. He had spent years, prior to meeting Lorrie, drinking anything that had any kind of alcohol content. To the outside world, he was a normal, stable husband and father, but beneath the surface, he was a very insecure person who would disguise his addiction to alcohol, but could never escape the reality of it.
"I was very young and didn't know what to do," Morgan says. "The deeper I got into dealing with his problem, the more I loved him. I feel like it is my responsibility to remind people that Keith Whitley was more than just a beautiful voice on a greatest hits CD, that he was a man who loved, a man who felt, perhaps too strongly for his own good. I hope this book will help others in trying to deal with this problem and possibly save a life or, at the very least, show that you can survive and ultimately make a new life."
Morgan's first top ten hit was the single Dear Me, which she was promoting at the time of Whitley's death, although she'd made her recording debut back in 1979 while still in her teens. She grew up backstage at the Grand Ole Opry where she befriended the likes of Jeannie Seely and Jean Shepard and she has always maintained strong musical ties to Nashville's past: she recorded George Jones' A Picture Of Me (Without You), had a minor hit with a revival of Billie Jo Spears 1980 hit Standing Tall, she cut Jeannie Seely's torch ballad Don't Touch Me, Billy Walker's little-known Don't Stop In My World, and on her latest album, SHAKIN' THINGS UP, revives Bill Anderson's I've Enjoyed As Much Of This As I Can Stand.
Although her first three albums, LEAVE THE LIGHT ON, SOMETHING IN RED and WATCH ME each sold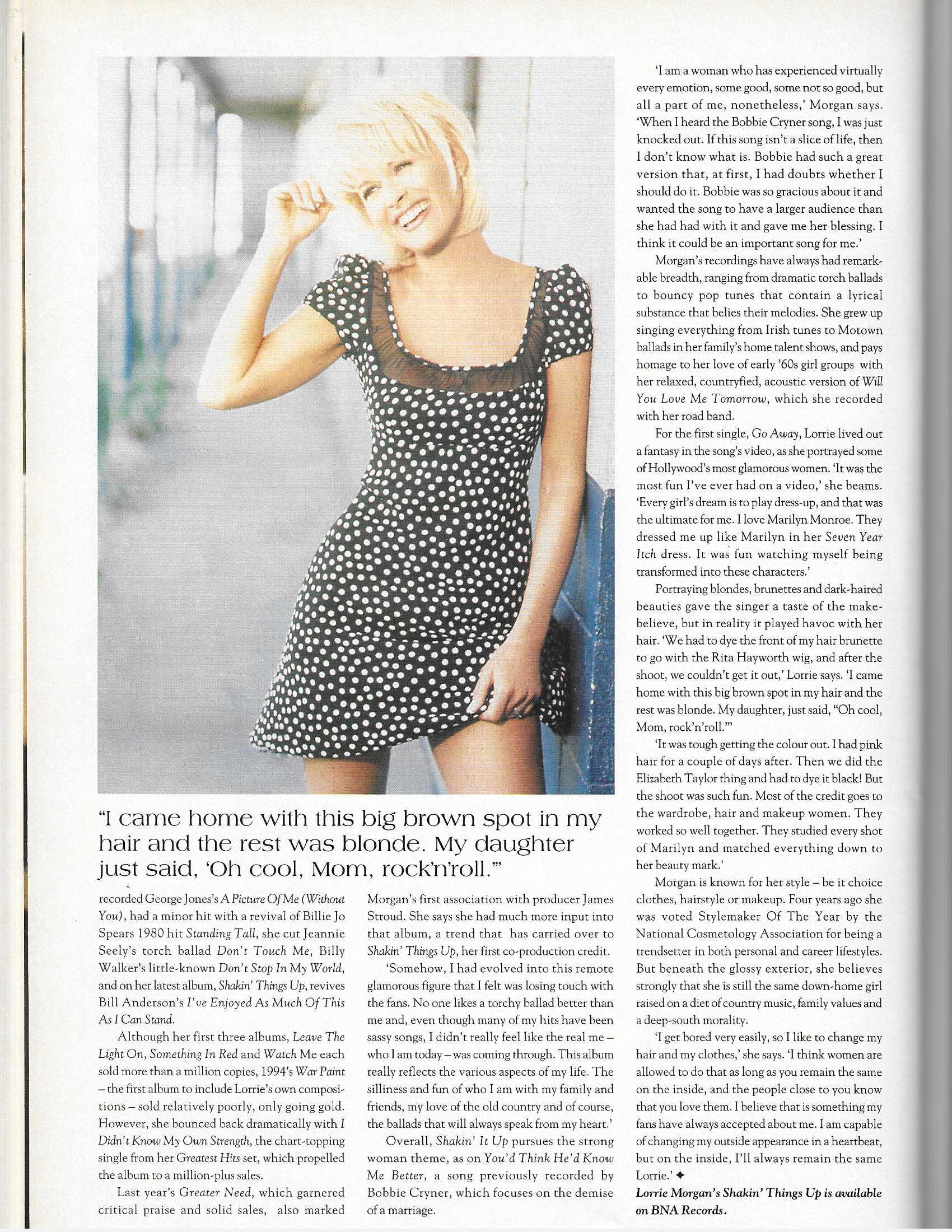 more than a million copies, 1994's WAR PAINT—the first album to include Lorrie's own compositions—sold relatively poorly, only going gold. However, she bounced back dramatically with I Didn't Know My Own Strength, the chart-topping single from her GREATEST HITS set, which propelled the album to a million-plus sales.
Last year's GREATER NEED, which garnered critical praise and solid sales, also marked Morgan's first association with producer James Stroud. She says she had much more input into that album, a trend that has carried over to SHAKIN' THINGS UP, her first co-production credit. 
"Somehow, I had evolved into this remote, glamorous figure, that I felt I was losing touch with the fans. No one likes torchy ballad better than me and, even though many of my hits have been sassy songs, I didn't feel like the real me—who I am today—was coming through. This album really reflects the various aspects of my life. The silliness and fun of who I am with my family and friends, my love of the old country and of course, the ballads that will always speak from my heart."
Overall, Shakin' It Up pursues the strong women theme, as on You'd Think He'd Know Me Better, a song previously recorded by Bobbie Cryner, which focuses on the demise of a marriage.
"I am a woman who has experienced virtually every emotion, some good, some not so good, but all a part of me, nonetheless," Morgan says. "When I heard the Bobbie Cryner song, I was just knocked out. If this song isn't a slice of life, then I don't know what is. Bobbie had such a great version, that at first, I had doubts whether I should do it. Bobbie was so gracious about it and wanted the song to have a larger audience than she had with it and gave me her blessing. I think it could be an important song for me."
Morgan's recordings have always had remarkable breadth, ranging from dramatic torch ballads to bouncy pop tunes that contain a lyrical substance that belies their melodies. She grew up singing everything from Irish tunes to Motown ballads in her family's home talent shows, and pays homage to her love of early 1960s girl groups, with her relaxed, countryfield, acoustic version of Will You Love Me Tomorrow, which she recorded with her road band.
For her first single, Go Away, Lorrie lived out a fantasy in the song's video, as she portrayed some of Hollywood's most glamorous women. "It was the most fun I've ever had on a video," she beams. "Every girl's dream is to play dress-up, and that was the ultimate for me. I love Marilyn Monroe. They dressed me up like Marilyn in her Seven Year Itch dress. It was fun watching myself being transformed into these characters."
Portraying blondes, brunettes and dark-haired beauties gave the singer a taste of the make-believe, but in reality it played havoc with her hair. "We had to dye the front of my hair brunette to go with the Rita Hayworth wig, and after the shoot, we couldn't get it out," Lorrie says. "I came home with this big brown spot in my hair and the rest blonde. My daughter, just said, 'Oh cool, Mom, rock'n'roll.'"
"It was tough getting the colour out. I had pink hair for a couple of days after. Then we did the Elizabeth Taylor thing and had to dye it black! But the shoot was such fun. Most of the credit goes to the wardrobe, hair and makeup women. They worked so well together. They studied every shot of Marilyn and matched everything down to her beauty mark."
Morgan is known for her style—be it choice of clothes, hairstyle or makeup. Four years ago she was voted Stylemaker Of The Year by the National Cosmetology Association for being a trendsetter in both personal and career lifestyles. But beneath the glossy exterior, she believes strongly that she is still the same down-home girl raised on a diet of country music, family values and a deep-south morality.
"I get bored vey easily, so I like to change my hair and my clothes," she says. "I think women are allowed to do that as long as you remain the same on the inside, and the people close to you know that you love them. I believe that is something my fans have accepted about me. I am capable of changing my outside appearance in a heartbeat, but on the inside, I'll always remain the same Lorrie."