Loney Hutchins - Appalachia
Appalachia Record Co.
***1/2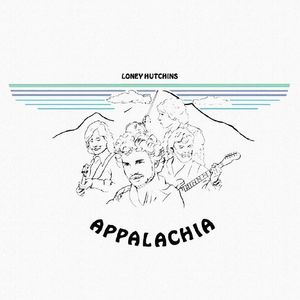 Loney Hutchins has spent years working mainly behind the scenes in Nashville. Throughout the 1970s he was at House of Cash, Johnny Cash's publishing company, for whom he wrote songs, produced demos and pitched songs. In the late 1970s he began developing his own recording and performing career. He spent 3 days in the North Nashville Studio By The Lake in 1979 recording tracks for his debut album. Working with musicians from Dolly Parton's then road band, plus lead guitarist Harry Robinson, he completed the ten tracks that make up this album. He shopped the record around to various labels, both in Nashville and even on the West Coast, with no takers. Finally, in 1982 he self-released the album, but lacking major promotion, it failed to make an impact. Fast forward to 2017, Loney's son, Loney John Hutchins, an independent Nashville musician and producer, began archiving his father's reels and reels of tape recordings. Following the success last year of Loney's BURIED LOOT album of previously unissued recordings, it made sense to reissue the original APPALACHIA album, fully remastered and sounding as fresh as if it had been recorded just a few days ago. Now nostalgia aficionados don't have to root around in cool vinyl sections to discover Loney Hutchins' past.
The album's ten tracks emote days of yesteryear, combined with dusty folk trails and lo-fi Americana country. Throughout, he presents clever original material featuring his pleasant twang of a singing voice, in stylistic settings ranging from traditional country to bluegrass-flavours, rockin' country to positive country-pop. Indeed, there are simple sentiments expressed in every song, whether it's the down-home designs of the title track, or the longing and love shared in I Wouldn't Say It If It Wasn't So. The lead-off track, Timbertree, echoes the inspiring majesty of the Smokey Mountains. The song abounds with energy as he recalls family history, hard-working mountain folk and the strength of community, all dressed up in an electric bluegrass arrangement. With its jangly guitar, steady groove and airy harmonies, I've Got The Feeling definitely brings to mind 1960s country-rock with a sunny California vibe.
You Still Have That Look In Your Eye pairs hopeless romance with some added grunge-y guitars for an easy-going approachability that's stripped, vulnerable, and wildly endearing, as it explores the strength in devotion and the power in silence and a simple glance. Mountain Eyes has the easy laid-back loping sound of a long-lost Don Williams' outtake. Both tender and touching, this is an emotional tribute to a mother which stays just on the right side of tasteful. There's swaggering enthusiasm to When You Fall In Love, a rollicking tune veering closer to rock than country. A rougher-edged Eddie Rabbitt came to mind in Son Of A No Good Man, incorporating fine guitar work that veers from surf rock to a Creedence Clearwater Revival throwback. We've Got It All has an enthusiastic up-tempo gospel rally call as he joyously sings about all the simple riches that he and his family have. A rootsy, jubilant standout that exudes organic authenticity. With that proposition in mind, credit Loney Hutchins for his melodic blend of bluegrass, rock, and country, an approach that integrates all those elements without falling back on any one in particular.
March 2022