First published in Country Music International, June 1996
A well-travelled Texan bar band, LONESTAR ended up with a number one record. But not before time. "We played 500 dates in two years," they tell Alan Cackett. "Imagine, five grown men in a jeep Cherokee"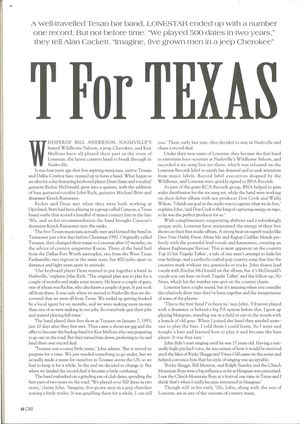 Whisperin' Bill Anderson, Nashville's famed Wildhorse Saloon, a jeep Cherokee, and Ken Mellons have all played their part in the story of Lonestar, the latest country band to break through in Nashville.
It was four years ago that five aspiring musicians, native Texans and Dallas Cowboy fans, teamed up to form a band. What began as an idea for a duo featuring keyboard player Dean Sams and vocalist/guitarist Richie McDonald, grew into a quintet, with the addition of bass guitarist/vocalist John Rich, guitarist Michael Britt and drummer Keech Rainwater.
Richie and Dean met when they were both working at Opryland; Britt had been playing in a group called Canyon, a Texas based outfit that scored a handful of minor country hits in the late 1980s, and on his recommendation the band brought Canyon's drummer Keech Rainwater into the ranks.
The five Texan musicians actually met and formed the band in Tennessee just a few days before Christmas 1992. Originally called Texasee, they changed their name to Lonestar after 10 months, on the advice of country songwriter Kostas. Three of the band hail from the Dallas-Fort Worth metroplex, two from the West Texas Panhandle; two regions in the same state, but 400 miles apart in distance and light years apart in attitude.
"Our keyboard player Dean wanted to put together a band in Nashville," explains John Rich. "The original plan was to play for a couple of months and make some money. He knew a couple of guys, one of whom was Richie, who also knew a couple of guys. It just took off from there. It was only when we moved to Nashville that we discovered that we were all from Texas. We ended up getting booked by a local agent for six months, and we were making more money than any of us were making in our jobs. So everybody quit their jobs and started playing full-time."
The band played their first show as Texasee on January 7, 1993, just 10 days after they first met. Then came a showcase gig and the offer to become the backup band for Ken Mellons, who was preparing to go out on the road. But they turned him down, preferring to try and land their own record deal.
"Texasee was a corny little name," John admits. "But it served its purpose for a time. We just needed something to go under, but we actually made a name for ourselves as Texasee across the US, so we had to keep it for a while. In the end we decided to change it. But when we landed the record deal it became a little confusing."
The band embarked on a grinding run of club dates, spending the best part of two years on the road. "We played over 500 dates in two years," claims John. "Imagine, five grown men in a jeep Cherokee towing a little trailer. It was gruelling there for a while, I can tell you."  Then, early last year, they decided to stay in Nashville and chase a record deal.
Under their new name of Lonestar, they became the first band to entertain boot-scooters at Nashville's Wildhorse Saloon, and recorded a six-song live set there, which was released on the Lonestar Records label to satisfy fan demand and to seek attention from major labels. Record label executives dropped by the Wildhorse, and Lonestar were quickly signed to BNA Records.
As part of the giant RCA Records group, BNA helped to gain wider distribution for the six-song set, while the band were working on their debut album with ace producers Don Cook and Wally Wilson. "I think our goal in the studio was to capture what we do live," explains John, "and Don Cook is the king of capturing energy on tape, so he was the perfect producer for us."
With complementary songwriting abilities and a refreshingly unique style, Lonestar have maintained the energy of their live shows on their first studio album. A strong beat on superb tracks like Does Your Daddy Know About Me and Ragtop Cadillac blends perfectly with the powerful lead vocals and harmonies, creating an almost Eaglesesque flavour. This is most apparent on the country Top 10 hit Tequila Talkin', a tale of one man's attempt to hide his true feelings, and a perfectly crafted pop country song that hits the creative mark without any gimmicks or tricks. John shares lead vocals with Ritchie McDonald on the album, but it's McDonald's vocals you can hear on both Tequila Talkin' and the follow-up, No News, which hit the number one spot on the country charts.
Lonestar have a tight sound, but it's amazing when you consider the relatively short time they've been together and the inexperience of some of the players.
"This is the first band I've been in," says John. "I'd never played with a drummer or behind a big PA system before this. I grew up playing bluegrass, standing out in a field or out in the woods with a bunch of old guys. When I joined the band they needed someone to play the bass. I told them I could learn. So I went and bought a bass and learned how to play it and became the bass player. It was that easy."
John didn't start singing until he was 17 years old. Having a naturally high-pitched voice, he was unsure of how it would be received until the likes of Ricky Skaggs and Vince Gill came on the scene and helped convince him that his style of singing was acceptable.
"Ricky Skaggs, Bill Monroe, and Ralph Stanley and the Clinch Mountain Boys were a big influence as far as bluegrass was concerned. I saw the Clinch Mountain Boys at a festival one time in Texas and I think that's when I really became interested in bluegrass."
Though still in his early 20s, John, along with the rest of Lonestar, are in awe of the veterans of country music.
"I had a personal goal to play the Opry before I turned 21, and I was 20 when it happened," explains John. "It was right after we signed our record deal and we had the chance to play there on a Saturday night. Saturday nig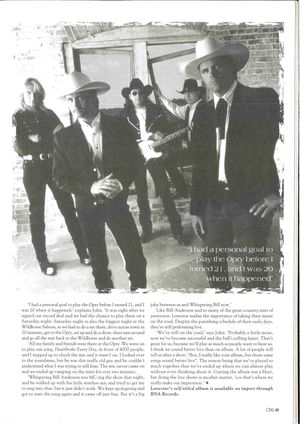 ht is also the biggest night at the Wildhorse Saloon, so we had to do a set there, drive across town in 20 minutes, get to the Opry, set up and do a show, then turn around and go all the way back to the Wildhorse and do another set.
"All my family and friends were there at the Opry. We went on to play our song, Heartbroke Every Day, in front of 4000 people, and I stepped up to check the mic and it wasn't on. I looked over to the sound man, but he was this really old guy and he couldn't understand what I was trying to tell him. The mic never came on and we ended up vamping on the intro for over two minutes."
"Whispering Bill Anderson was MC-ing the show that night, and he walked up with his little wireless mic and tried to get me to sing into that, but it just didn't work. We kept apologising and got to start the song again and it came off just fine. But it's a big joke between us and Whispering Bill now."
Like Bill Anderson and so many of the great country stars of yesteryear, Lonestar realise the importance of taking their music on the road. Despite the punishing schedule of their early days, they're still performing live.
"We're still on the road," says John. "Probably a little more, now we've become successful and the ball's rolling faster. That's great for us, because we'll play as much as people want to hear us. I think we sound better live than on album. A lot of people will tell us after a show: 'Boy, I really like your album, but those same songs sound better live.' The reason being that we've played so much together that we've ended up where we can almost play without even thinking about it. Cutting the album was a blast, but doing the live shows is another matter, 'cos that's where we really make our impression."