Logan Mize - Welcome To Prairieville
Big Yellow Dog Music
****
Logan Mize has long been a majorly underrated artist but this latest album serves as a reminder of the high level of quality he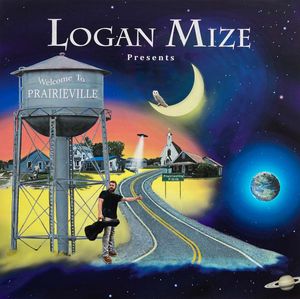 possesses in his songwriting craftsmanship, singing and overall musicality. He is one of the more authentically leaning country singers of the past couple of decades. Recalling where he grew up in Clearwater, Kansas, lit something within him to explore the pull of small-town America, resulting in a concept collection of songs that transport listeners to personal and even formative times in his life. Listening to this album, you could forget the past 25 years in country music even happened—and for some of us that might be a welcome respite—as he recaptures the vitality of late 1980s neo-traditionalism and early 1990s hat-acts. Yet Logan brings us back to 2021 with his own modern slant creating an album for our time. His music and lyrics evoke the sights and sounds of the rural mid-west. Having travelled the backroads of America on numerous trips, these songs resonated instantly with me. This is an album that sits perfectly within its own skin and speaks of country roads, wheatfields, rusty Chevys and long summer nights. The enduring beauty of small moments of our lives woven into a fraying social fabric in which love is the thread that holds the promise for unity, hope and goodness.
This album really dwells on the idea that love is the key to live a life worth living.
He embraces hope based on lessons learned from the past, free of phony platitudes—and perhaps, unknowingly offering a guide for surviving these scary times. Logan Mize may not be a kid anymore but he's aging with supreme grace. From barreling down a country road in George Strait Songs, with the immortal line: 'there's still a little bit of America left in America' or the optimism of It's About Time, that closes the album, with its theme of finally achieving contentment in life and love. In between he takes us back to River Road, as a youngster enjoying the kind of freewheeling life that is nothing more than a fond memory. The beauty of the evocative country-rock arrangement with his beguiling vocals lies in their power to transport you to another time and place. Easygoing, with a more contemporary sound, Logan's vocals are earnest, sharing a contemplative message about a lover who has moved away in Follow Your Heart. He paints a visual storyline that offers support to his departing ex as he fondly recalls what they once shared with hopes that she might have a change of heart.
Most of the songs have been co-written with his long-time co-writer Blake Chaffin, though I Need Mike, was penned solely by Blake. The absorbing song draws its unsettling power from a sense of isolation, an uncomfortable aloneness and how depression affects friendships and how those friends can be supportive. The sensitive words inspire profound, probably difficult, insights or simply amplify the corrosive anxiety of the times. What might be gloomy or morbid coming from a less-graceful performer is genuinely soothing here. Another song with a deep, moral message is Tell The Truth. With a delicate acoustic guitar arrangement, this is no holier than thou proclamation, just what Logan Mize stands for. In fact, while there's meaning in the message, there's no reason to delve any deeper. A reverent church organ opens Wine At The Church, Beer At The Bar, before transitioning into a strident, chunky good-time country sound with the organ returning in a funky swirling rock style. This track has a much grittier sound and feel as he pays homage to life in a small town where everyone knows everyone and their business.
Logan Mize has proven himself to be a truly inspired and talented storyteller as he
captures something timeless and special throughout this collection of songs. WELCOME TO PRAIRIEVILLE is a damn good country album just about any way you spin it and this guy has the talent and energy that turns country singers into country stars.
October 2021