Self-released
****
Every now and then an album comes along that palpably captures the fragility of beauty and the longing for a spaciousness that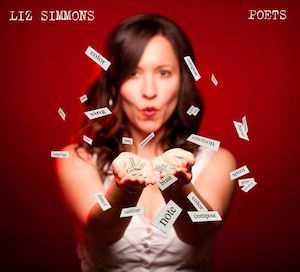 can embrace our loneliness, our shared disillusionment and our shared hopes and dreams. Low Lily lead singer and guitarist Liz Simmons has crafted a debut solo album of songs about whole-hearted yearning and losing herself in love. She's the ideal conversationalist, creating the warm and inviting atmosphere she aimed for at the album's inception. Liz's wide-eyed folk song fabrics carry the collective sounds inspired from the tastes of colleagues and friends such as husband Flynn Cohen, Low Lily, Hannah Sanders, Long Time Courting, Annalivia and her musician parents. Her dreamy folk-pop comes to life courtesy of musicians Andy Hall (Dobro), Corey DiMario (double bass), Peter Grant (pedal steel), Nicole Zuraitis (piano), Dan Pugach (drums), Wes Corbett (banjo), Emerald Rae and Lissa Schneckenburger (fiddle), Natalie Haas (cello) plus son Gabe Bradshaw (drums, electric guitar, synth programming), Flynn (acoustic guitar, mandolin) and Liz on guitar and piano, with a clarification of a sound that's remarkably intimate and gauzy in nature. She often sings as though she's floating in a dream-world, her voice soft and beseeching on lyrics that swing between despondent and despairingly ardent.
Seemingly without any effort, she creates songs that have universal appeal. She evokes a feeling of wistfulness on Poets, a song true to its name. Contrasted with the sense of a loved one's comforting arms serving as her anchor to solid ground the song unfolds in an unhurried way, keyboards seeping in like a ground fog around her feathery voice. Several of Liz's songs revolve around travel and the sea, inspired by the time that she lived in the New England seaside town of Gloucester. Adventurer, with a lyrical nod to Greek poet Homer, is a sparely sonic tune, her vocals float over only her piano and a haunting cello, the music mimicking the isolation and uncertainty of the lyrics about a pair of travellers finding their way through the twists and turns of life … the unknown, temptations and tough times. Featuring graceful harmonies Sailing In To The Shore also uses a nautical theme of the devoted lover waiting for her seafaring partner. The breathy vocals, the melancholy melody and the rippling piano near the end welcome him safely home. The shimmering whispers of Home From the Storm has a similar storyline with the delicate piano line a heartfelt homage to calm and tranquillity that builds with airy synth lines.
Musically, When the Waters Rise maximises subtle instrumentation, using Andy Hall's Dobro in the midst of an acoustic arrangement to create a melody that is mystifying in its gentle state, her voice packing a poignant punch like no other as she pulls together the urgency of climate change and the pull of home that we all experience. Though she has written most of the material, she also works up innovative, substantially rearranged versions of well-known and lesser-known classics. The Isley Brothers' 1960s hit This Old Heart Of Mine is here given a caffeinated backwoods workup with just mandolin, banjo and double bass. Originally intended for the Supremes, it's fitting that Liz is joined by Donia Best and Nicole Zuraitis on vocals to create a delightful harmonious, refreshed acoustic-pop ditty. Dirk Powell's grief-stricken My Loves Lies In The Ground, sounds like an old Appalachian ballad from the Depression with its stark arrangement of fiddles, banjo and acoustic guitar. The weight of mourning and despair of the poor desolate widow sits like humid summer air with this dark, cool, almost shrugging sway to it. If you are taken with a Sandy Denny-like floater, you'll be as smitten as I was by Liz's rendition of the British folk singer's Who Knows Where The Time Goes. The ornate arrangement of warm, rich piano, delicate pedal steel and bittersweet melody give way to her wispy voice and heavy-hearted pensiveness that are likely to stick with listeners long after the song ends.
April 2021