Little Texas - God Bless Little Texas
First Published in Country Music International, July 1997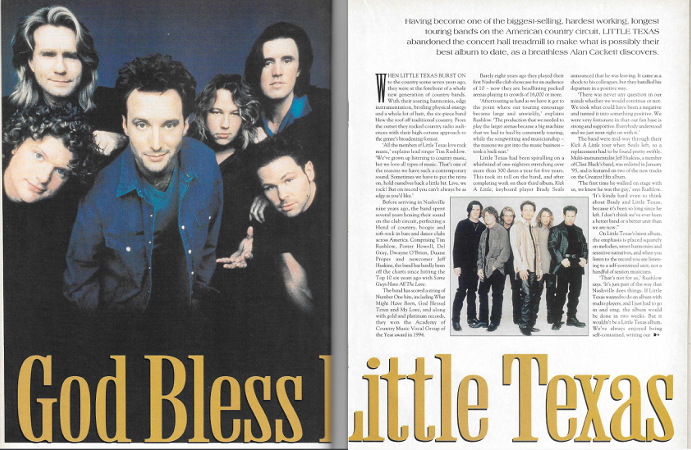 Having become one of the biggest selling, hardest working, longest touring bands on the American country circuit, Little Texas abandoned the concert hall treadmill to make what is possibly their best album to date, as a breathless Alan Cackett discovers.
When Little Texas burst on the country scene several years ago, they were at the forefront of a whole new generation of country bands. With their soaring harmonies, edgy instrumentation, broiling physical energy and a whole lot of hair, the six-piece band blew the roof off traditional country. From the outset they rocked country radio audiences with their high-octane approach to the genre's broadening format.
"All the members of Little Texas love rock music," explains lead singer Tim Rushlow. "We've grown up listening to country music, but we love all types of music. That's one of the reasons we have such a contemporary sound. Sometimes we have to put the reins on, hold ourselves back a little bit. Live, we rock! But on record you can't always be as edgy as you'd like."
Before arriving in Nashville nine years ago, the band spent several years honing their sound on the club circuit, perfecting a blend of country, boogie and soft-rock in bars and dance clubs across America. Compromising Tim Rushlow, Porter Howell, Del Gray, Dwayne O'Brien, Duane Propes and newcomer Jeff Huskins, the band has hardly been off the charts since hitting the Top 10 six years ago with Some Guys Have All The Love.
The band has scored a string of number one hits, including What Might Have Been, God Blessed Texas and My Love, and along with gold and platinum records, they won the Academy of Country Music Vocal Group of the Year award in 1994.
Barely eight years ago they played their first Nashville club showcase for an audience of 10—now they are headlining packed arenas playing to crowds of 16,000 or more.
"After touring as hard as we have it got to the point where our touring entourage became large and unwieldly," explains Rushlow. "The production that we needed to play the larger arenas became a big machine that we had to feed by constantly touring, while the songwriting and musicianship—the reason we got into the music business—took a back seat." 
Little Texas had been spiralling on a whirlwind of one-nighters stretching over more than 300 dates a year for five years. This took its toll on the band, and after completing work on their third album, KICK A LITTLE, keyboard player Brady Seals announced that he was leaving. It came as a shock to his colleagues, but they handled his departure in a positive way.
"There was never any question in our minds whether we would continue or not. We took what could have been a negative and turned it into something positive. We were very fortunate in that our fans base is strong and supportive. Everybody understood and we just went right on with it."
The band were mid-way through their KICK A LITTLE tour when Seals left, so a replacement had to be found pretty swiftly. Multi-instrumentalist Jeff Huskins, a member of Clint Black's band, was enlisted in January 1995, and is featured on two of the new tracks on the GREATEST HITS album.
"The first time he walked on stage with us, we knew he was the guy," says Rushlow. "It's kinda hard to even think about Brady and Little Texas, because it's been so long since he left. I don't think we've ever been a better band or better unit than we are now."
On Little Texas' latest album, the emphasis is placed squarely on melodies, sweet harmonies and sensitive narratives, and when you listen to the record you are listening to a self-contained unit, not a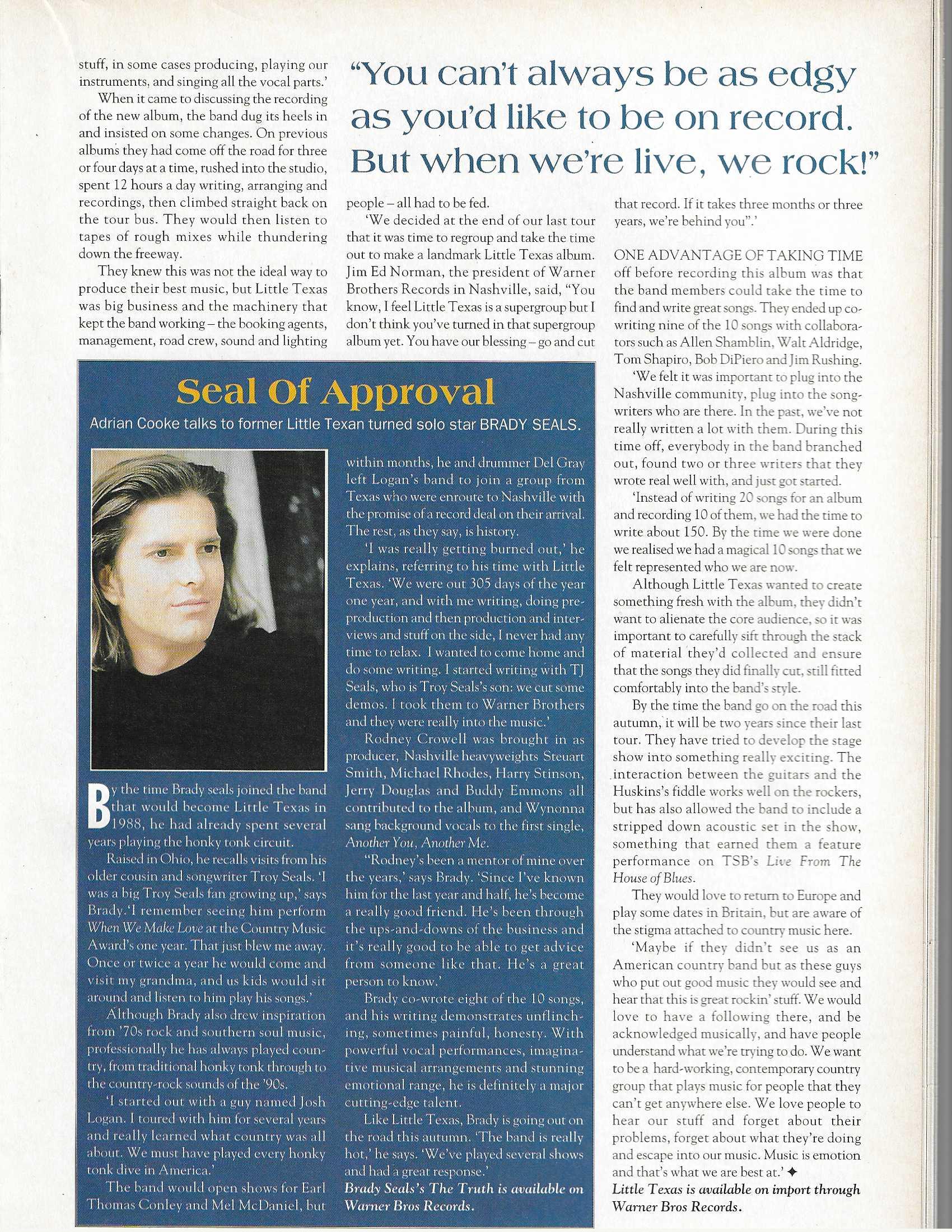 handful of session musicians.
"That's not for us," Rushlow says. "It's just part of the way that Nashville does things. If Little Texas wanted to do an album with studio players, and I just had to go in and sing, the album would be done in two weeks. But it wouldn't be a Little Texas' album. We've always enjoyed being self-contained, writing our stuff, in some cases producing, playing our instruments, and singing all the vocals parts."
When it came to discussing the recording of the new album, the band dug its heels in and insisted on some changes. On previous albums they had come off the road for three or four days at a time, rushed into the studio, spent 12 hours a day writing, arranging and recording, then climbed straight back on the tour bus. They would then listen to tapes of rough mixes while thundering down the freeway.
They knew this was not the ideal way to produce their best music, but Little Texas was big business and the machinery that kept the band working—the booking agents, management, road crew, sound and lighting people—all had to be fed.
"We decided at the end of our last tour that it was time to regroup and take the time out to make a landmark Little Texas album.
Jim Ed Norman, the president of Warner Brothers Records in Nashville, said: 'You know, I feel like Little Texas is a supergroup but I don't think you've turned in that supergroup album yet. You have our blessing—go and cut that record. If it takes three months or three years, we're behind you.'
One advantage of taking time off before recording this album was that the band members could take the time to find and write great songs. They ended up co-writing nine of the 10 songs with collaborators such as Allen Shamblin, Walt Aldridge, Tom Shapiro, Bob DiPiero and Jim Rushing.
"We felt it was important to plug into the Nashville community, plug into the songwriters who are there. In the past, we've not really written a lot with them. During this time off, everybody in the band branched out, found two or three writers that they wrote real well with, and just got started."
"Instead of writing 20 songs for an album and recording 10 of them, we had the time to write about 150. By the time we were done we realised we had a magical 10 songs that we felt represented who we are now."
Although Little Texas wanted to create something fresh with the album, they didn't want to alienate the core audience, so it was important to carefully sift through the stack of material they'd collected and ensure that the songs they did finally cut, still fitted comfortably into the band's style.
By the time the band go on the road this Autumn, it will be two years since their last tour. They have tried to develop the stage show into something really exciting. The interaction between the guitars and Huskins' fiddle works well on the rockers, but has also allowed the band to include a stripped down acoustic set in the show, something that earned them a feature performance on TSB's Live From The House of Blues.
They would love to return to Europe and play some dates in Britain, but are aware of the stigma attached to country music here.
"Maybe if they didn't see us as an American country band but as these guys who put out good music they would see and hear that this is great rockin' stuff. We would love to have a following there, and be acknowledged musically, and have people understand what we're trying to do. We want to be a hard-working, contemporary country group that plays music for people that they can't get anywhere else. We love people to hear our stuff and forget about their problems, forget about what they're doing and escape into our music. Music is emotion and that's what we are best at."