First published in Country Music People, February 1979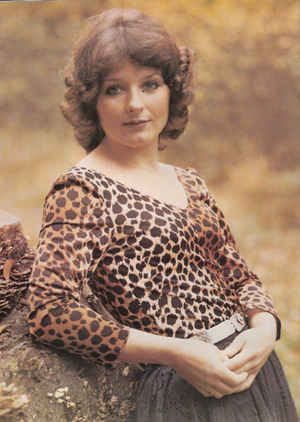 What could possibly be the link between The Carter Family and Steely Dan, or The Band and Kitty Wells, or how about Loretta Lynn and Little Feat? Well the music of all six of those acts, although very diverse in music style, has been influential to the music you are likely to hear from, Little Ginny and her band, Room Service.
Anyone who has been a reader of Country Music People since the beginning, some nine years ago, will probably recall that Ginny was, at that time, the best-known girl vocalist on the British scene. I first recall seeing Little Ginny in action at one of the Folk Voice Festivals held at Cecil Sharp House. It must have been 1967 or 1968. I remember being taken aback by the powerful voice coming from such a small frame. Ginny couldn't have been more than about thirteen years old, yet she had a great in-built feeling for country music.
When I spoke to Ginny recently about her career, the memories came flooding back. But they are memories. Ginny is now a grown lady, a mature artist, and dare I say it, one of the brightest hopes on the British country music scene today. Let Ginny herself take up the story of how she first became involved in country music.
"I first started listening to country music when I was about eight or nine. It was really the only sort of music I heard with Dad buying the records. Oh, I heard The Beatles and that sort of thing, but I never really listened to anything but country music until I was about sixteen or seventeen."
"I started singing in clubs and pubs locally, y'know youth clubs and places like that, when I was about ten or eleven. Then of course the Folk Voice Festivals came up."
It was her appearances at the Folk Voice Festivals which led to wider recognition for Little Ginny in country music circles. Folk Voice was a tape club started by Mike Storey and Jim Marshall in the early 1960s. For many years it was the only link with American country music for many British fans. The annual festivals were held initially at Cecil Sharp House, then Islington Town Hall, and provided an important meeting place for British country musicians, fans and other interested parties.
Ginny takes up the story of her initial 'professional' engagements: "I used to sing in the Fulham Country Music Club every Thursday and I met Tom Whelan there. He took an interest in my career and started getting some work for me and took over as my manager, more on a friendly basis really. He did a lot of good for me, got me on those early TV shows and other things all those years ago, which wasn't easy to do."
I had read somewhere that you had worked with the Ivy Benson All Girl Orchestra, I asked, can you recall how that all came about. "I was fifteen, and still at school," Ginny recalled. "There was an advert, I think in the Melody Maker, for a girl singer to join this all-girl band—a country singer. So we rang up and it was Ivy Benson. We went down to her house and just stood there in the living room, and actually I don't think I sang for her. She just said okay, we're going into the North East for a couple of nightclubs and then on to Ireland."
"So I went sick at school and left two weeks before I should have done and went off with her. I think I was with her in all about three weeks. Then I got a job for a little while singing in the evenings and falling asleep on the typewriter. So I went professional from then."
It was during the next three years that Little Ginny made a noticeable impression on the British scene. Singing songs made famous by people like Loretta Lynn, Tammy Wynette and Connie Smith, she toured all over the country, appearing either as a solo performer, or working with one of the many bands that were around at the time. I have recollections of her singing old country songs like
Out Behind The Barn
, so really it came as not surprise to discover that she was quite knowledgeable about the old country artists.
"It was Kitty Wells and Loretta Lynn who were my two main influences. And people like Ernest Tubb. That was the music I used to listen to. Also Jean Shepard, she was another artist I liked. I think there were probably only about three girl singers in British country music back then. Jan Jolly with The Southerners used to play around the London pubs, and I can't think of any more."
"I also used to sing old-timey music, Carter Family songs with the Silver Family. I met them at the Folk Voice Festivals. Downstairs in the café we used to have these little sessions which were great. They lived in Leatherhead and 'I lived in Kingston, so we used to go and visit them and I got into that kind of music."
Ginny was obviously proud of her connections with the 'roots' of country music, but like all young people, as she toured regularly she came under the influence of differing styles of music. The change really became apparent when she moved to Liverpool. She tries to explain how she had tired of the endless run of one-nighters, singing the same old songs that the audience always expected of her.
"I suppose my musical directions changed when I moved to Liverpool. I sort of stopped everything for a year. I wasn't sure what I wanted to do, and whether to approach it at all." She hesitates, because this was obviously an important time in her career. "It all looked to difficult. What I really wanted to do was get a band and everything, but I couldn't really see it all paying, so I just gave it up and moved to Liverpool. Paul was in a rock band and I used to go out and watch them a lot, and that was when my musical tastes really began to change..
The Paul who entered Ginny's life, was Paul Kirkby, a bass player from Liverpool who had played with Phil Brady and The Ranchers back in 1970. He was the magnet that drew Ginny away from London to Liverpool. The pair have been married for six years now, and though Paul has only been playing with Room Service since May, it quickly becomes obvious that Ginny and Paul share musical interests.
For three or four years after moving to Liverpool, Ginny continued touring the country as a solo act, perhaps working with a different back-up band on each show. But it became increasingly obvious that she was not realising any of her ambitions. Finally Room Service was formed in September 1977, and the past eighteen months has seen the outfit evolve into one of the finest groups on the British scene.
A group that impresses with a combination of powerful instrumental work and a kind of countryish feel that not many British bands have the ability to grasp. But they are still searching for ways to improve their sound and versatility. The current line-up is Mark Flannagan on lead guitar, drummer Paul Lowe and bass guitarist Paul Kirkby. They would like to add a keyboard player and also a steel guitarist, preferably someone who can also play fiddle, or maybe guitar and steel.
As Paul explains" "The main problem with having a resident steel player is that it ties you down, especially if you don't use him for some numbers." He adds: "We play all types of country music and do it the way we feel like we'd like to do it. People who are not strictly country fans can understand and relate to it. We do some really old early acappella folk sort of things, like
Cripple Creek
and some Hank Williams' things".
Ginny takes it up:. "I'd really would like to do everything and I think we're doing quite a lot of different stuff—western swing, bluegrass and old timey—and trying to get some Carter Family things again."
Talking about their music, the band as a whole is keenly interested in what they're doing. Though Ginny is obviously the front person for the outfit, each member of Room Service is totally involved in the musical direction of the band. They are into new musical directions, but with a firm grasp of their roots—they can innovate while still remembering the important basics of a country group.
Ginny was also keen to talk about the current music scene: "I listen to Little Feat, Ry Cooder, in fact we all listen to all sorts of music. James Taylor, The Band and Steely Dan. The country stuff, I tend to listen to the radio a lot and pick out things I'm gonna buy, or get them from my dad because he always has a lot of records. Hoyt Axton I like, but I don't really buy much, because usually I only like say one song off an album."
"I like Dolly Parton as well. She's just amazing. I think she's done all she can in country music, she's just feeling her way around and I don't think she really knows what she wants to do. She's still making good music. I think she'll probably go back to where she started."
The outside influences, whether it be the progressive rock sounds of Little Feat, the simple traditional sounds of The Carter Family, or the more mainstream county styling of Loretta Lynn, have all shaped the music that Little Ginny and Room Service perform. Last autumn they found time from a busy touring schedule to make an album.
COMING ON NICELY is the title, and though it is labelled as a Little Ginny solo effort, she would be the first to state that it is really a joint effort from all the members of Room Service. One of those underrated singers in country music, Ginny gets quite a considerable break on what is, surprisingly, her debut album. She proves she can sing with the best of them and better than most.
Her back-up band complement her sometimes soft, sometimes harder, but always clean, clear vocal style.
Boney Fingers
and
We've Gone As Far As We Can Go
, both indicate a healthy direction, whilst
Cripple Creek
and
Honky Tonk Stardust Cowboy
pay homage to the more traditional sounds that have helped shape the Little Ginny style.
Western swing is evidend in the easy-styling brought to
Route 66
, whilst both
I'll Be Your San Antone Rose
and
Bartender Blues
, prove what a fine sensitive country vocalist Ginny has grown into. An album made for a minor label, and recorded with a small budget, but one that might pay off, because it is well done.
As Ginny explains: "We decided to make the album because none of the major record companies took us up on anything. They all showed an interest all at once a little while ago, but it seemed no one was prepared to put up enough money and they all waited for someone else to try first. So we thought we'd make an album we can sell around clubs and show what we're doing. We'll send it to some record companies and say this is what we've done with a few hundred pounds."
Little Ginny has been in the music business for more than 10 years, most of the time in a fully professional basis. I wondered if she ever became disillusioned by it all, but her reply was quite emphatic.
"No! I'm gonna be a superstar! I really want to, not became a star, or anything like that, but I just want to travel a bit and see a few different countries. It's just a matter of time, I'm sure. I've got to be patient, which I'm not. I guess we're successful nearly stars, nearly famous."
And what about being a housewife and settling down. "We've been married six years and it hasn't hit me yet. I'm always asked haven't you got kids yet," she laughs, "Or when are you going to get a proper job."
Little Ginny and Room Service have taste, versatility and originality. Assuming that continues to develop, they have a potential for greatness. Nurtured by a sensitive record company they could blossom into something really special within a couple of years. Maybe even sooner than that!