From the outset of their recording career, some 15 years ago, Little Big Town have always been ambitious and ground-breaking in their approach. Most country vocal groups have a lead singer who handles most of the vocals, with the remaining members providing harmonies. But not Little Big Town. Against the advice of managers, record label executives and other music business veterans, Karen Fairchild, Jimi Westbrook, Phillip Sweet and Kimberly Schlapman have always been a multi-faceted vocal group with four lead vocalists. Lacking an instantly recognisable lead voice has made it doubly hard for them to make an impression, initially on radio and then connecting with the record buying public. Despite this drawback, the foursome have stuck to their guns and built their career step-by-step to reach their current position as one of the most successful country acts of today.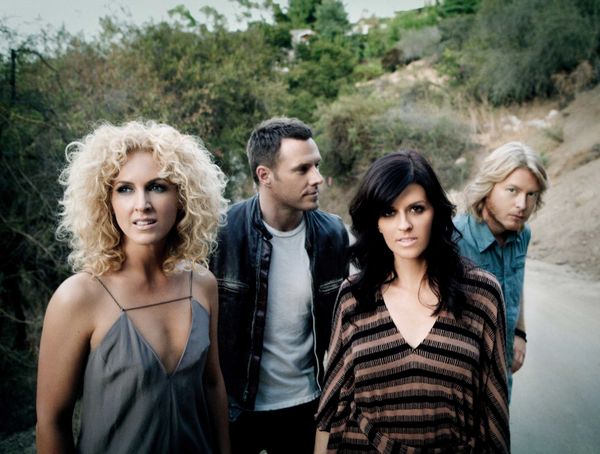 Initially signed to Mercury Records, the label dropped them without releasing any of their recordings. Two years later, in 2002, they resurfaced on Monument Records with an eponymous album that produced two top 50 country hits. Following a shake-up at Sony Music Nashville (the parent company of Monument) Little Big Town were again without a record contract, though they continued to tour regularly building a fan base the old-fashioned way. Eventually they resurfaced on Equity Music Group (founded by singer Clint Black) scoring top ten country hits in 2005 with
Boondocks
and
Bring It On Home
.
Their second album, THE ROAD TO HERE, gained them a platinum disc for sales in excess of one million, producing two more top 20 hits with
Good As Gone
and
A Little More You
. As they released A PLACE TO LAND, their third album, Equity experienced financial problems and in 2008 closed down. Little Big Town moved across to Capitol Records and the album was reissued with four bonus tracks, including their version of the Dream Academy's
Life In A Northern Town
that featured Sugarland and Jake Owens and became a top 30 country hit.
Though the move to Capitol seemed a positive step forward, much momentum had been lost, and it wasn't until 2010 that Little Big Town returned to the country top ten with
Little White Cloud
from album number four—THE REASON WHY. Sales of the album were disappointing and led to both the band and their label looking at ways to re-ignite the Little Big Town career.
For their next album they brought in Jay Joyce, a renowned rock musician and producer who had found success in country music working with Eric Church (also signed to Capitol Nashville). He brought a fresh approach to the Little Big Town vocal sound and completely re-invigorated the band resulting in
Pontoon
, their first number one single, and the million-selling TORNADO album.
That was just over two years ago, and last year Little Big Town returned to the studio to work with Jay on their latest PAIN KILLER album.  
An adventurous collection of songs and daring musical arrangements, grinding guitars and vocals turned to high volume are the album's calling cards, but the impeccable group harmonies remain intact and as tight as ever. Those vocals are wrapped around stunning songs that are equally edgy left-of-centre tunes with radio friendly dominated choruses that twist and turn as they ingratiate into your heart and mind with unbridled fervour.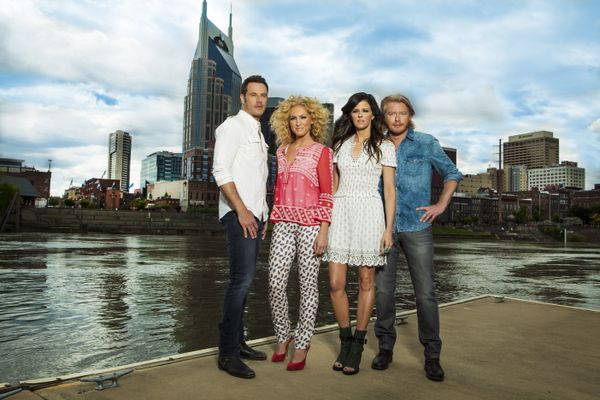 Recently I caught up with Karen Fairchild to chat about the new album, working alongside Jay Joyce, the secret of how the members of Little Big Town create the songs that are equal parts commercial and full of artistic integrity, and how they manage to tour incessantly when they are parents of young children. 
"I'm sitting outside because my baby's asleep in our hotel room,"
Karen explains.
"I have a feeling he must have woken up; but he's back asleep now. I've tried to keep him happy and content. We're working so much but we just do the best we can like any mum and dad."
Karen and her fellow band members were in New York for an early appearance on Good Morning America followed by numerous phone interviews with press and radio people. Karen is married to Jimi Westbrook and their son, Elijah will be five in March 2015. Kimberly and her husband Stephen Schlapman have a daughter, seven-year-old, Daisy Pearl. Phillip Sweet and his wife Rebecca also have a seven-year-old daughter, Penelopi Jane. Whenever it's possible, they like to take the children with them out on the road.  
"It's really difficult, routine wise,"
Karen continues.
"It's like a lot of incredible things, you meet amazing people on the road … like today we're going to go to Central Park and he wants to go to the zoo. We like to do a lot of fun things. The structure that most children have, they don't have unless we're home. And we try to make the road as structured as we can, but it is the most challenging part of it for sure."
Following up a big-selling album like TORNADO puts extra pressure on any act, but for Little Big Town, with their roller-coaster of a career that has seen continued success difficult to maintain, they were naturally wary about the album's reception, especially as the group are renowned for taking chances and exploring new sounds and directions for their music.
"We're most proud of that fact and that we're not afraid to explore and discover different sounds,"
Karen says.
"We want to do new things that make us feel inspired and fresh. This time there was a lot of discussion in using the voices in ways we never had before, which is very challenging for a band coming up to 15 years. We listened to soul and all the old Beatles' records and listened to some old Motown records, just to think outside the box and try and see what an old take on a country harmony would be. Trying to expand or even just open our minds to all we could do. I appreciate that that's a good compliment for us, because that is what we are trying to do—discover and explore."
Though the album remains very much within the boundaries of modern country music, PAIN KILLER also plays into the group's rock sensibilities without any loss of identity. The foursome pursue new musical highways as they experiment with eerie guitar expressions, beautiful choruses, and variant lyrical styles, but never cease to challenge their listeners while delivering their unique brand of music that the fans have come to know and respect.
"It wasn't even like a conscious effort, because we knew we were not going to make the same record as before. We just got in there with Jay and the songs and spent time talking about a lot of throwback sounds and that led us down a path… talking about seventies country music and how much we loved and appreciated that; people like Jerry Reed with the funkiness he brought to country music in the seventies. So, yeah, we started writing, finding moments that brought the inspiration to a song. So we knew what the record should sound like. Songs have their own personalities, or they should."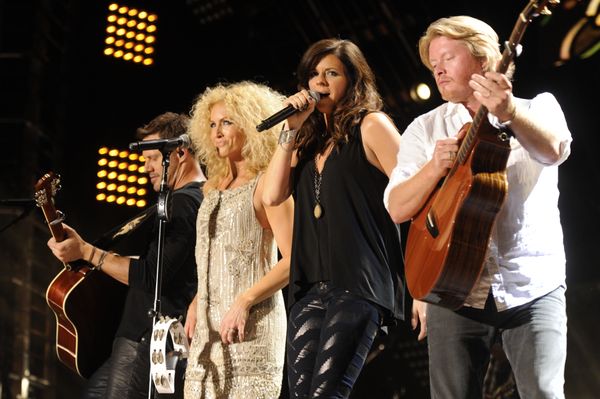 LBT have always been daring when it comes to songs, whether it be the ones that they've had a hand in creating or those that have come to them from other songwriters. Though they've always worked closely with well-known Music Row writers, they've also selected material from writers who exist a little beyond the fringe, like the wonderful Lori McKenna, Liz Rose, Chris Stapleton, Wayne Kirkpatrick, Luke Laird and of course producer Jay Joyce. A good example of breaking new ground within country music is the inventive
Girl Crush
, an intriguing song that takes the listener down an unexpected pathway.
"It's a classic, jealousy country song,"
Karen explains,
"but I think anyone can relate to being rejected then wondering what is it that that girl has that I don't, and the pain of that loneliness. It was written by Lori McKenna, Liz Rose and Hillary Lindsey, three incredible writers, but I think only women could have written this kinda lyric. They are being honest and ever so insightful and just the way they took a modern phrase and gave an exceptionally unique and fresh perspective. I've never heard a lyric that's said it quite like that."
A first cursory listen to the lyric gives entirely the wrong idea of what
Girl Crush
is really about. It was the second single off the PAIN KILLER album. The follow-up to the ultra-commercial
Day Drinking
, which reached number two on the country charts,
Girl Crush
was not so readily embraced by the conservative American country radio programmers and failed to reach the top 30.
"It's kind of provocative in its first listen,"
Karen agrees,
"and until you lean in a little bit and understand enough … the beauty of that payoff is when you get to the hook and you realise 'ohhhh, that's what they're talking about … you get that great sense of 'oh man, I felt like that, and it hurt,' you know."
Though the lyric of
Girl Crush
is a little 'way out' there for country radio, the musical arrangement and vocals were the epitome of classic country-pop, whereas some other tracks on the album are musically ambitious and much wilder, vocally, than we usually associate with LBT. There are gnarled, distorted guitars, flirtations with electronics, thick walloping rhythms, everything that would seemingly amount to full-fledged arena country-rock crossover like the swaggering
Stay All Night."That one was fun and that's part of the Jerry Reed inspiration, very deep in the layers of that song. Jimi and Phillip wrote that with Brent Cobb and Jason Saenz. They have great chemistry together and we just loved the groove of it. When we got Jay in on the production of the actual song we went for a live sound even down to cutting the vocals when the band's tracking and we're all in it together, singing live. Jay says: 'Hey hold out that note as long as you can at the end.' We're like yeah ok, and he's like yeah holler it out. See who can go, you know, the longest. We just held it then burst out laughing. I just loved that moment, it kind of captured and just showed us all that we don't have to take it all so seriously. It's music and having a good time. That really makes people feel something, and Jimi and Phillip, the soul on that record is just so, so good … just incredible vocals."
An exciting fusion of sound when the music gets loud, but even more so when the quartet slow things down to perform the softer, acoustic-based
Live Forever
, a shimmering ballad that virtually mirrors the career of LBT in its message of being strong enough for a union to weather all the storms and challenges of staying together. 
"That song really means a lot to the band,"
Karen offers.
"It was one that we wrote on the road with Jeremy Spillman and Ryan Tyndell. There was a bit of chaos in our dressing room and we were trying to write and we had a little midi-recording rig in there and all the kids were coming in and out of the dressing room and there was sound checks and interviews. Coming back to writing and Jeremy just said: 'If we don't die young we might just live forever,' and oh it just slayed us and then this song just really fell out. We knew that it should have a lot of lush harmonies and that is the way the song should feel … yeah, that's a personal favourite for me."
Though the four members of the band often spend time writing in Nashville, usually in the little music publishing offices dotted in and around the legendary Music Row area, many of the best song ideas, and even complete songs, can happen in unexpected circumstances when they're all thrown together out on tour—in the bus, dressing rooms or even hotel rooms.
"Yeah, they come in all different forms,"
Karen explains.
"Like Tumble and Fall. I had that written down on my phone for a while and I didn't really know what that was going to mean. But writing with Kimberly, and Lori, Liz and Hillary, just having a girls-like therapy session of drinking wine and writing and talking about what it takes to make it when you're in love with someone. It's hard and you have differences of opinions, and you really want to stick it out and when you do, it's a kind of tough love, but those are the best ones and the most passionate and the most satisfying and it takes a lot of work. And that's what that song is about.""That song was designed to explore the vocals and we really wanted something that would throw Kimberly away from the foundation of the harmony and the melody. We were talking about an old Don Williams' record called Amanda, and we'd heard Chris Stapleton and Morgan Stapleton cover that in a way that just floored us. We were just talking about man that's another way that you can use the voices and leave the foundation of melody and then you let Kimberly and I soar to the top and it just gives you a whole different sense of melody. So yeah, there are all kinds of ways of crafting sounds like that. It was a pleasure to know early on that the title was going to be Pain Killer and then start crafting moments that fit that and it felt like a collection of stories that belonged together."
It's interesting to hear Karen discuss how the songs were thought-out in terms of lead vocals, harmonies and the musical arrangements. For a band that has four distinct lead vocalists, it presents a wide scope for vocal diversity, but also problems as to who will sing which part, and also how to connect with radio, the music business and the listening public with the ever-changing vocal sounds from one group.  
"Yeah, they would very much prefer if we'd just stuck with the one person thing through the years but that's just not us. You know, we don't even talk about it, even when it comes to like picking singles. Yes it happens sometimes to be a certain singer in a row, just because the band felt like that was the best song. And that's the thing I love about the record, we're exploring each voice. It would be a shame not to hear Kimberley sing Save Your Sin. That's a thing she's never done before. Really shows her range, her strength as a singer and to hear the guys doing Stay All Night and the verses in Girl Crush, all to explore the band's gifts.  I think it makes for a very fluid and diverse record."
Last year Little Big Town were invited by Reba McEntire to become members of the Grand Ole Opry and inducted by Vince Gill on October 17. It's an accolade most country performers aspire to, but only the best and most hardworking get to achieve membership of the oldest and most respected institution in country music.
"I can't tell you what it means to us. We revere that institution so much and we're so grateful. We've played there so many times and we were just hoping and praying that someday they would ask us. It just feels like our responsibility in country music to carry on a tradition and even though we are not necessarily a traditional country band, we have layers in the group in what we sing, and we respect it so much. We get to stand on stage with Vince Gill and Reba McEntire and all these people that have stood in that circle in the past—Dolly, Porter Wagoner, I mean the list goes on and on, Grandpa Jones, Little Jimmy Dickens, it's a great, great heritage and there's nothing like it in the world."
Though LBT have sold millions of records and can now be referred to as a highly successful international act, they still remain very much down-to-earth and are so in awe of their fellow performers, that they have to pinch themselves to know that they can hang out with people that they count very much as their idols.
Over the years they have recorded or performed with legendary performers spanning country, soul, pop and rock music. Last year they provided harmony vocals on
When They're Gone (Lyle
County)
a song on David Nail's I'M A FIRE, and were also featured on Miranda Lambert's PLATINUM, on
Smokin' and Drinkin'
, a song which LBT were set to record themselves. Other notable guest vocals include
Deep River Woman
with Lionel Richie and live performances with Miranda Lambert, Lindsey Buckingham and John Mellencamp.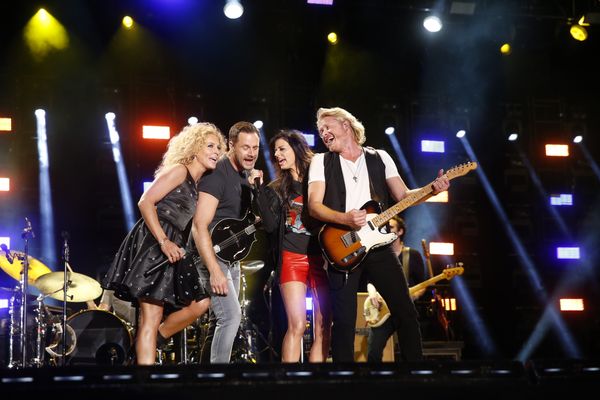 "Oh man, Lionel was just a dream, such a gentleman, such an icon,"
Karen enthuses.
"I had so much fun getting the chance to record and sing with John Mellencamp, because he's just another guy that has had such an influence on American music and in roots music. It all goes hand in hand with what we love and what he loves and what we do, so that was a great gift. And then probably one of the most electric performances I've ever been a part of is Lindsey Buckingham. Clearly we love Fleetwood Mac and that Southern California harmony, to share the stage with him and singing Go Your Own Way, I mean it was other-worldly for us that night. He is such an incredible singer that I've ever been around. I mean, from soundcheck to the performance there was no change, he has one button and it's on!"
It's obvious that Karen is very much a fan as well as being a fellow performer with some of the biggest star names in the world. It has taken a long time for LBT to become revered and recognised for their distinctive sound and dynamic vocal work, a road that they all travelled steadfastly and with determination.
 "I dreamed of it! I mean, I believed it, because I believe you have to believe it a little bit, that it might happen. You just gotta go for it, and it's going to happen. But I don't think I could have ever imagined that it would lead to so satisfying and fulfilling friendships, like Keith Urban and so many other artists—Eric Church and Luke Bryan and Lady A and Miranda and Blake. I mean it's a community that we treasure. There is just this common bond of being able to collaborate with Miranda and singing and touring with Keith last year, and they're all things we could have only hoped for. So to call them friends … it's an incredible gift and we're so fortunate, lucky, blessed, whatever you want to say, we're all of it."
That community that Karen mentions is unique to country music. Maybe it's because most of the performers are based in the one city—Nashville. Or perhaps it's the country music family that has evolved around the Grand Ole Opry. Or it just might be that the majority of country music performers have this 'little town' ethic that is very much a part and parcel of the country music psyche.
"Yeah it is. I mean, I'm sure we all want to do well, and there is a little bit of healthy competition, but at the end of the day, I think of them all as friends. There is just this great spirit of, I don't know, like we are all gatekeepers of country music and all protecting each other. It's good, it's really good!"