Lisa Brokop - Heart Songs
First published in Country Music International, May 1996
Lisa Brokop is country music's first 22-year-old veteran. But the Canadian songstress is so busy recording, writing, touring and acting, she can't find the time to go out on a date. "I'm not looking for anybody right now," she tells Alan Cackett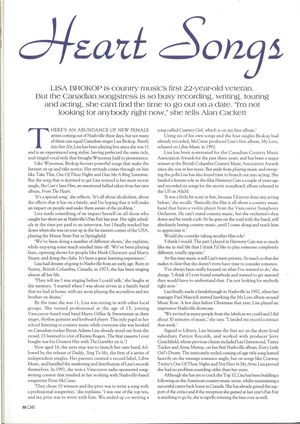 There's an abundance of new female artists coming out of Nashville these days, but not many of them can equal Canadian singer Lisa Brokop. Barely into her 20s, Lisa has been playing live since she was 11and is an experienced song stylist, having perfected the same rich, soul-tinged vocal style that brought Wynonna Judd to prominence.
Like Wynonna, Brokop favours powerful songs that make the listener sit up and take notice. Her attitude comes through on hits like Take That, One Of Those Nights and Give Me A Ring Sometime. But the song that is destined to get Lisa noticed is her most recent single, She Can't Save Him, an emotional ballad taken from her new album, FROM THE HEART.
"It's a special song," she reflects. "It's all about alcoholism, about the effects that it has on a family, and I'm hoping that it will make an impact on people and make them aware of the problem."
Lisa made something of an impact herself on all those who caught her short set at Nashville's Fan Fair last year. Her tight schedule at the time put paid to an interview, but I finally tracked her down when she was on tour up in the far eastern corner of the USA, playing the Maine State Fair in Springfield.
"We've been doing a number of different shows," she explains, while enjoying some much needed time off. "We've been playing fairs, opening shows for people like Mark Chesnutt and Marty Stuart, and doing the clubs. It's been a great learning experience."
Lisa had dreamt of going to Nashville from an early age. Born in Surrey, British Columbia, Canada, in 1973, she has been singing almost all her life.
"They tell me I was singing before I could talk," she laughs at the memory. "I started when I was about seven in a family band that we had at home, with my mom playing the accordion and my brother on drums."
By the time she was 11, Lisa was sitting in with other local groups. She turned professional at the age of 15, joining Vancouver-based road band Marty Gillan & Sweetwater as their singer, rhythm guitarist and keyboard player. The only pupil in her school listening to country music while everyone else was hooked on Canadian rocker Bryan Adams Lisa already stood out from the crowd. ("I listened to a lot of Kenny Rogers. The first cassette I ever bought was his Greatest Hits with The Gambler on it.")
Now aged 16, the next step was to launch her own band, followed by the release of Daddy, Sing To Me, the first of a series of independent singles. Her parents created a record label, Libre Music, and handled the marketing and distribution of Lisa's records themselves. In 1991, she won a Vancouver radio-sponsored songwriting contest that resulted in her working with Nashville-based songwriter Peter McCann.
"They chose 10 winners and the prize was to write a song with a professional songwriter," she explains. "I was one of the top ten, and my prize was to write with him. We ended up co-writing a song called Country Girl, which is on my first album."
Using six of his own songs and the four singles Brokop had already recorded, McCann produced Lisa's first album, MY LOVE, released on Libre Music in 1992.
Lisa has been nominated for the Canadian Country Music Association Awards for the past three years, and has been a major winner at the British Columbia Country Music Association Awards since she was in her teens. But aside from playing music and sweeping the polls Lisa has also found time to branch out into acting. She landed a feature role in the film Harmony Cats a couple of years ago and recorded six songs for the movie soundtrack album released in the US on A&M.
"It was a little bit scary at first, because 1'd never done any acting before," she recalls. "Basically the film is all about a country music band that hires a violin player from the Vancouver Symphony Orchestra. He can't stand country music, but the orchestra's shut down and he needs a job. So he goes on the road with the band, still absolutely hating country music, until I come along and teach him to appreciate it."
Would she consider taking another film role?
"I think I would. The part I played in Harmony Cats was so much like me in real life that I think I'd like to play someone completely different, totally opposite."
At this time music is still Lisa's main priority. So much so that she makes it clear that she doesn't even have time to consider romance.
"I've always been really focused on what I've wanted to do," she shrugs. "I think if I ever found somebody and wanted to get married they would have to understand that I'm not looking for anybody right now."
Lisa finally made a breakthrough in Nashville in 1992, when her manager Paul Mascioli started hawking the MY LOVE album around Music Row. A few days before Christmas that year, Lisa played an impressive Nashville showcase.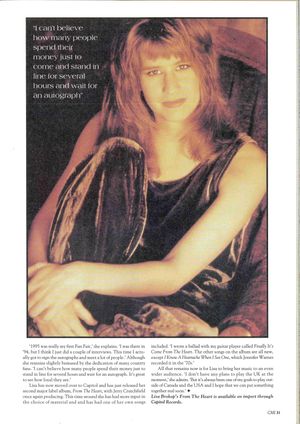 "We invited as many people from the labels as we could and I did about 30 minutes of music," she says. "I landed my record contract that week."
Signed to Liberty, Lisa became the first act on the short-lived subsidiary Patriot Records, and worked with producer Jerry Crutchfield, whose previous clients included Lee Greenwood, Tanya Tucker and Anne Murray, on her first Nashville album, EVERY LITTLE GIRĽS DREAM. The intricately-styled coming-of-age title song leaned heavily on the teenage romance angle, but on songs like Conway Twitty's One Of Those Nights and Not Here In My Arms Lisa proved she had no problem sounding older than her years.
Although she has vet to crack the Top 10, Lisa has been building a following on the American country music scene, whilst maintaining a successful career back home in Canada. She has already gained the support of the critics and if the reception she gained at last year's Fan Fair is anything to go by, she is rapidly winning the fans over as well.
"1995 was really my first Fan Fair," she explains. "I was there in1994, but I think I just did a couple of interviews. This time I actually got to sign the autographs and meet a lot of people." Although she remains slightly bemused by the dedication of many country fans. "I can't believe how many people spend their money just to stand in line for several hours and wait for an autograph. It's great to see how loyal they are."
Lisa has now moved over to Capitol and has just released her second major label album, FROM THE HEART, with Jerry Crutchfield once again producing. This time around she has had more input in the choice of material and has had one of her own songs included. "I wrote a ballad with my guitar player called Finally Iťs Come From The Heart. The other songs on the album are all new, except I Know A Heartache When I See One, which Jennifer Warnes recorded it in the 1970s."
All that remains now is for Lisa to bring her music to an even wider audience. "I don't have any plans to play the UK at the moment," she admits. "But it's always been one of my goals to play outside of Canada and the USA and I hope that we can put something together real soon."