Linda Davis - To Be Or Not To Be
First Published in Country Music International – April 1996
Poised for superstardom since she first came to Nashville in 1982, Linda Davis has worked with Reba McEntire as a backing vocalist and sometime duet partner and acquired a reputation as a real singer's singer. Despite the set-backs, she believes her time will come. "When it happens I'll be ready," she tells Alan Cackett
Linda Davis has the talent to become recognised as one of country music's most powerful and distinctive female singers. Regarded as a singer's singer, she has doggedly overcome the kind of career set-backs that would have sent a lesser artist rushing back home to the bosom of their family. Her latest album, SOME THINGS ARE MEANT TO BE, is the one that is being tipped to make things happen for Linda, but she's come so close before, you can forgive her if she's still treading a little warily.
Following the success of Does He Love You?, her chart-topping duet with Reba McEntire, a couple of years ago, Linda Davis found herself regarded in some quarters as an overnight sensation; something she's quick to refute. "I've been in Nashville since 1982 and I've had three record deals," she says "if you count the little independent label that I moved to Nashville for, then Arista is my fourth label."
Even the deal with Arista, a label renowned for breaking ne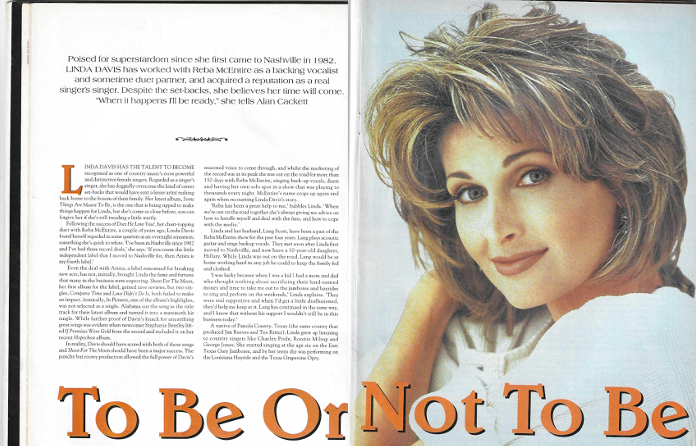 w acts, has not, initially, brought Linda fame and fortune that many in the business were expecting. SHOOT FOR THE MOON, her first album for the label, gained rave reviews, but two singles, Company Time and Love Didn't Do It, both failed to make an impact. Ironically, In Pictures, one of the album's highlights, was not selected as a single. Alabama cut the song as the title track for their latest album and turned it into a mammoth hit single. While further proof of Davis' knack for unearthing great songs was evident when newcomer Stephanie Bentley lifted If Promises Were Gold from the record and included it on her recent HOPECHEST album.
In reality, Davis should have scored with both of those songs and Shoot For The Moon should have been a major success. The punchy but rootsy production allowed the full power of Davis' seasoned voice to come through, and whilst the marketing of the record was at its peak, she was out on the road for more than 150 days with Reba McEntire, singing back-up vocals, duets and having her own solo spot in a show that was playing to thousands every night. McEntire's name crops up again and again when recounting Linda Davis' story.
"Reba has been a great help to me," bubbles Linda. "when we're out on the road together she's always giving me advice on how to handle myself and deal with the fans, and how to cope with the media."
Linda and her husband, Lang Scott, have been a part of the Reba McEntire show for the past four years. Lang plays acoustic guitar and sings backup vocals. They met soon after Linda first moved to Nashville, and now have a ten-year-old daughter, Hillary. While Linda was out on the road, Lang would be at home working hard in any job he could to keep the family fed and clothed
"I was lucky because when I was a kid I had a mom and dad who thought nothing about sacrificing their hard-earned money and time to take me out to the jamboree and hayrides to sing and perform on the weekends," Linda explains. "they were real supportive and when I'd get a little disillusioned, they'd help me keep at it. Lang has continued in the same way, and I know that without his support I wouldn't still be in this business today."
A native of Panola County, Texas (the same county that produced Jim Reeves and Tex Ritter), Linda grew up listening to country singers like Charley Pride, Ronnie Milsap and George Jones. She started singing at the age of six on the East Texas Gary Jamboree, and by her teens she was performing on the Louisiana Hayride and the Texas Grapevine Opry.
Linda turned 20 in Nashville, hundreds of miles away from home. She was dream-chasing and had been offered record deal with MDJ Records, an independent label whose roster had also included a fledgling band called Wild Country that would one day become Alabama. By the time Linda and her singing partner, Skip Eaton, joined MDJ, Alabama were a big-name act. Skip and Linda did enjoy some country chart success, but financially it simply didn't work.
"I really thought we were going somewhere," she shrugs. "But it just wasn't meant to be. We worked hard at it, and the realisation that it was not working was an emotional drain. It was hard to pick myself up and I thank God that Lang came along at about that time."
Though Lang helped to boost Linda's confidence, he wasn't able to get her back working in the music business. For a time she waitressed and even worked as a hostess, before landing a gig performing in the piano bar at the former Sheraton Hotel, near Interstate 65. This was followed by a more lucrative booking at Sheraton Music City's piano lounge. Then came demo and jingle singing and a short-lived record deal with Epic Records. But as the 1980s became the 1990s, Linda's career was still very much in a stop-start situation. Following a meeting with Narvel Blackstock, McEntire's husband (who later became Linda's manager), it looked as if things might change, but it took a further four difficult years before she started to reap any rewards.
"Narvel has believed in me for a long time," says Linda "he got me a deal with Jimmy Bowen at Liberty, and we did two albums, but again it just didn't work out. I started to wonder what to do next, where to go, and having Narvel and Reba there really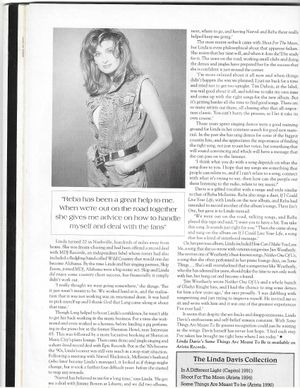 helped keep me going."
The most recent setback came with SHOOT FOR THE MOON, but Linda is even philosophical about the apparent failure. She insists that her time will, and when it does she'll be ready for it. The years on the road, working small clubs and doing the demos and jingles have prepared her for the success that she is confident is just around the corner.
"I'm more relaxed about it all now and when things didn't happen the way we planned, I just sat back for a time and tried not to get too uptight. Tim Dubois, at the label, was real good about it all, and told me to take my own time and come up with the right songs for the new album. But it's getting harder all the time to find good songs. There are so many artists out there, all chasing after that all-important classic. You can't hurry the process, so I let it take its own course."
Those years spent singing demos were a good training ground for Linda in her constant search for good new material. In the past she has sang demos for some of the biggest country hits, and she appreciates the importance of finding the right song, not just to suit her voice, but something that will sound convincing, and which will have a message that she can pass on to the listeners.
"I think what you do with a song depends on what the song does to you. I hope that my songs are something that people can relate to, and if I can't relate to a song, connect with what it's trying to say, then how can the people out there listening to the radio, relate to my music?"
Davis is a gifted vocalist with a range and style similar to that of Reba McEntire. Reba also sings a duet, If I Could Live Your Life, with Linda on the new album, and Rea had intended to record another of the album's songs, There Isn't One, but gave it to Linda instead.
"We were out on the road, talking songs, and Reba played this tape and said, 'I want you to have a hit. You take this song. It sounds just right for you.' Then she came along and sang on the album on If I Could Live Your Life, a song that has a kind of sisterhood message."
On her previous album, Linda included How Can I Make You Love Me, a song that she co-wrote with veteran songwriter Jim Weatherly. She revives one of Weatherly's best-known songs, Neither One Of Us, a song that she often performed in her piano lounge days, on SOME THINGS ... She's still overwhelmed that a songwriter like Weatherly, who she has admired for years, should take the time to not only work with her, but hang out and become a friend.
"Jim Weatherly wrote Neither One Of Us and a whole bunch of Glady Knight hits, and I had the chance to sing some demos for him a few years ago," she says proudly. "I was dabbling with songwriting and just trying to improve myself. He invited me to sit and write with him and it was one of the greatest experiences I've ever had."
It seems that despite the set-backs and disappointments, Linda Davis' enthusiasm and self-belief remain constant. With SOME THINGS ARE MEANT TO BE greater recognition could just be waiting in the wings. "I feel each step I've taken has brought me right here where I am today."