First Published in Country Music International - July 1994
Firmly established in Nashville as a singer's singer, Linda Davies didn't make that all-important connection with the record buying public until she teamed up with Reba McEntire to duet on the powerful ballad Does He Love You, which not only reached the number one spot in the US country charts in 1993, but also won a Grammy for best country vocal collaboration earlier this year.
Hailing from Dotson, Texas, 31-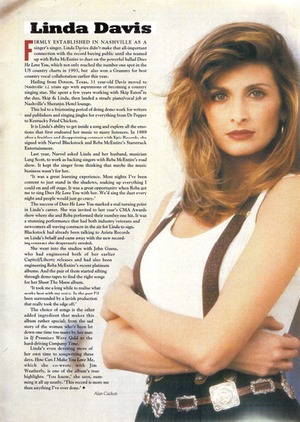 year-old Davis moved to Nashville 12 years ago with the aspirations of becoming a country singing star. She spent a few years working with Skip Eaton in the duo, Skip & Linda, then landed a steady piano/vocal job at Nashville's Sheraton Hotel lounge.
This led to a frustrating period of demo work for writers and publishers and singing jingles for everything from Dr Pepper to Kentucky Fried Chicken.
It is Lunda's ability to get inside a song and explore all emotions that first endeared her music to many listeners. In 1989 after a fruitless and disappointing contract with Epic Records, she signed with Narvel Blackstock and Reba McEntire's Starstruck Entertainment.   
Last year, Narvel asked Linda and her husband, musician Lang Scott, to work as backing singers with Reba McEntire's road show. It kept the singer from thinking that maybe the music business wasn't for her.
'It was a great learning experience. Most nights I've been content to just stand in the shadows, soaking up everything I could on and off stage. It was a great opportunity when Reba got me to sing Does He Love You with her. We'd sing the duet every night and people would just go crazy.'
The success of Does He Love You marked a real turning point in Linda's career. She was invited to last year's CMA Awards show where she and Reba performed their number one hit. It was a stunning performance that had both industry veterans and newcomers all waving contracts in the air for Linda to sign. Blackstock had already been talking to Arista Records on Linda's behalf and came away with the new recording contract she desperately needed.
She went into the studios with John Guess, who had engineered both of her earlier Capitol/Liberty releases and had also been engineering Reba McEntire's recent platinum albums. And the pair of them started sifting through demo tapes to find the right songs for her SHOOT THE MOON album.
'It took me a long while to realise what works best with my voice. In the past I'd been surrounded by lavish productions that really took the edge off.'
The choice of songs is the other added ingredient that makes this album rather special; from the sad story of the woman who's been let down one time too many by her man in If Promises Were Gold to the hard-driving Company Time.
Linda's even devoting more of her own time to songwriting these days. How Can I Make You Love Me, which she co-wrote with Jim Weatherly, is one of the album's true highlights. 'You know,' she says, summing it all up neatly. 'This record is more me than anything I've ever done.'