Lila McCann - Under The Spotlight
First Published in Country Music International, December 1997
Lila McCann is the latest teenage singing sensation to take the country market by storm. But despite her new-found success, she asserts, "I still want to go to college."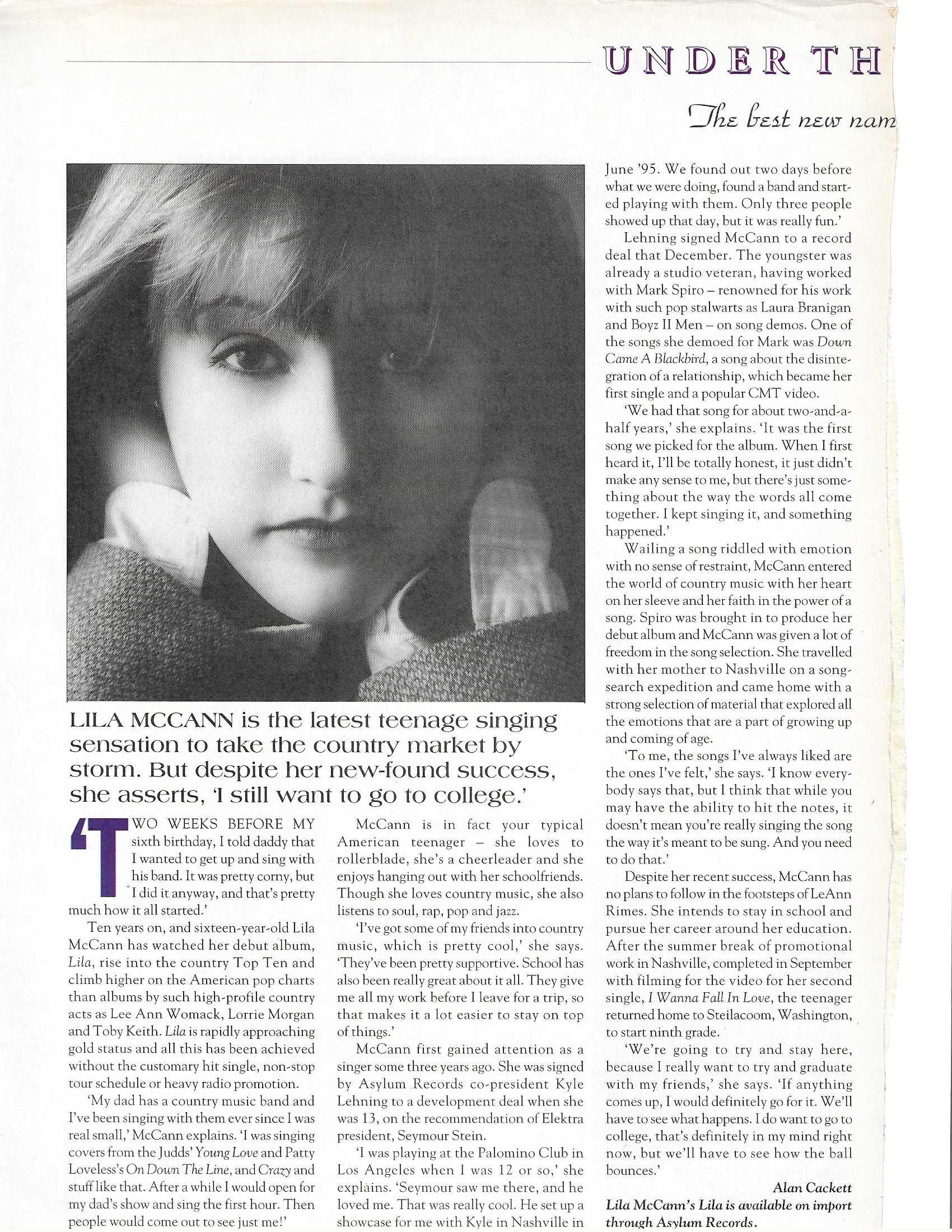 "Two weeks before my sixth birthday, I told daddy that I wanted to get up and sing with his band. It was pretty corny, but I did it anyway, and that's pretty much how it all started."
Ten years on, and sixteen-year-old Lila McCann has watched her debut album, LILA, rise into the country top ten and climb higher on the American pop charts than albums by such high-profile country acts as Lee Ann Womack, Lorrie Morgan and Toby Keith. LILA is rapidly approaching gold status and all this has been achieved without the customary hit single, non-stop tour schedule or heavy radio promotion.
"My dad has a country music band and I've been singing with them ever since I was real small," McCann explains. "I was singing covers from the Judd's Young Love and Patty Loveless' On Down The Line, and Crazy and stuff like that. After a while I would open for my dad's show and sing the first hour. Then people would come out to see just me!"
McCann is in fact your typical American teenager—she loves to rollerblade, she's a cheerleader and she enjoys hanging out with her schoolfriends. Though she loves country music, she also listens to soul, rap, pop and jazz.
"I've got some of my friends into country music, which is pretty cool," she says. "They've been pretty supportive. School has also been really great about it all. They give me all my work before I leave for a trip, so that makes it a lot easier to stay on top of things."
McCann first gained attention as a singer some three years ago. She was signed by Asylum Records co-president Kyle Lehning to a development deal when she was 13, on the recommendation of Elektra president, Seymour Stein.
"I was playing at the Palomino Club in Los Angeles when I was 12 or so," she explains. "Seymour saw me there, and he loved me. That was really cool. He set up a showcase for me with Kyle in Nashville in June 1995. We found out two days before what we were doing, found a band and started playing with them. Only three people showed up that day, but it was really fun."
Lehning signed McCann to a record deal that December. The youngster was already a studio veteran, having worked with Mark Spiro—renowned for his work with such pop stalwarts as Laura Branigan and Boyz 11 Men—on song demos. One of the songs she demoed for Mark was Down Came A Blackbird, a song about the disintegration of a relationship, which became her first single and a popular CMT video.
"We had that song for about two-and-a-half-years," she explains. "It was the first song we picked for the album. When I first heard it, I'll be totally honest, it just didn't make any sense to me, but there's just something about the way the words all come together. I kept singing it, and something happened."
Wailing a song riddled with emotion with no sense of restraint, McCann entered the world of country music with her heart on her sleeve and her faith in the power of a song. Spiro was brought in to produce her debut album and McCann was given a lot of freedom in the song selection. She travelled with her mother to Nashville on a song-search expedition and came home with a strong selection of material that explored all the emotions that are part of growing up and coming of age.
"To me, the songs I've always liked are the one I've felt," she says. "I know everybody says that, but I think that while you may have the ability to hit the notes, it doesn't mean you're really singing the song the way it's meant to be sung. And you need to do that."
Despite her recent success, McCann has no plans to follow in the footsteps of LeAnn Rimes. She intends to stay in school and pursue her career around her education. After the summer break of promotional work in Nashville, followed in September with filming for the video for her second single, I Wanna Fall In Love, the teenager returned home to Steilacoom, Washington, to start ninth grade.
"We're going to try and stay here, because I really want to try and graduate with my friends," she says. "If anything comes up, I would definitely go for it. We'll have to see what happens. I do want to go to college, that's definitely in my mind right now, but we'll have to see how the ball bounces."