Levon Helm – a music colossus
Levon Helm, the drummer for The Band, shaped a whole generation of music lovers' preferences for down-home roots music in the face of psychedelia, heavy-rock, avante-garde rock and whatever other fancy names were coined in the late 1960s and early 1970s by music pundits to describe the latest fads and fancies of the music business. Though The Band achieved some commercial success and acclaim, they were never really positioned in the same league as the likes of say Led Zeppelin, Pink Floyd, The Eagles, The Beatles or Queen. No way! The Band were outside that circle of super-rich bands in a league of their very own in which the integrity of recreating roots music for a contemporary audience was of paramount importance … not chart-topping hits or gold and platinum discs.

Levon Helm was born Mark Lavon 'Levon' Helm on May 26, 1940 in Elaine, Arkansas, the son of Nell and Diamond Helm. He grew up in nearby Turkey Scratch, a hamlet west of Helena. His parents were cotton farmers and also great lovers of music and they encouraged their children to play and sing. It's reputed that Levon saw Bill Monroe & his Bluegrass Boys when he was six years old, and decided then to become a musician. He began playing guitar shortly after and also learnt to play drums.

He helped to form his first band, The Jungle Bush Beaters, while in high school and began playing in clubs and bars around Helena. After graduating from high school he became the drummer for another Arkansas native, rockabilly singer Ronnie Hawkins. Hawkins & the Hawks was a popular bar and club act across the South and also in Canada, where rockabilly acts were very popular. In 1958 Hawkins relocated to Toronto, Canada along with Helm and some of the members of the Hawks. Helm and Hawkins soon recruited local Canadian musicians to the line-up including guitarist Robbie Robertson, bassist Rick Danko and keyboardists Richard Manuel and Garth Hudson. In 1959, Hawkins was signed to New York-based Roulette Records and released several singles, including a few hits. Many of those recordings that were made with the Hawks were released on CD by Bear Family Records in 2011 as THE BALLADS OF RONNIE HAWKINS.

Despite this, Hawkins and his band were struggling to make a reasonable living and in 1963, the band parted ways with Hawkins and started touring under the name Levon and The Hawks and later as The Canadian Squires before finally changing back to The Hawks. Though they recorded a couple of singles, they remained mainly a touring bar band working clubs and bars in Texas, Arkansas, Canada, and on the East Coast of America, where they found regular summer club gigs on the New Jersey shore.

In the mid-1960s folk singer Bob Dylan was looking to stretch his musical wings and decided to put together an 'electric' band. Rather than audition musicians for a project that might prove unsuccessful, he decided to recruit an established, yet little-known band—and the Hawks fitted the bill perfectly. Dylan and the Hawks embarked on his first American 'electric' tour, a raucous event strung over September 1965 to May 1966 that marked Dylan's transition from acoustic to rock'n'roll and outraged his folkie fans.

Helm was dismayed by the hostile reception and returned to Arkansas for a two-year hiatus. During this period, he ended up working on off-shore oil rigs in the Gulf of Mexico until he was asked to rejoin the band, which by then was often referred to simply as 'the band.' All the band members had followed Dylan to live around Woodstock, New York and remained under salary to him. They recorded a large volume of demo and practice tapes in Woodstock, playing almost daily with Dylan, who had completely withdrawn from public life. These recordings were widely bootlegged and were partially released officially in 1975 as THE BASEMENT TAPES.

The songs and themes developed during this period played a crucial role in the group's future direction and style. The band members also began writing their own songs. Rick Danko and Richard Manuel also shared writing credits with Dylan on a few songs. While contemplating a recording contract, Helm had dubbed the band as The Crackers. However, when Robbie Robertson and their new manager Albert Grossman worked out the contracts, the group's name was cited as The Band. Under these contracts, The Band was contracted to Grossman, who in turn negotiated a record contract with Capitol. This arrangement allowed The Band to release recordings on other labels if the work was done in support of Dylan and allowed The Band to play on Dylan's PLANET WAVES album and on THE LAST WALTZ, both non-Capitol releases.

Much of The Band's identity—as suggested by its name—was in being a true collective where no single person stood out. The Band's 1968 debut album, MUSIC FROM BIG PINK— named after the house they rented near Woodstock—reflected that unity. Despite vocals shared by Helm, Richard Manuel, and Rick Danko, no one singer was identified, and the lyrics weren't even printed on the jacket. The magic of that music came from a special alchemy among those individuals that could never be achieved separately.

Yet in what is now an often repeated pattern from the early days of the music business, camaraderie crumbled amid fame. Robbie Robertson, The Band's lead guitarist and often main spokesperson, joined with the band's management to persuade the others to sign away their individual publishing rights, which in today's era of multi-media are considered the pension plans of the music industry. They ensure artists' later income when the songs are revived by other acts or are used in movies, television, etc.
Manuel was the most prominent vocalist on MUSIC FROM BIG PINK and Helm sang mainly backup, with the exception of The Weight. However, as Manuel's health deteriorated and the Band's songwriting increasingly looked south for influence and direction, subsequent albums relied more and more on Helm's vocals, alone or in harmony with Danko. His twangy vocals brought a poignancy and earthiness to songs like The Night They Drove Old Dixie Down and Up On Cripple Creek.

Helm played drums for most of The Band's songs including most of those for which he sang lead. On the others, Manuel switched to drums while Helm played mandolin or, on rare occasion, guitar or bass guitar. The entire group was multi-instrumental and certain songs featured Manuel on drums, Helm on mandolin (as on Evangeline), rhythm guitar (the 12-string guitar backdrop to Daniel And The Sacred Harp is by Helm), or bass (while Danko played fiddle).

MUSIC FROM BIG PINK was followed by the 'brown album' simply titled THE BAND. Viewed by most critics as their masterpiece, the album was steeped in old-time rural Americana and made heavy use of Helm's plaintive Southern drawl. The Band's greatest success came in the early and mid-1970s and, while they were not a huge commercial success, critics loved them. Up On Cripple Creek, The Weight and the Civil War saga The Night They Drove Old Dixie Down, also a hit for Joan Baez, were popular on American FM radio stations at the time.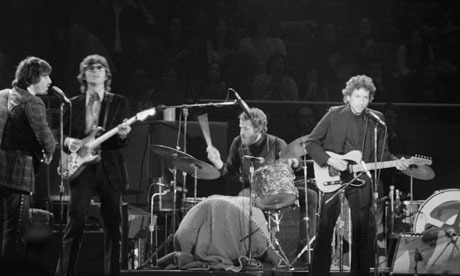 Helm remained with The Band until their 1976 farewell performance, THE LAST WALTZ, which was recorded in a documentary film by director Martin Scorsese. With the break-up of The Band in its original form, Helm began working on a solo album LEVON HELM AND THE RCO ALL STARS, followed by LEVON HELM. He also participated in British musician Paul Kennerley's 1980 concept album THE LEGEND OF JESSE JAMES, singing the role of Jesse James alongside Emmylou Harris, Johnny Cash, Rosanne Cash, Rodney Crowell and Albert Lee.

In addition to his work as a musician, Helm also acted in several dramatic films after the break-up of The Band. His first acting role was the 1980 film Coal Miner's Daughter in which he portrayed Loretta Lynn's father, followed three years later when he appeared as US Air Force test pilot and engineer Jack Ridley in The Right Stuff. Further movie roles included The Dollmaker (1984), Staying Together (1989), Fire Down Below (1997), The Three Burials of Melquiades Estrada (2005) and In the Electric Mist (2009).
Following the solo albums AMERICAN SON (1980) and LEVON HELM (1982), the Band reunited without Robbie Robertson in 1983. Jim Weider was drafted in on lead guitar, but then whilst on tour in 1986 Manuel committed suicide. Helm, Danko and Hudson continued in The Band, releasing the albums JERICHO in 1993 and HIGH ON THE HOG in 1996. The final album from The Band was the 30th anniversary album, JUBILATION, released in 1998.

In 1989, Helm and Danko toured with drummer Ringo Starr and His All-Starr Band. Levon played drums and harmonica, and sang The Weight and Up On Cripple Creek each night.

Garth Hudson was a guest on accordion on certain dates. Helm performed with Danko and Hudson as The Band in 1990 at Roger Waters' epic The Wall: Live In Berlin concert in Germany to an estimated 300,000 to half a million people.
In 1993, Helm published an autobiography entitled This Wheel's On Fire: Levon Helm and the Story of the Band, in which he was quite scathing about Robbie Robertson's role within the band and the way that he and the other members were 'ripped-off' by the music industry.

In 1998 Helm was diagnosed with throat cancer suffering hoarseness. He was advised to undergo a laryngectomy, but instead he underwent an arduous regime of radiation treatment. Although the tumour was then successfully removed, his vocal cords were damaged, and his clear, powerful voice was replaced by a quiet rasp. Subsequently Helm's performance career in the 2000s revolved mainly around the Midnight Ramble at his home and studio, The Barn, in Woodstock, New York. These concerts featured Helm and a variety of musical guests and allowed him to raise money for his medical bills and to resume performing after his nearly career-ending bout with cancer. Initially Helm only played drums and relied on guest vocalists at the Rambles, but gradually his singing voice grew stronger. On January 10, 2004, he sang again at his Ramble Sessions. In 2007, during production of DIRT FARMER his first solo studio album in 25 years, Helm estimated that his singing voice was 80% recovered. Critically acclaimed, he picked up a Grammy award for best traditional folk album. In 2009, he released ELECTRIC DIRT, winning another Grammy in the new Americana category.

The Levon Helm Band that included his daughter guitarist Amy Helm, along with Larry Campbell, Teresa Williams, Jim Weider (the Band's last guitarist), Jimmy Vivino, Mike Merritt, Brian Mitchell, Erik Lawrence, Steven Bernstein, Howard Johnson, Byron Isaacs, and blues harmonica player Little Sammy Davis were regulars at Helm's Midnight Rambles at his home in Woodstock that were open to the public.

The Midnight Ramble was an outgrowth of an idea Helm explained to Martin Scorsese in The Last Waltz. Earlier in the 20th century, Helm explained, travelling medicine shows and music shows such as F.S. Walcott Rabbit's Foot Minstrels, featuring African-American blues singers and dancers, would put on titillating performances in rural areas. This was also turned into a song by the Band, The W.S. Walcott Medicine Show, with the name altered so the lyric was easier to sing.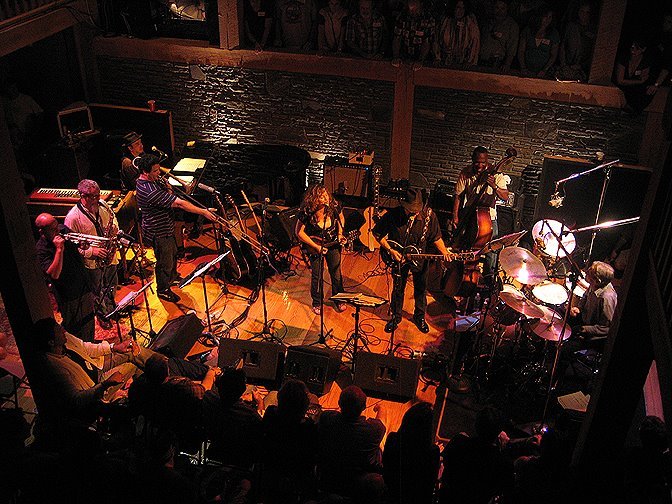 Levon took the Ramble concept on the Road on tour with the first show outside of New York taking place at the Ryman, Nashville in 2008. That show was recorded and filmed and was released in May 2011 as RAMBLE AT THE RYMAN and won a Grammy for best Americana album. The audience that night was full of musicians, some of whom wound up onstage with Helm by the night's end, and the musicianship from the 67-year-old Helm, his Levon Helm Band, a magnificent opening act called Ollabelle and a slew of guests including Emmylou Harris, Buddy Miller, Sam Bush, Sheryl Crow, Ricky Skaggs, John Hiatt and Lee Roy Parnell aided in one of the most extraordinary nights of music.

After Ollabelle sang and played like some glorious amalgam of The Band, Fleetwood Mac and the Flying Burrito Brothers, Helm strode to his drum kit, trailed by a faithful dog (you can't smoke at the Ryman, but you can bring a big dog if you're Levon Helm). The drums were at the front of the stage, facing the side, and spectators had a fine view of Helm's every shoulder shrug, and of the wide grin he'd reveal whenever it came time to pound out a staccato drum fill.

The Levon Helm Band's show began and ended with Bob Dylan tunes, breaking from the starting gate with It Takes A Lot To Laugh, It Takes A Train To Cry and ending with a star-crowded group aiding a poignant I Shall Be Released. In between there was plenty of dusty blues (helped out by wailing harmonica of Little Sammy Davis), some country (a wonderful version of Johnnie & Jack's Ashes of Love), choogling rock and elevated musicianship. Helm included Band standards including Ophelia, The Shape I'm In, Chest Fever (with former Dylan sideman Larry Campbell somehow translating Garth Hudson's famed organ solo to the electric guitar), Tears of Rage, The Weight and Rag Mama Rag.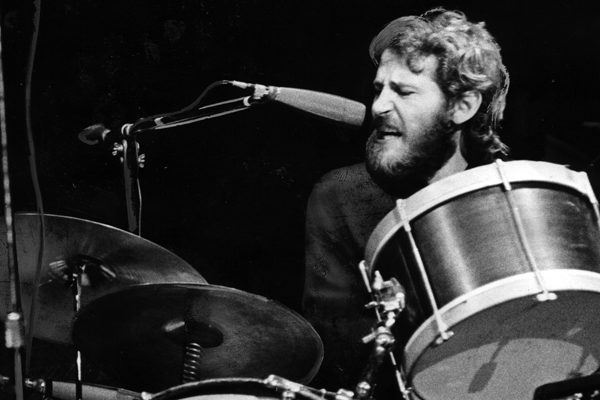 Levon Helm died on April 19, 2012 at the age of 71 from cancer. His singing and drumming with The Band helped define what we now call 'Americana.' Inducted into the Rock and Roll Hall of Fame in 1994, The Band played a brand of rustic rock that drew on country, blues and rhythm and blues and sounded quintessentially American—even though Helm was the only member not from Canada. Levon Helm's musical legacy is not one meticulously groomed by publicists or biographers. It has evolved organically through what he has left behind and was formulated in those early years growing up in rural Arkansas and being exposed to blues greats who performed regularly in the area, travelling minstrel shows and rockabilly acts that he saw first hand.