First published in Country Music People, January 1976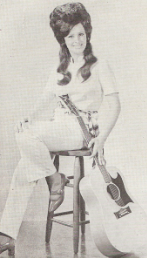 There are literally hundreds of aspiring country singers in Nashville. Many of them regularly release singles on a variety of small and major labels, hoping all the time that one will take off to the top of the country charts. If one of their singles creeps into the bottom of the charts then they are overjoyed, but most of the time life as a singer is a struggle with hopes slowly being battered down with the passing of time.
Leona Williams' career has followed this path. She came to Nashville around seven or eight years ago full of dreams and a bubbling desire to be a top country singer and writer. Lonzo and Oscar, the top country comedy team, helped her in those early days, arranging a demo session of some of her songs and introducing her to the giant Acuff-Rose Publishing Company.
T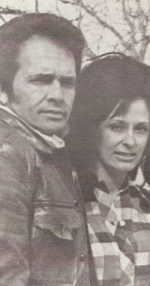 he introduction led to a recording contract with Hickory Records and many ups and downs as records either scraped into the charts or missed out completely. Many of these 'almost' hits are included on the album THE BEST OF LEONA WILLIAMS, like
Yes Ma'am (He Found Me In A
Honky-Tonk)
, a classic bar-room ballad, or the novelty
Country Girl With Hot Pants
On. Most of Leona Williams' recordings have been produced by Don Gant, a producer whom I believe is vastly under-rated, but is probably the best in Nashville at obtaining the real feeling of an artist on to a round piece of black plastic.
Leona Williams is still waiting for that big hit single, but it is just possible that new doors will open for this young attractive singer. A few months back she joined the Merle Haggard show replacing Haggard's wife, Bonnie Owens, who has retired from performing to run Haggard's various business activities. The bubbling Leona Williams with her natural love for country music and expressive country voice was the ideal replacement.
A singer who had not quite made the big time was needed, but also this singer needed to have plenty of experience and talent to perform on the same stage as Haggard in front of very large audiences. Leona Williams fitted that position perfectly. As an added bonus she has several songs on the Acuff-Rose catalogue.
Watch Her Go, If I'd Only Listened To Mama And Daddy
and
I'd
Rather Die Loving Him
are three which spring to mind. They are typical country love ballads, but Leona has that special talent to inject them with part of herself.
It is her unique talent to be a little different and her obvious country roots which tempt me to say that Leona Williams is on her way to major success. It's been a hard battle, but with astute guidance from her husband, Ron Williams, who often sings harmony on her records, she is in the enviable position of being able to handle success, and the necessary talent to be on the country scene for many years to come.