First published in Country Music People, December 1973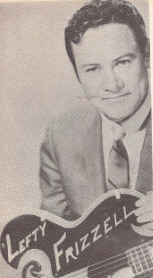 The honky-tonk style of country music that first gained prominence during the immediate post-war period, is really the basis of the modern country music sounds created by people like Buck Owens, George Jones, Charlie Walker and Merle Haggard. Honky-tonk music was primarily a western-born and based style, and the men who were in many ways the father of that type of music, Ernest Tubb, Bob Wills and Hank Thompson are native Texans, and they learned their trade in the taverns and dance-hall environment of the Lone-Star State. Tubb was the first country music performer to use an amplified guitar on his recordings back in the late-1930s, and the reason for this was to give his records more beat for juke-box listening and dancing.
A singer who grew up in a similar background was Lefty Frizzell, who with his expert guitar playing and unusual song styling proved very popular in the bars and honky-tonks around the Dallas area before he made his first commercial recordings in 1950. The deep thrilling voice of Lefty Frizzell that slides and bends around the notes is one of the most distinctive in country music, and has always fascinated me. Unfortunately his hey-day as a top country music star is long gone, and though he is only in his mid-forties, he is too often dismissed as a has-been from a by-gone era.
To discuss Frizzell's vocal style you must have an insight into his background, which without any exuberance, is quite involved. An almost incredible variety of musical influences came together to produce the rich and hybrid form of entertainment known as country music, and Lefty Frizzell came under many of these influences.
He was born in Corsicana, Texas, on March 31, 1928, to Noami and Orville Frizzell and is the eldest of seven children. The peculiar vocal style he possesses can be attributed partly to his French ancestry and also to his background in Texas, Arkansas and Louisiana where he came under many differing influences. His father was in the oil-well drilling business and although the family settled in Arkansas for a few years, they travelled over most of the south-west and Lefty picked up many different accents, coming under the heavy influence of the French Cajuns, but also picking up the basic Texas lingo with its Mexican and Spanish inflection.
His schooling was spread throughout the South but mainly centred in the State of Arkansas, and before the end of the last War he was already impressing people with his singing and guitar picking, and this was before he was in his teens. His first idol was the great Jimmie Rodgers, and traces of the Blue Yodeller's influences have always been in evidence in Lefty's own style.
When Lefty left school he was determined to become a top country music singer, and at the tender age of seventeen he began playing in clubs and honky-tonks. For almost two years he appeared on radio stations in New Mexico and West Texas, an area that was rich in blossoming country music talent. In 1949 he was signed by Jim Beck, a Dallas agent and recording technician who was instrumental in helping many unknowns along the rocky path to the top. His recording studio in Dallas was a place that most aspiring young singers headed for, and luckily for Lefty, Beck recognised that he had more talent than most of the others.
Jim Beck recorded several songs that Lefty had written, including
If You've Got The Money, I've Got The Time
, which became Frizzell's first big hit when released by the Columbia label in early 1950. Beck formed a long-standing friendship with Lefty and they often collaborated on songs that were specially tailor-made for Frizzell's unique vocals.
After this first taste of success Lefty followed with more hits for Columbia including
I Want To Be With You Always, Mom And Dad's Waltz
and
Give Me More, More, More Of Your Kisses
, all with that rolling vocal style, backed up by some distinctive honky-tonk piano interspersed with fiddle and old-styled steel guitar. This sudden success prompted the organisation of Lefty's backing group that throughout the early 1950s included some of the top musicians in country music. An early fiddle player was the late Red Hayes, who also co-wrote several songs with Frizzell, but most probably the man who caught the sound of Frizzell best was Onie Wheeler, who was also a regular band member and supplied such hits as
Run 'Em Off
. Guy and Skeeter of the Willis Brothers were two other regular musicians who worked with Frizzell at the time, and they again helped with the supply ofr songs that were tailor-made for his voice.
It is Lefty's association with the Jimmie Rodgers' sound that will always hold him in the highest esteem. Throughout the 1950s when country music was tacking a heck of a battering from rock'n'roll, Lefty maintained his devotion to the Rodgers' tradition and continued to include the Blue Yodeller's songs in his repertoire. In the early 1950s he released a series of singles of Jimmie Rodgers' songs including
My Old Pal, Sleep, Baby Sleep
and
California Blues
, and for several years these were sought-after items.
Lefty Frizzell was one of the few country singers who maintained his initial success of the early 1950s  throughout the rock'n'roll boom without changing his basic style. In 1959 he experienced one of his biggest hits with Danny
Dill's Long Black Veil
, a song that has since become a classic both in country music and contemporary folk circles. His last big hit was ten years ago when he hit the top of the country charts with Bill Anderson's
Saginaw, Michigan,
a beautifully constructed song that suited Lefty down to the ground.
It's always a good sign for an artist when other artists pay credit to them for their own success. Frizzell was quick to recall that Jimmie Rodgers was his own inspiration, and it's quite surprising how many modern country singers recall Lefty as one of their favourites. Topping this list is Merle Haggard who recalls growing up on a diet of Lefty Frizzell and Bob Wills. Haggard's vocal style owes much to Lefty, that same way of bending the notes, of rolling the words off, it's all there, defies the natural law of music, but creates an experience that the listener can believe in. Merle Haggard has paid back thanks to Lefty Frizzell by recording several of his songs and openly admitting the importance of Frizzell in his own career. Other artists who have come under the influece of Lefty Frizzell include Charley Pride who has carefully selected old Frizzell recordings, some quite unknown, and dressed them up in a modern styling, Buck Owens, Wynn Stewart and even the late Jim Reeves remarked that Lefty was one of his favourite singers.
Lefty Frizzell possesses not only a unique vocal style, but a talent for writing songs that last, a guitar style that is a standout on all of his records. It is a strong, vibrant style, that is too often overlooked, but when listening to his records you realise that his guitar playing is a major part of his success.
In keeping with their modern trends, Columbia lost the services of Lefty Frizzell almost two years ago. It's a sad fact, but of all the big stars they cultivated in the early 1950s like George Morgan, Marty Robbins, Stonewall Jackson, Carl Butler, Ray Price and Carl Smith, only the latter two are now retained by Columbia. Lefty has moved onto the ABC/Dunhill label, and his debut released at the end of last year shows his voice and style still had that distinctive sound. It's doubtful that Lefty will ever be the major force in country music he was, but there's no doubt his influence will be felt for many years to come. His style will be carried on by the younger performers who recognise talent like his—the one and only Lefty Frizzell.