Leftover Salmon - Grass Roots
Compass Records
****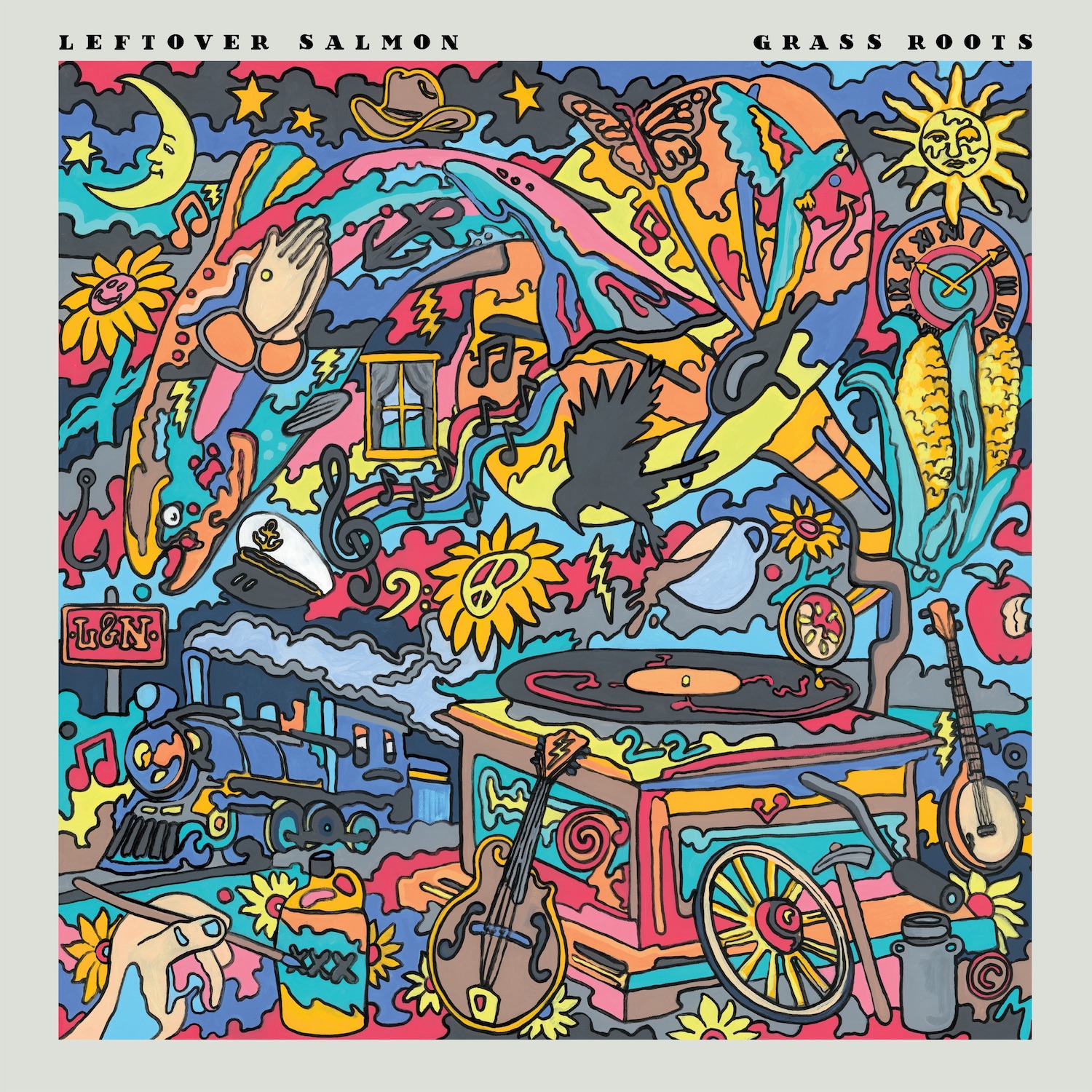 Colorado-based jam-grass band Leftover Salmon recall their formative days when they first jammed at the Telluride Festival campground, some 30-odd years ago, for this aptly titled album. Back then, the musicians were members of the Salmon Heads and the Left Hand String Band, two groups which coalesced into Leftover Salmon. Joined by special guests Billy Strings, Darol Anger and Oliver Wood (from the Wood Brothers), along with the recent addition of new band member Jay Starling (resophonic guitar, lap steel and keyboards), they revisit the repertoires of those two embryonic bands with their updated renditions of bluegrass standards and inventive interpretations of songs from the likes of the Grateful Dead, Bob Dylan, David Bromberg and the Delmore Brothers. Trying to channel your past dynamic is a tricky proposition; it is to revisit your roots without embarrassing yourself.
This record doesn't play like a band struggling to rejuvenate itself or attempting to recapture that initial spark. It sounds like a group of musicians completely at ease with itself, going back and jamming the type of tunes that first inspired them to link up some three decades ago. But while GRASS ROOTS often feels like a lively trip down memory lane, it also reflects how Leftover Salmon has changed over the years. These new renditions are less rooted in nervous youthful energy and more of a confident, joyous exuberance. It's boisterous, it's fun, and it brings everything full circle, serving as an ideal encapsulation of the past 30 years of Leftover Salmon. 
It's a freewheeling, musically sprawling set, perhaps more bluegrass oriented than many would expect. Instrumentally speaking, they are a dynamic powerhouse. This is most notably demonstrated on their rendition of Nashville Skyline Rag. Straight-down-the-middle bluegrass, with a toe-tapping melody led by banjo and mandolin, the band gives the tune a great pushing rhythm and an enjoyable arrangement with time for all the musicians to show off their chops. Band newcomer Jay Starling comes into his own on Dobro for a neat revival of the Delmore Brothers' 1930s old-timey Blue Railroad Train, with Billy Strings and Drew Emmett sharing the vocal honours. Jay is responsible for bringing Dallas Frazier's California Cottonfields to the table. First recorded by Merle Haggard in 1969, following the Seldom Scene picking up the song in the mid-1970s, it's become something of a bluegrass staple. Though this version is good, it lacks the empathy that the Hag brought to the song's nostalgia-driven lyrics.
Fire And Brimstone is glorious; an absurdly mind-blowing grunge-rock ripper, with a seemingly tossed-off vocal that hits way harder than it should. With colourful, almost metal rock, beds of skittering lead notes, pausing on a bridge for looping bass, at times it can't quite tell if it's a punk song, a more traditional blues jam, or noise rock, and that just might be the brilliance of Leftover Salmon. They lift Black Peter from the vast Grateful Dead repertoire, with Andy Thorn handling lead vocals and providing the driving banjo. Packing a potent instrumental punch for those discovering the group's string-bending prowess. They dig back even further to the 1920s for The New Lee Highway Blues. This version is certainly inspired by the David Bromberg arrangement from the 1970s  but given a little more of a contemporary edge. Leftover Salmon prove once again to be an extremely talented band, both instrumentally and vocally … with this album they evoke these musical memories with heart-felt purpose and genuine reverence.
April 2023