Lee Roy Parnell - Lee Roy Breaks The Mould
First Published in Country Music International, September 1997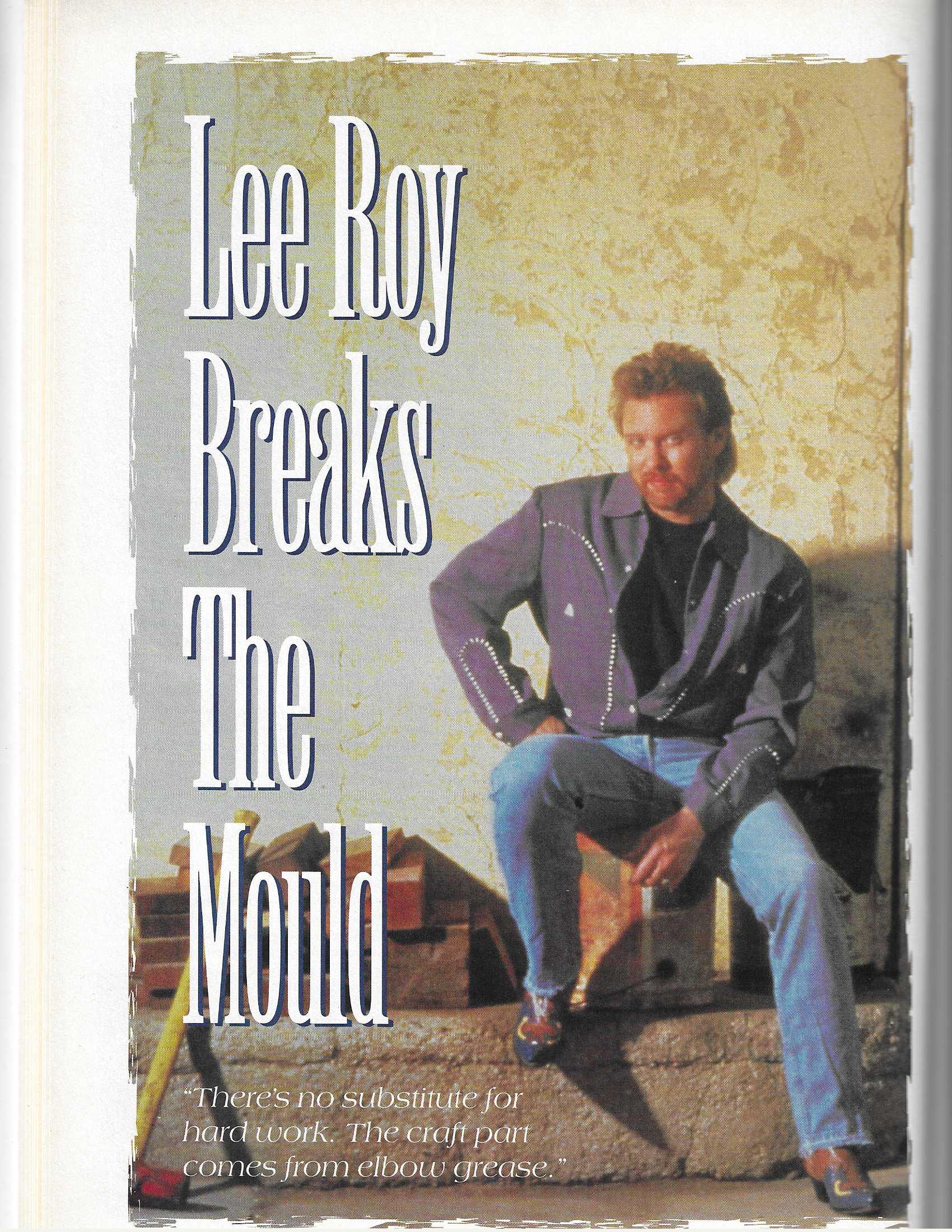 Known for his smoky bottleneck slide and purring Strat, Lee Roy Parnell has also done his time in the songwriter's school of hard knocks. "You start shooting holes in your songs when you work with writers like Guy Clark," he warns Alan Cackett. "But getting your ass kicked is what it takes."
"For so long, Nashville would not accept what it was that I was laying on the table, and I wasn't about to compromise myself and chase some rainbow that has already happened," Lee Roy Parnell asserts. "I knew there was a sound in my mind and in my heart that I had to find on my own. I can remember tossing and turning at night, wondering what I was going to do with myself, because I just didn't fit in any particular place."
Ten years down the line and Nashville has welcomed Parnell with open arms. In fact, he now commands such respect that he is one of only a handful of mainstream country performers in Music City allowed to use his own band on his recordings.
Both on record and live, Parnell walks it like he talks it, delivering a blend of hard-core country singing and songwriting and Allman-esque slide guitar that has been dubbed 'country soul.' His real forte has always been the live performance, and in congenial Bob Wills' fashion, he coaxes each of his Hot Link players into the spotlight as they pump out some bruising Austin rhythm and blues, then drop back for vintage Texas boogie woogie while riding some tumbling barrelhouse piano and a truly mean guitar.
"There's a chemistry with the Hot Links," Parnell says. "It's something you can't create with different musicians. Sometimes that doesn't translate to tape, but this time it did. It just clicked. Most of what you hear on (the new album) EVERY NIGHT'S A SATURDAY is first, second or third take."
Despite Parnell's efforts to find a distinctive sound, his ambitions are not driven by egocentric concerns: "All I ever wanted to do was be one of the guys in the band, play guitar and ride around on a bus. That is the reason I make records and videos and appear on television."
Indeed, Parnell is addicted to the road. He claims to love the smell of burning diesel, the roar of rubber on tarmac and the parade of scenery that rolls past his bus window. On the new album, he perfectly captures the Texas roadhouse style of his live shows.
Over the years, Parnell has learned to give focus to an unusually wide range of influences without diluting what is best about his music. Though clearly identified as a country artist, he writes and performs songs that don't keep to the lines painted on country music's highways, often venturing down blues and rock trails to generate a sound reminiscent of the Allmans, Bonnie Raitt and Little Feat.
When Parnell first rolled into Nashville he had more than 100 of his own songs, none of which he has ever recorded. He moved in with friend and fellow songwriter Cris Moore and started playing once a month at the Bluebird Café. "We had no money," he recalls. "We had an eight-track machine and a green 1976 Ford Torino. I really felt like I had to make it work or I was going to have to do something else." Those initial songs landed him a publishing deal which not only put food on the table, but also got him moving in the right direction. He rapidly gained a reputation as a singer and hot guitarist, particularly for his thick, smoky bottleneck slide. In a town full of pickers Parnell found his niche. He was also wise enough to know that to make his mark as a performer and recording artist, he had to have strong, original material. He started hanging around with the cream of Music Row's writers, and soon realised he had much to learn.
"You start shooting holes in the songs you take along to the table once you start working with writers like Guy Clark, Rory Bourke and Gary Nicholson," he says ruefully. "Getting out there and getting your ass kicked is what it takes."
Kicking ass and being knocked down was nothing new to Parnell. By the time he moved to Nashville he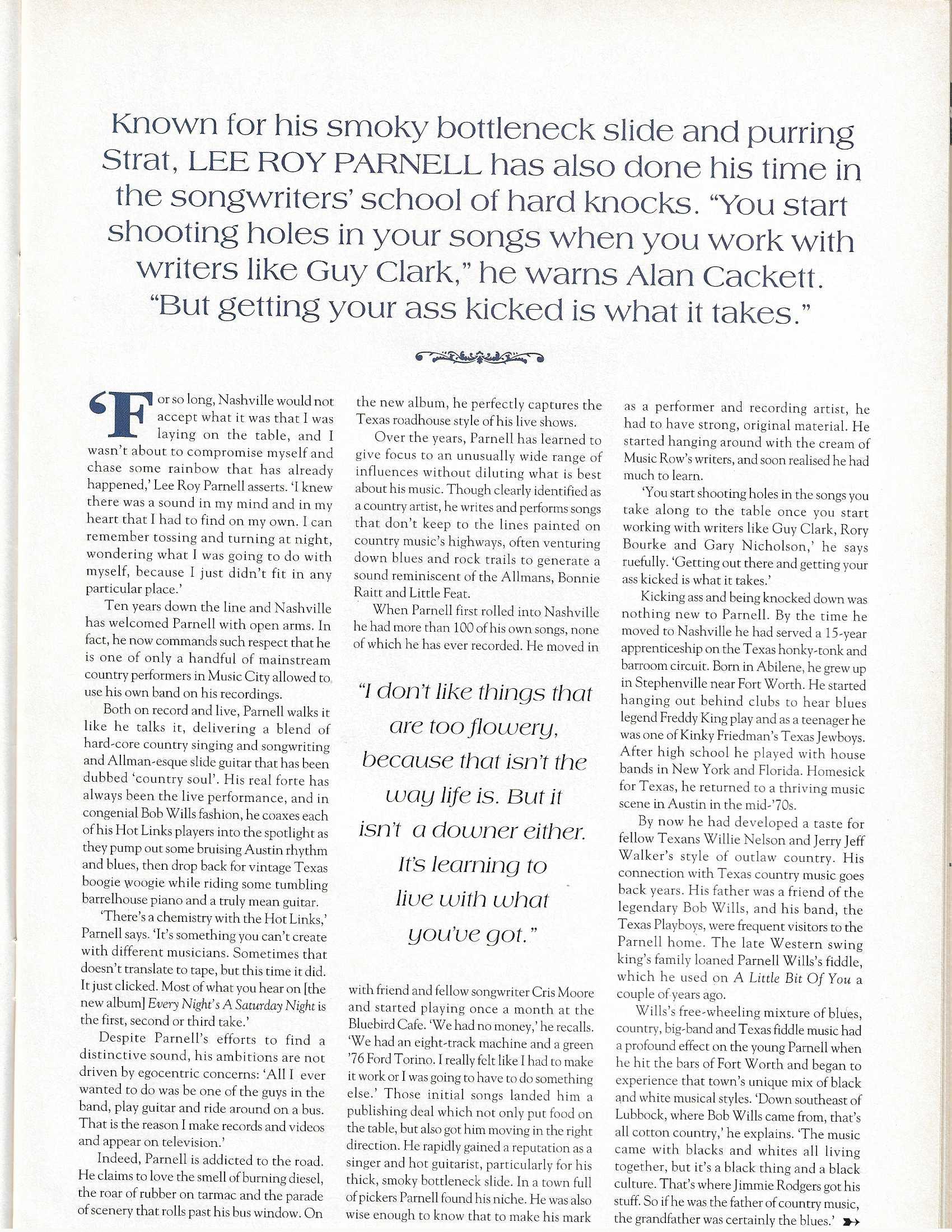 had served a 15-year apprenticeship on the Texas honky-tonk and barroom circuit. Born in Abilene, he grew up in Stephenville near Fort Worth. He started hanging out behind clubs to hear blues legend Freddy King play and as a teenager he was one of Kinky Friedman's Texas Jewboys. After high school he played with house bands in New York and Florida. Homesick for Texas, he returned to a thriving music scene in Austin in the mid-1970s.
By now he had developed a taste for fellow Texans Willie Nelson and Jerry Jeff Walker's style of outlaw country. His connection with Texas country music goes back years. His father was a friend of the legendary Bob Wills, and his band, the Texas Playboys, were frequent visitors to the Parnell home. The late western swing king's family loaned Parnell Wills' fiddle, which he used on a A Little Bit Of You a couple of years ago.
Wills' free-wheeling mixture of blues, country, big-band and Texas fiddle music had a profound effect on the young Parnell when he hit the bars of Fort Worth and began to experience that town's unique mix of black and white musical styles. "Down southeast of Lubbock, where Bob Wills came from, that's all cotton country," he explains. "The music came with blacks and whites all living together, but it's a black thing and a black culture. That's where Jimmie Rodgers got his stuff. So if he was the father of country music, the grandfather was certainly the blues."
Parnell's great passion has always been the guitar. His Strat purrs like a well-tuned Harley Davidson. He cut the blistering guitar solos for Trisha Yearwood's Thinkin' About You and Mary Chapin Carpenter's Shut Up And Kiss Me as well as playing lead and slide guitar on all of his own recordings and live shows.
As a guitarist, the person who really caught Lee Roy's attention was Duane Allman. "I remember the first time I heard the Allman Brothers," he reminisces. "I really studied Duane in the beginning, then I followed the natural progression of going back and finding out who he learned from. That led me to Robert Johnson. Then I got hip to the California guys, Lowell George, Ry Cooder and David Lindley. They were my teachers."
Another early influence was Delbert McClinton who, at the time that Lee Roy was embarking upon his career, had already reached legendary status. Obviously in awe of what McClinton has achieved, Lee Roy has now moved on from being a fan to a good friend. "We met a long time ago," he remembers. "I was trying to get into clubs where he was playing when I was too young. It was in Fort Wort. I was 17 and I was trying to weasel my way in."
"Delbert was like a myth for us young musicians. You have to understand that what was happening in the 1970s was scary for people who liked roots kind of music because everything went to hell in a handbasket in the 1970s. The disco thing shoved me face first into country and the blues, the two kinds of music that I loved. I just turned the radio off for 10 years. Delbert was making records and the Allman Brothers were making good records and there were a handful of people out there ... and there was good country music happening with Willie Nelson and Jerry Jeff Walker out of Austin. We had our own little world down there in Texas."
"Then Lyle Lovett moved, and at that time the hottest thing on the street was Lyle. Then Nanci Griffith and those Texas singer-songwriters started making waves and, of course, Guy Clark, Rodney Crowell and Rosanne Cash were doing very well. There was a host of singer-songwriters from Texas that were doing well, so I stepped in through that door just before it closed."
From the outset, Parnell's considerable writing, playing and singing talents confirmed that he would be around for years to come. Though his records have proved to be radio friendly, there is a depth to his music that is lacking in so much of today's country music. The key is the emotional edge in his songs—they relate to real life regardless of whether they are bluesy ballads or roadhouse boogies.
"I've got to have something that shows a little struggle, yet still shows hope," he explains. "There's always an answer. I don't like things that are real flowery, because that isn't the way life is. But life isn't a downer either. It's learning to live with what you've got. That's what I try to sing and write about."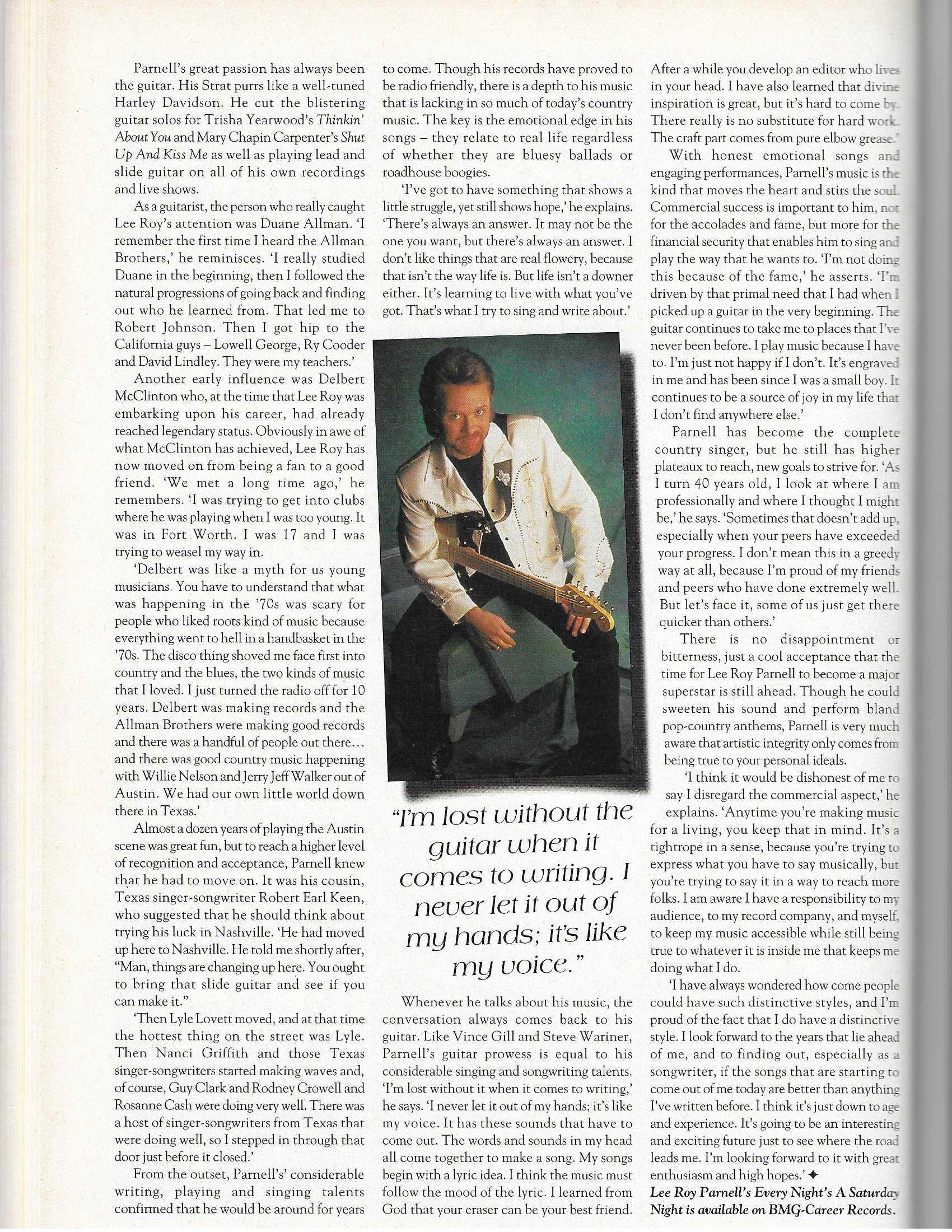 Whenever he talks about his music, the conversation always comes back to his guitar. Like Vince Gill and Steve Wariner, Parnell's guitar prowess is equal to his considerable singing and songwriting talents. "I'm lost without it when it comes to writing," he says. "I never let it out of my hands; it's like my voice. It has these sounds that have to come out. The words and sounds in my head all come together to make a song. My songs begin with a lyric idea. I think the music must follow the mood of the lyric. I learnt that from God that your eraser can be your best friend. After a while you develop an editor who lives in your head. I have also learned that divine inspiration is great, but it's hard to come by. There really is no substitute for hard work. The craft part comes from pure elbow grease."
With honest emotional songs and engaging performances, Parnell's music is the kind that moves the heart and stirs the soul. Commercial success is important to him, not for the accolades and fame, but more for the financial security that enables him to sing and play the way that he wants to. "I'm not doing this because of the fame," he asserts. "I'm driven by that primal need that I had when I picked up a guitar in the very beginning. The guitar continues to take me to places that I've never been before. I play music because I have to. I'm not happy if I don't. It's engraved in me and has been since I was a small boy. It continues to be a source of joy in my life that I don't find anywhere else."
Parnell has become the complete country singer, but he still has higher plateaux to reach, new goals to strive for. "As I turn 40 years old, I look at where I am professionally and where I thought I might be," he says. "Sometimes that doesn't add up, especially when your peers have exceeded your progress. I don't mean this in a greedy way at all, because I'm proud of my friends and peers who have done extremely well. But let's face it, some of us just get there quicker than others."
There is no disappointment or bitterness, just a cool acceptance that the time for Lee Roy Parnell to become a major superstar is still ahead. Though he could sweeten his sound and perform bland pop-country anthems, Parnell is very much aware that artistic integrity only comes from being true to your personal ideals.
"I think it would be dishonest of me to say I disregard the commercial aspect," he explains. "Anytime you're making music for a living, you keep that in mind. It's a tightrope in a sense, because you're trying to express what you have to say musically, but you're trying to say it in a way to reach more folks. I am aware I have a responsibility to my audience, to my record company, and myself, to keep my music accessible while still being true to whatever it is inside me that keep me doing what I do."
"I have always wondered how come people could have such distinctive styles, and I'm proud of the fact that I do have a distinctive style. I look forward to the years that lie ahead of me, and to finding out, especially as a songwriter, if the songs that are starting to come out of me today are better than anything I've written before. I think it's just down to age and experience. It's going to be an interesting and exciting future just to see where the road leads me. I'm looking forward to it with great enthusiasm and high hopes."