LeAnn Rimes - Under The Spotlight
First Published in Country Music International, September 1996
Having made her mark on both the US pop and country charts LEANN RIMES is currently America's newest—not to mention youngest—singing star. Playing 107 dates a year, school has now taken a back seat to music.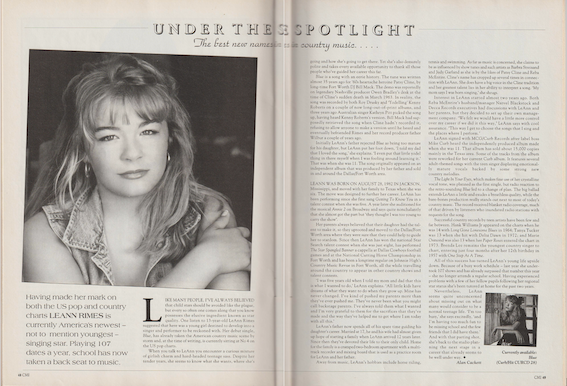 Like many people, I've always believed that child stars should be avoided like the plague, but every so often one comes along that you know possesses the elusive ingredient known as star quality. One listen to 13-year-old LeAnn Rimes
suggested that here was a young girl destined to develop into a singer and performer to be reckoned with. Her debut single, Blue, has already taken the American country music scene by storm and, at the time of writing, is currently sitting at No 4 on the US pop charts.
When you talk to LeAnn you encounter a curious mixture of girlish charm and hard-headed teenage sass. Despite her tender years, she seems to know what she wants, where she's going and how she's going to get there. Yet she's also demurely polite and takes every available opportunity to thank all those people who've guided her career this far.
Blue is a song with an eerie history. The tune was written almost 35 years ago for 1960s heartache heroine Patsy Cline, by long-time Fort Worth DJ Bill Mack. The demo was reportedly on legendary Nashville producer Owen Bradley's desk at the time of Cline's sudden death in March 1963. In reality, the song was recorded by both Roy Drusky and 'Yodelling' Kenny Roberts on a couple of now long-out-of-print albums, and three years ago Australian singer Kathryn Pitt picked the song up, having heard Kenny Roberts' version. Bill Mack had supposedly retrieved the song when Cline hadn't recorded it, refusing to allow anyone to make a version until he heard and eventually befriended Rimes and her record producer father Wilbur a couple of years ago.
Initially LeAnn's father rejected Blue as being too mature for his daughter, but LeAnn put her foot down, "I told my dad that I loved the song," she explains. "I even put that little yodel thing in there myself when I was fooling around learning it"' That was when she was 11. The song originally appeared on an independent album that was produced by her father and sold in and around the Dallas/Fort Worth area.
LeAnn was born on August 28, 1982 in Jackson, Mississippi, and moved with her family to Texas when she was six. The move was designed to further her career. LeAnn has been performing since she first sang Getting To Know You in a
talent contest when she was five. A year later she auditioned for the musical Annie 2 on Broadway and says quite nonchalantly that she almost got the part but "they thought I was too young to carry the show."
Her parents always believed that their daughter had the talent to make it, so they uprooted and moved to the Dallas/Fort Worth area where they were sure that they could help to guide her to stardom. Since then LeAnn has won the national Star Search talent contest when she was just eight, has performed The Star Spangled Banner a cappella at Dallas Cowboys football games and at the National Cutting Horse Championship in Fort Worth and has been a longtime regular on Johnnie High's Country Music Revue in Fort Worth, all the while travelling around the country to appear in other country shows and talent contests.
"I was five years old when I told my mom and dad that this is what I wanted to do," LeAnn explains. "All little kids have dreams of what they want to do when they grow up. Mine has never changed. I've kind of pushed my parents more than they've ever pushed me. They've never been what you might call backstage parents. I've always told them what I wanted and I'm very grateful to them for the sacrifices that they've made and the way they've helped me to get where I am today with all this."
LeAnn's father now spends all of his spare time guiding his daughter's career. Married at 17, he and his wife had almost given up hope of starting a family when LeAnn arrived 12 years later. Since then they've devoted their life to their only child. Home for the family is a cramped two-bedroom apartment with a multi­
track recorder and mixing board that is used as a practice room for LeAnn and her father.
Away from music, LeAnn's hobbies include horse riding, tennis and swimming. As far as music is concerned, she claims to be as influenced by show tunes and such artists as Barbra Streisand and Judy Garland as she is by the likes of Patsy Cline and Reba McEntire. Cline's name has cropped up several times in connection with LeAnn. She does have a big voice in the Cline tradition and her greatest talent lies in her ability to interpret a song. "My mom says I was born singing," she shrugs.
Interest in LeAnn started almost two years ago. Both Reba McEntire's husband/manager Narvel Blackstock and Decca Records executives had discussions with LeAnn and her parents, but they decided to set up their own management company. "We felt we would have a little more control over my career if we did it this way,"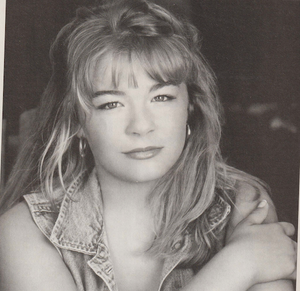 LeAnn says with cool assurance. "This way I get to choose the songs that I sing and the places where I perform."
LeAnn signed with MCG/Curb Records after label boss Mike Curb heard the independently produced album made when she was 11. That album has sold about 15,000 copies mainly in the Texas area. Some of the tracks from the album were reworked for her current Curb album. It features several adult-themed songs with the teen singer displaying emotionally mature vocals backed by some strong new country melodies.
The Light In Your Eyes, which makes fine use of her crystalline vocal tone, was planned as the first single, but radio reaction to the retro-sounding Blue led to a change of plan. The big ballad extends LeAnn a little and exudes a breathless quality, while the bare-bones production really stands out next to most of today's country music. The record received blanket radio coverage, much of that driven by listeners who inundated radio stations with requests for the song.
Successful country records by teen artists have been few and far between. Hank Williams Jr appeared on the charts when he was 14 with Long Gone Lonesome Blues in 1964; Tanya Tucker was 13 when she hit with Delta Dawn in 1972; and Marie Osmond was also 13 when her Paper Roses entered the chart in 1973. Brenda Lee remains the youngest country singer to chart, entering just four months after her 12th birthday in 1957 with One Step At A Time.
All of this success has turned LeAnn's young life upside down. Because of a busy work schedule—last year she undertook 107 shows and has already surpassed that number this year—she no longer attends a regular school. Having experienced
problems with a few of her fellow pupils following her regional star status she's been tutored at home for the past two years.
Nevertheless, LeAnn seems quite unconcerned about missing out on what many would consider to be a normal teenage life. "I'm too busy," she says excitedly, "and I'm having too much fun to be missing school and the few friends that I did have there." And with that parting shot, she's back to the studio planning the next stage in a career that already seems to be well under way.