Leah Belle Faser - Crossing Hermi's Bridge
Self-released
****
It's rare to find a first album that makes such a formidable impression, but Georgia teenager Leah Belle Faser does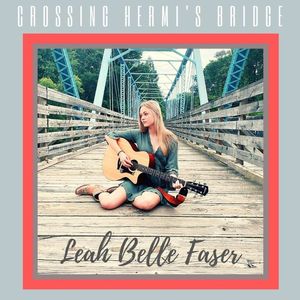 just that with CROSSING HERMI'S BRIDGE. It's not only supremely satisfying, but also an indication of a talent that already sounds timeless. Recorded when she was 15, the 16-year old has been songwrting and singing since she was seven.  Nevertheless, the fact that she succeeds so astutely makes this mini-album ring all the more emphatically. It is a remarkably upbeat record, flush with uniform optimism and satisfying sentiment throughout. That positive attitude is sustained and engaging; given her honey-throated voice and the storytelling ability of a soul well beyond her years, this is a gleaming, at times almost effortless, collection.
She touches on all the uncertainty and fears associated with growing up—the unrequited crushes, fluctuating feelings, and a sense of being without direction,
deceptively joyful exuberance well intact. Opener The Lift is an endearing tale of young love. It speaks volumes about the elusive passing of time and how we often lose track of ourselves in the imperceptible shifts that unfold in each passing day. Like a wide-open stretch of road in sonic form, where there's nothing ahead but warm life memories. That positive perspective is all too obvious in other ways as well, as demonstrated by Second Hand Store, being an example of the cheery perspective that's such an innate part of her DNA despite the lyrical irony. Better Than Mine, a song about life changes and emotional upheaval, offers an example of a more stoic stance as she watches her ex parading around with his new beaus, but considering the subject at hand, that resolve is also understandable.
A down-home small-town girl, this high schooler shows with Back Home that she has her feet firmly planted on solid ground. A smooth reflective number about memories of home whilst out there following her musical muse. Vivid images of her homeplace contrast well with the recollections of the local diner or the shop girl at the drug store. Likewise, in the sad, sensitive What Could Have Been Leah Belle brings a feeling of regret and disappointment of a brief summer love; tranquil and dreamy, benefiting from the effective arrangement and her gentle, fluttering vocals. In contrast she showcases her 'strong woman' approach with Ruled a big powerful ballad of standing firm against a domineering boyfriend. This is not over-the-top Carrie Underwood bombast, this is a young lady who understands how to communicate emotional drama with the restraint of a latter-day Patsy Cline.
In an era where posturing and pretence is all too prevalent, Leah Belle Faser represents the real deal, an artist whose efforts exude a confidence and clarity that extend well beyond her tender years. Fearlessly crossing musical boundaries from modern to traditional country with old school pop undertones, the album's title references a bridge in Faser's hometown named after Hermione Alexander, a civil rights and social justice activist who died in 1983. During her lifetime she built bridges across people's prejudices and ignorance just as this youngster wishes to do with her music in any way that she can. She expertly pairs vivid tones with rainbow-hued lyrical expressions of love and loss, each offering leaves a durable impression which resonates well after the final notes fade away. Let's just hope that this talented youngster doesn't get swallowed up by the big, bad music business, but is allowed to create music that is fresh, meaningful and full of integrity for years to come.
November 2020