Lauren Housley - Girl From The North
Lovebird Recordings
****1/2
Quietly and without any fanfare, Lauren Housley has created her own niche as one of the UK's finest singer-songwriters. Working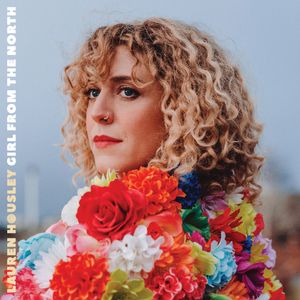 closely with Tom Dibb, her husband and long-term creative partner, she has crafted this superbly written and arranged set of songs, which ought to reverberate with just about every listener. She blends catchy hooks with her unmistakably soulful, and uplifting voice, creating music that boasts elegantly crafted, deeply melodic, intelligent songwriting, resounding with echoes of the pop and soul classics of the 1960s, Carole King, Carly Simon, Alanis Morissette, Eva Cassidy and Regina Spektor: her music is infectious, emotional and powerful. Recorded in the couple's basement studio in their Rotherham home, the album leans towards classic retro-pop craftsmanship, pulling together genre-subverting arrangements and lyrics with beautiful vocals, resulting in a record that is hard to stop listening to.
She tackles universal subjects such as loss, grief, joy, celebration and change that we all face in life's journey. The perspective gained from these journeys is irreplaceable and priceless. These warm, inviting songs show not only her talent as a singer and songwriter but also her courage. Her relatability is mesmerising ... she is a soft, dependable voice for an anxious age. There's a rootsy feel to Why Are We Making It So Hard. The song opens with a slow burning drum-beat accompanied by simple electric guitar chords with a distant Celtic/reggae air swirling around her forceful pleading vocal. The mood is generally more ruminative for Stay Awake To Dream, the production is much more atmospheric, filled with glowing keyboards and glistening guitars bathed in a hushed sense of wonder and disbelief and her voice is evocative and warm as ever underlining her ability to paint a sonic picture.
It's hard not to love Lauren's voice, which is not only powerful but definitely sounds like it was influenced by listening to a lot of country music alongside soul and old-school pop. She matches a rhythm-and-blues-inspired beat with soulful vocals and clever wordplay on What's Troubling You Child, before entering a soaring, uplifting chorus laden with pop sensibilities. The Bacharach-influenced Breakdown falls neatly into the lounge music category. It's a soft, acoustic ballad, different from what you may have already heard from Lauren, but it's excellent, very classy, timeless and segues into the brief Two Lovers Lost In Space. She also has a knack for joyous, energetic songs that celebrate life and the good things in it like Guaranteed Sunshine. She uses thick, twangy guitar tones to add a springy bounce to a melody that makes you want to run barefoot through some grass, hand-in-hand with your best friend. This Ain't The Life also has a strong vintage feel: girl-group pop drama, gingham-checked strum of work-rest-play-dream saga we all have to bear.
Lauren Housley is adept in her use of atmospherics and instrumentation; however, it's her sustained and sophisticated pop sensibility that distinguishes her from other artists who work in similar genres and subgenres. Richly resilient, it's a tour de force of sorts, a well-woven melodic tapestry that goes into her soul, and maybe yours as well.
April 2021