Laura Cantrell - Just Like A Rose: The Anniversary Sessions
Propeller Sound Recordings
****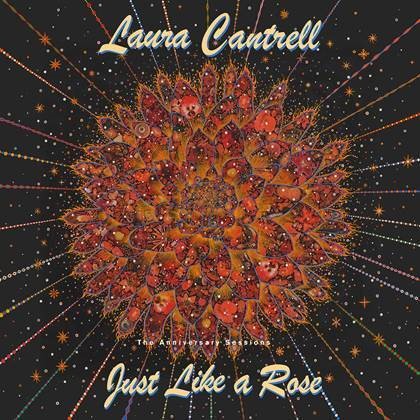 That old saying about looking back in order to move forward may seem clichéd, but for roots-country mainstay Laura Cantrell, there's some truth to it. The New York-based singer-songwriter's seventh album isn't so much a progression or evolution of the style she unveiled on her NOT THE TREMBLIN' KIND 2000 debut, but a continuation of it as she also re-creates the trick that she pulled off on that stellar debut: proving that honest-to-goodness country songs can have genuine relevance in 2023. She appears to be more comfortable and confident in herself and her songs than ever as she welcomes such good friends as Steve Earle, Buddy Miller, Rosie Flores and Paul Burch to guest and engages several acclaimed producers including Don Flaming, David Mansfield, and Ed Stasium to work on the different tracks.
An independent troubadour carrying the torch for traditional country music, she crafts her songs with an honesty and authenticity that flows through her quivering, silvery vocals; you can feel her emotion in every word she sings. Push The Swing is a hypnotic and ear-catching song in which she offers advice to a tentative lover in a quest for a healthy kind of relationship. With its infectious rhythmic groove, swirling organ and twangy guitars the track is generously glazed with her honeyed vocals. Laura has a soothing, low-key way of delivering a melody with Brand New Eyes; a fine mix of vintage and variety with its throwback 1960s girl group vibe. It exemplifies the blend of summery grooves and nostalgic lyrics explored throughout the album. The languorous Bide My Time dances in on slowly unfurling pedal steel and Laura's aching vocals, a meditation on the powerful pull of the need to move on. Laura's entrancing voice soars through I'm Gonna Miss This Town giving the song a distinctive quality. It inhabits a similar space to Kitty Wells' recordings—sad and fragile.
There are a few other fleeting moments that also make me think of Kitty Wells, vocally, namely the plaintive Secret Language and Unaccompanied. The minimalist approach really serves the latter well in every respect. It's a beautiful example of the less is more ideology. Meanwhile, Just Like A Rose and Good Morning Mr Afternoon find her leaning deeper into the country music world, albeit with subtle touches that never betray the album's overall vibe. From the song writing through to the inspired playing to the gorgeous production, this is an album to cherish and treasure and merits listening to over and over and over again.
June 2023