Larry Stewart - Fearless Heart
First Published in Country Music International, February 1997
Five years ago Larry Stewart quit top country-rock Restless Heart. Three solo albums later, the man from Paducah is unrepentant. "I feel better now than I've ever felt," he tells Alan Cackett. "There's a whole bunch of people out there listening to Larry Stewart songs."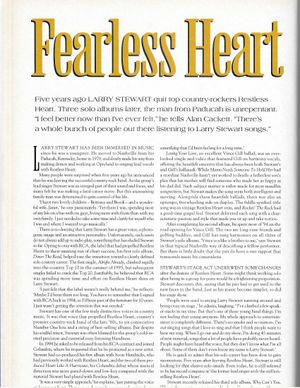 Larry Stewart has been immersed in music since he was a youngster. He moved to Nashville from his Paducah, Kentucky, home in 1979, and slowly made his way from making demos and working at Opryland to singing lead vocals with Restless Heart.
Many people were surprised when five years ago he announced that he was leaving the successful country-rock band. As the group's lead singer Stewart was an integral part of their sound and focus, and many felt he was making a fatal career move. But this unassuming family man was determined to gain control of his life.
"I have two lovely children—Britanny and Brooke—and a wonderful wife, Janet," he says passionately. "Yet there I was, spending most of my life on a bus with six guys, living more with them than with my own family. I just needed to take some time and clarify for myself who I was and where I wanted to go musically."
There's no denying that Larry Stewart has a great voice, a photogenic image and an attractive personality. Unfortunately, such assets do not always add up to radio play, something that has eluded Stewart so far. Opting to stay with RCA, the label that had propelled Restless Heart to their amazing run of chart success, his first solo album, DOWN THE ROAD, helped ease the transition toward a clearly defined solo country career. The first single, Alright Already, climbed rapidly into the country Top 10 in the summer of 1993, but subsequent singles failed to crack the Top 20. Justifiably, he believed that RCA was spending more time and effort on Restless Heart than Larry Stewart.
"I just felt that the label weren't really behind me," he reflects. "Maybe I'd been there too long. You have to remember that I signed with RCA back in 1984, so I'd been part of the furniture for ten years. I just wasn't getting the attention that I needed."
Stewart has one of the few truly distinctive voices in country music. It was that voice that propelled Restless Heart, country's premier country-rock band of the late 1980s, to six consecutive Number One hits and a string of best-selling albums. But despite his soulful tenor, Stewart was often blamed for the groups cold-as-steel precision and essential easy-listening blandness.
In 1994 he asked to be released from his RCA contract and joined Columbia, where he requested that he be promoted as a new artist. Stewart had co-produced his first album with Scott Hendricks, who had previously worked with Restless Heart, and the two of them produced HEART LIKE A HURRICANE, his Columbia debut whose musical direction was more pared-down and low-key compared with the material Stewart had played with Restless Heart.
"It was a very simple approach," he explains, "just putting the voice and song out front. That is more honest for me as a solo artist. It was something that I'd been feeling for a long time."
Losing Your Love, an excellent Vince Gill ballad, was an overlooked single and video that featured Gill on harmony vocals, offering the heartfelt sincerity that has always been both Stewart's and Gill's hallmark. While Mama Needs Someone To Hold Her had a storyline Nashville hasn't yet worked to death: a fatherless son's plea that his mother will find someone who made her as happy as his dad did. Such subject matter is tailor-made for most maudlin songwriters, but Stewart makes the song seem both intelligent and moving. Alongside these heartfelt ballads, there was also an up-tempo, freewheeling side on display. The fiddle-sparked title song was in vintage Restless Heart vein, and Rockin' The Round had a good-time gospel feel. Stewart delivered each song with a characteristic passion and style that made you sit up and take notice.
After completing his second album, he spent most of 1994 on the road opening for Vince Gill. The two are long-time friends and golfing buddies, and Gill has sung harmonies on all three of Stewarts' solo albums. "Vince is like a brother to me," says Stewart in that typical Nashville way of describing a fellow performer. But there is little doubt that the pair do have a rare rapport that transcends music biz camaraderie.
Stewart's stage act underwent some changes after the demise of Restless Heart. Some might think working solo after being in a group for years would be a frightening proposition. Stewart discounts this, saying that he just had to get used to the new faces in the band. Just as his music became simpler, so did his stage show.
"People were used to seeing Larry Stewart running around and being crazy on stage," he admits, laughing. "I've climbed a few speaker stacks in my time. But that's one of those young band things. I'm not feeling that young anymore. My whole approach to entertainment is completely different. There's no smoke and no mirrors. I'm out singing songs that I love to sing and that I think people want to hear me sing. When I go out and do my show, I'm doing 45 minutes of new material, songs that a lot of people have probably never heard. People might have heard the voice, but they don't know what I'm all about. Some of them don't even know my name is Larry Stewart."
He is quick to admit that his solo career has been slow to gain momentum. Five years after leaving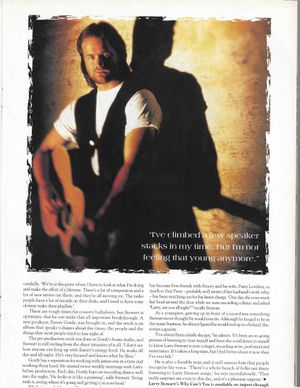 Restless Heart, Stewart is still looking for that elusive solo smash. Even today, he is still referred to by his record company as 'the former lead singer with the million-selling Restless Heart'.
Stewart recently released his third solo album, WHY CAN'T YOU. "This is the most important record in Larry Stewart's career," he says candidly. "We're at the point where I have to look at what I'm doing and make the effort of a lifetime. There's a lot of competition and a lot of new artists out there, and they're all moving on. The radio people have a lot of records on their desks, and I need to have some of mine make their playlists."
These are tough times for country balladeers, but Stewart is optimistic that he can make that all important breakthrough. A new producer, Emory Gordy, was brought in, and the result is an album that speaks volume about the times, the people and the things that most people tend to lose sight of.
The pre-production work was done at Gordy's home studio, and Stewart is still reeling from the sheer intensity of it all. "I don't see how anyone can keep up with Emory's energy level. He works all day and night. He's very focused and knows what he likes."
Gordy has a reputation for working with artists one at a time and working them hard. He started twice-weekly meetings with Larry before production. Each day, Gordy kept on recording demos well into the night. "He looks at it like a painting," adds Stewart, "living with it, seeing where it's going and getting it in your head."
While it sounds like a gruelling process, Stewart didn't mind. He has become firm friends with Emory and his wife, Patty Loveless, so much so that Patty—probably well aware of her husband's work ethic—has been watching out for his latest charge. "One day she even stuck her head around the door while we were recording a demo and asked 'Larry, are you all right?'," recalls Stewart.
As a youngster, getting up in front of a crowd was something Stewart never thought he would ever do. Although he longed to be in the music business, he always figured he would end up in a behind-the-scenes capacity.
"I've always been a fairly shy guy," he admits. "It's been an on-going process of learning to trust myself and have the confidence in myself to know Larry Stewart is now a singer, recording artist, performer and entertainer. It's taken a long time, but I feel better about it now than I've ever felt."
He is also a humble man and it still amazes him that people recognise his voice. "There's a whole bunch of folks out there listening to Larry Stewart songs," he says incredulously. "That really surprises me even to this day, and it's a pleasant surprise."