First published in Country Music People 1976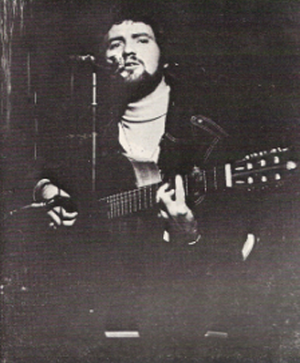 The newer, long-haired contemporary country singers who now reside in Nashville are often frowned upon by both long established artists and by the country music followers, yet when you begin to dig out the roots of these new breed of singers, you will often discover that their credentials are as fitting for country music as the rural singers of thirty or forty years back.
Larry Gatlin has only a handful of hit songs to his credit and two albums on the market, yet he is talked about in the same revered terms as Newbury, Kristofferson and Billy Joe Shaver. Gatlin is part of a tradition, a long and proud one. His roots, like so many American Southerners, are in gospel music. But though he is a religious person, he belongs firmly in the Waylon Jennings mould of denim-clad contemporary writers and singers. The kind of people who are fast changing the face of country music and finding an ever wider audience.
Born in Odessa, Texas twenty-seven years ago, Larry has spent close on twenty years being involved with various gospel groups which abound in the Southern States of America. With his two brothers and younger sister he formed a gospel group known as The Gatlins. They toured all over the Southern States playing in school houses, tents, in the open—wherever—in villages and small towns with other outfits like the Blackwood Brothers, The Oak Ridge Quartet, The Stamps Quartet and other family groups.
Music is bred into him, he grew up with it, living it. Now he writes it, and when listening to his songs and his singing, you know the guy feels it. Larry Gatlin is a melody man. It's his ability to write songs with melody that have made,
Help Me, My Mind's Gone To Memphis
and
Sweet Becky
Walker
some of the more memorable country tunes of recent times. His first breakthrough into writing commercial country tunes came with the assistance of Dottie West. A respected country singer, Dottie is one of those always on the lookout for new material and new talent to develop. She helped mould Red Lane into one of the most important Nashville writers of the late 1960s. In 1972 she formed First Generation Music Company and the first writer signed was Larry Gatlin. The company was formed with the policy of starting new writers on their way. Dottie's association with Gatlin goes back to the spring of 1971 when she cut two of his songs:
Once You Were Mine
and
You're The Other Half Of Me
. Since then she has recorded many of Larry's songs, including the definitive version of
My Mind's Gone To Memphis
.
A couple of years later others in Nashville woke up to the talents of Larry Gatlin. Kristofferson included
Help Me
on his album, JESUS WAS A CAPRICORN, using Larry to sing the first verse and as harmony vocalist on
Why Me
, which eventually became a number one country hit. Johnny Cash, another 'aware' Nashville singer, used several of Larry's songs in his Gospel Road film, including
The Last Supper
sung by Johnny and The Statler Brothers, and a version of
Help Me
.
Due to Kristofferson's insistence, Monument Records signed Larry Gatlin to a recording contract in the summer of 1973, releasing
My Mind's Gone To Memphis
by Larry Gatlin and
Come On In
by The Gatlins in the same week. Since then Larry Gatlin has gone from strength to strength and his association with The Gatlins has been curtailed as more and more solo work has come his way.
The Spring of 1974 saw the release of Larry Gatlin's first album, THE PILGRIM, with liner notes from Johnny Cash. Astoundingly beautiful and infectious, it's a warm joy to listen to. The songs are varied, yet maintain an identifiable consistency throughout. Arrangement and sensitive vocals sound somewhat like Mickey Newbury, but with Gatlin's own distinctive style embedded solidly. There are a few religious numbers, like the beautifully sad-tinged,
It Must Have Rained In Heaven
, but this is mainly a concept LP in a loose, but meaningful way, telling of love and the varying qualities of personal relationships.
The songs are sad and producer Fred Foster builds them perfectly to gain the maximum emotion from Gatlin's sensitive lyrics. The steel guitar is used to perfection on
Bitter They Are, Harder They Fall
with strings laying the full blend of loss behind Gatlin's superb vocal work. He proves throughout this set that he is extremely talented. He writes exceptionally well and sings like a bird, cleanly and clearly.
The instant creation of moods is Larry Gatlin's strongest asset. Without this magical ability much of his material would be rendered meaningless. His second album, RAIN, RAINBOW, recently released in this country, continues down the same path as his first. Sensitive love ballads, lushly produced with the hint of steel guitar, harmonica and guitar shining through when necessary to strengthen the feeling of Gatlin's lyrics.
Included on this second set is Gatlin's best-known song,
Help Me
, which is superbly produced to reveal the religious theme that Gatlin feels so strongly. At times there is a more up-tempo feel to some of the tunes, such as
Delta Dirt
on side two and
Jannie
, a throwaway song which allows the Nashville musicians room to boogie along nicely.
On both of the albums the visual qualities that are already skilfully written into the songs are brought out nicely by the arrangements. Larry Gatlin is a fine soulful singer with strong gospel ties and he just sings good and strong. The country purists will probably refuse to accept him within their tight rules of what does constitute country music, but for many, Larry Gatlin is a singer and a writer who is very close to the roots of American music. He surrounds himself with lavish productions, but beneath all of the gloss is a sensitive and earthy writer. The entire production on his recordings is beautifully executed and will captivate all but the most obtuse listener. Many country fans realise that Larry Gatlin music is good music, and in the years to come it's inevitable that Gatlin will have many more converts. You just can't keep good talent down.