Lari White, a highly respected Nashville based singer, songwriter, actress, Broadway star and record producer, passed away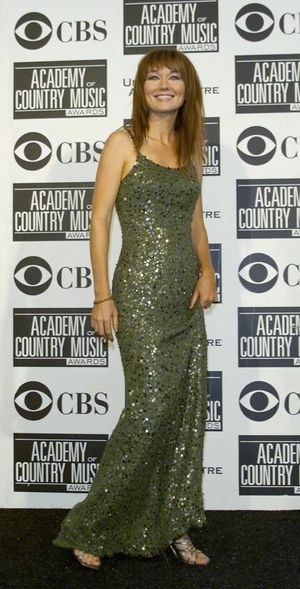 on January 23, 2018 in hospice care in Nashville after a battle with advanced peritoneal cancer. She was 52. Lari burst onto the American country charts in 1994 with a trio of catchy pop-flavoured top ten country hits That's My Baby, Now I Know and That's How You Know (When You're In Love). It was at the height of the CMT phase in the UK and in no time at all she built up a solid fan base from the infectious songs and the videos that portrayed her in a skimpy mini-dress, so fragile, a waif-like beauty carefully groomed to snare the guys, but not to offend their women folk.
As her career progressed, I became aware that there was much more to Lari White than those somewhat light and fluffy pop-country ditties. Over the years I was to interview the bubbly Lari White many times, beginning in Nashville at the height of her country chart success and later as she defiantly refashioned herself as a performer of great depth and integrity.
Lari Michelle White was born May 13, 1965 in Dunedin, Florida. She grew up in a deeply religious family. Her grandfather was a true hellfire-hollering Primitive Baptist preacher, and her father played electric guitar in a rock and roll band. Lari was surrounded by music—primarily gospel, r&b, country and the sweet sounds of artists such as Ray Charles, Al Green and Stevie Wonder.
Though she never saw her father's band, from an early age Lari couldn't wait to strut her stuff on a stage or anywhere she she'd gain some attention. By the time she could walk and talk she was eager to join the White Family Singers. "My mom and dad were teachers and they always sang together because they loved it so much. As soon as I was old enough I wanted to be part of the show. I wanted to perform and be part of the act. We sang gospel music, in fact anything that had good tight harmonies in it."
The White Family Singers, comprising her parents, sister, and brother, sang at local churches and community gatherings. After a while, the children began working pop music into the act, most notably Elvis Presley. Although she lost the little finger on her left hand in an accident as a toddler, Lari learned to play piano and later guitar. As a teenager, she sang show tunes at talent contests and sang with a local rock & roll band called White Sound.
She earned a scholarship to the University of Miami Frost School of Music, where she studied vocals and music engineering. After a while, she began writing her own songs, singing in local clubs at night and taking professional singing jobs. Upon graduating from college, she travelled around the United States, looking at various local music scenes.
In 1988, she decided to move to Nashville and try to become a professional. Later that same year she appeared on the Nashville Network's You Can Be a Star. Hosted by country singer Jim Ed Brown, Lari walked away with the first prize, which was a recording contract with Capitol. By the end of the year, Capitol released a single, Flying Above the Rain, which became a regional hit in the South but failed to break into the big time—and she was soon dropped from the roster.
Unperturbed she threw herself into the Nashville underground artistic community, studying acting and performing with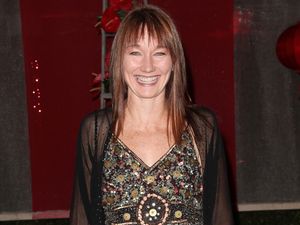 several troupes while all the time working on her own material, which she would play at every chance within the city's teeming live circuit. She signed a writer's contract with Ronnie Milsap's publishing company, and wrote songs that were cut by Shelby Lynne (What About the Love We Made) and Tammy Wynette (Where's the Fire), among others.
She was invited to appear at an ASCAP Songwriting Showcase in 1991 at which several representatives from major labels were in attendance, but surprisingly it was singer-songwriter Rodney Crowell who phoned her a few days later. He hired her as a back-up singer for his next tour on which she got the opportunity to work with some of the top musicians including Albert Lee, Emory Gordy and Hank DeVito. Not only did she sing back-up, she was also given her own short spot to sing her own songs accompanied by the all-star band.
Crowell took Lari under his wing and when she was signed to RCA Records in 1992, he was brought in as co-producer with guitarist Steuart Smith and Lari. Her debut album, LEAD ME NOT, released in April 1993, showcased a powerful new vocalist on the Nashville skyline. She also proved to be a highly talented songwriter with eight self-penned or co-written songs including the dynamic title track, What A Woman Wants and Don't Leave Me Lonely (both co-written with Chuck Cannon, whom she married in April 1994).
Three singles were released from the album—including the jaw-dropping title cut—but none reached higher than No. 44 on the Country chart (What A Woman Wants). However, label head Thom Schuyler believed in Lari White and her talents, and gave the green light to another album.
The next disc, 1994's WISHES, would prove to be her breakthrough album, with three consecutive Top Ten hits: That's My Baby, Now I Know, and That's How You Know (When You're in Love), featuring Hal Ketchum. That's My Baby and That's How You Know were co-written by Lari with husband Chuck Cannon.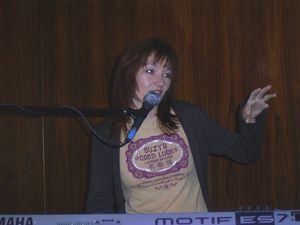 Garth Fundis was brought in as producer for a lively, more pop-flavoured sound in an effort to gain radio play. It worked as the album went on to gain a gold disc for sales of 500,000 copies. The UK CMP (Country Music Police) wasted little time in shooting the album down as being full of lightweight pop-country songs and absolutely slated it. The reality was that the album was brimming over with quality songs, and apart from the three successful singles other highlights included the desolate When It Rains and the Suzi Ragsdale co-write If I'm Not Already Crazy.
The album's success saw Lari thrust to the forefront of a mainstream country career with endless interviews, media appearances and a heavy touring schedule. She was expected to follow the album's phenomenal success with a similar album, but she rebelled against that kind of formula. The aptly-titled DON'T FENCE ME IN, found Lari co-producing with Josh Leo on a genre-bending collection that defiantly went against the radio-formulaic material that her record label were expecting.
She book-ended the album with the Cole Porter pop standard Don't Fence Me In, but this was nothing like any previous versions of the classic song with Shelby Lynne and Trisha Yearwood joining in on harmony vocals. The self-penned Soul Searchin' Blues, tipped a nod to the soul and r&b music she loved growing up (she added a stripped-down hidden-track of this superb self-penned song). Wild At Heart, a co-write with Al Anderson, showcased her rebellious side, whilst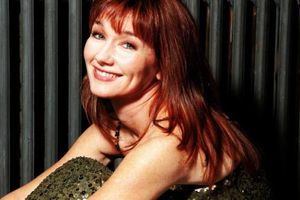 Something Blue and Woman Of the World both explored a soulful vibe.
By the time the album was released in February 1996 there had been major executive changes at RCA and it was obvious to all and sundry that Lari White was no longer a priority act on the label. The album received little promotion and the two singles released, Ready, Willing And Able and Wild At Heart, both failed to make a big impact reaching No. 20 and 52 on the country charts respectively. Before the year was out she was dropped from the label.
Despite this setback, she kept busy in the studios and participated in Amazing Grace: A Country Salute to Gospel in 1996 and two years later Amazing Grace 2: A Country Salute to Gospel. In 1999 she played a major role in the soundtrack album for the Robert Duvall movie The Apostle. She gained a Grammy for all three of those albums. She also recorded Helping Me Get Over You, a duet with Travis Tritt that they had co-written. Included on Tritt's THE RESTLESS KIND, it became a top 20 country hit in the summer of 1997. That led to Randy Goodman signing Lari as his flagship artist on his new Lyric Street Records label.
Dan Huff came on board to produce STEPPING STONE, which was released in the summer of 1998. The self-penned title song, which reached No. 16 on the country charts, was autobiographical. Inspired by a poem that collaborator David Kent had e-mailed to her. Stepping Stone was all about taking a positive path after disappointment and rejection.
Two more singles, Take Me and John Wayne Walking Away, were also released as singles reaching No. 32 and 64 on the charts. Only God Could Stop Me Loving You was a duet with Toby Keith
Despite her successes, she increasingly felt she was straying from her roots and being pushed towards the country mainstream. After several years of trying to please labels and radio playlists, she stepped back from live work and took time to reconsider her future. Having taken acting lessons early in her career—her first role as a professional actress was that of the housekeeper in the 1988 horror flick, The Unholy—she started looking seriously at film and television roles. She subsequently appeared in the country-music themed TV movie XXX's & OOO's (1994), with Tom Hanks in Cast Away (2000) and with Gwyneth Paltrow in Country Strong (2010).
By now she was a mother and preferred to spend more time at home with the children, so it was that she and Chuck built their own studio—The Holler—behind their home, and assembled a team of top musicians they had come to know over the years to record the songs which would make up GREEN EYED SOUL, the first album released on her own Skinny White Girl label.
Released in 2004, this self-produced album featured all original songs and was a complete departure from her previous recordings as it leaned toward glossy nu-soul and r&b with an ear toward her early favourites, such as Al Green and Stevie Wonder. Digging beneath the placid surface into the dark underbelly of life within the insular communities of the deep South, she expertly blended classic soul/r&b sensibilities with modern technology to tackle subjects such as love and the loss of innocence, conjuring up heady images of languorous, sultry southern nights.
Alongside her own album, she also helped to co-produce Billy Dean's LET THEM BE LITTLE 2004 album, as well as recording demos of both her own and her husband's songs. A big fan of the GREEN EYED SOUL album was Toby Keith. At the time he had just set up his own Show Dog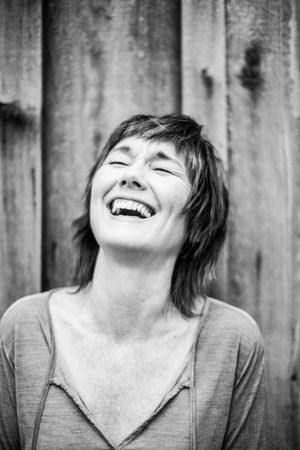 Records, having angrily walked away from a major label deal. Determined to do things his way, he brought in Lari to produce his WHITE TRASH WITH MONEY 2006 album. It proved to be a highly successful venture, and established Lari as a bona fide producer in her own right.
Unable to stand still, coinciding with Toby's album release Lari became an original cast member of the Broadway jukebox musical Ring Of Fire. The following year she debuted a cabaret production My First Affair¸ and also released the show's album on her own label. She also appeared at New York's famed Carnegie Hall in an all-star concert to honour songwriters Alan and Marilyn Bergman.
Lari White was also a prominent player when a group of 24 authors and songwriters assembled a collection of stories in a book entitled The Shoe Burnin: Stories of Southern Soul. Included alongside the hardback publication was an audio CD that included 18 original works by the songwriters featured in the book. White was a featured storyteller in The Shoe Burnin' as well as the producer of the audio album that was released in 2014.
In February 2017, Lari's OLD FRIENDS, NEW LOVES double-EP collection commemorating her 25th anniversary as a recording artist was released. Guest vocalists on the project included Delbert McClinton, Suzy Bogguss and Lee Roy Parnell, with Charlie Worsham contributing mandolin to the track In God's Hands. As a songwriter, she enjoyed further success with Space (Sarah Buxton - 2008). I Will Not Say Goodbye (Danny Gokey – 2010) and others recorded by Toby Keith, Patti Page and Pat Green.
In September 2017, Lari was diagnosed with cancer. Exploratory surgery in October 2017 revealed advanced peritoneal cancer. She was admitted to hospice care on January 19 and passed away four days later on January 23, 2018.
A vastly underrated soulful singer who possessed an edgy, emotional vocal style, Lari White was a bubbly, larger-than-life personality and entertainer who lived her life to the full. Always seeking new challenges and different ways to express her talent. she left behind a small, but highly important body of recordings that are a fitting testament to her great passion for creating music.
"I love music," she once said. "It's not to be famous. It's not to make a lot of money. There's so much joy I have in making music."