First Published in Country Music International – May 1998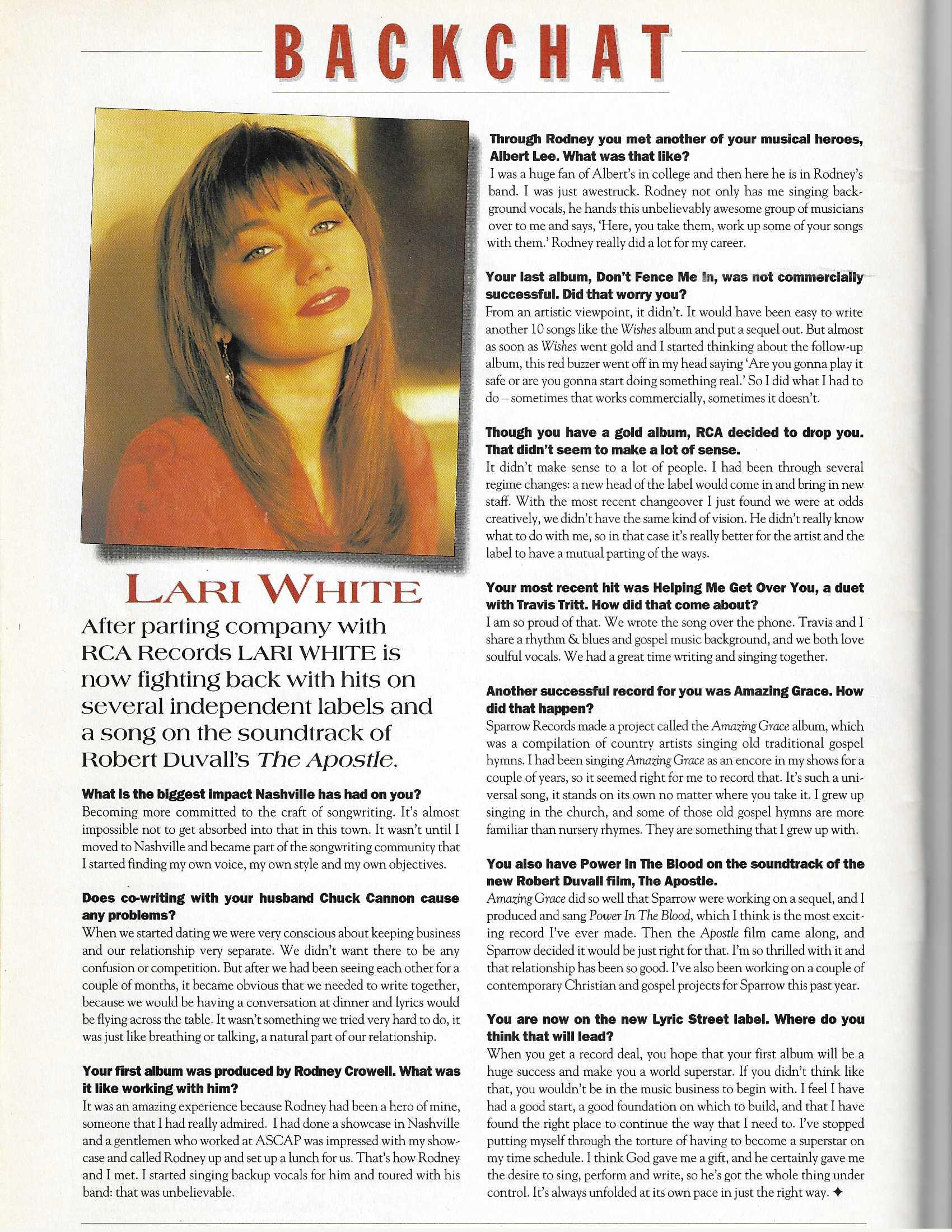 What is the biggest impact Nashville has had on you?
Becoming more committed to the craft of songwriting. It's almost impossible not to get absorbed into that in this town. It wasn't until I moved to Nashville and became part of the songwriting community that I started finding my own voice, my own style and my own objectives.
Does co-writing with your husband Chuck Cannon cause any problems?
When we started dating we were very conscious about keeping business and our relationship very separate. We didn't want there to be any confusion or competition. But after we had been seeing each other for a couple of months, it became obvious that we needed to write together, because we would be having a conversation at dinner and lyrics would be flying across the table. It wasn't something we tried very hard to do, it was just like breathing or talking, a natural part of our relationship. 
Your first album was produced by Rodney Crowell. What was it like working with him?
It was an amazing experience because Rodney had been a hero of mine, someone that I had really admired. I had done a showcase in Nashville and a gentleman who worked at ASCAP was impressed with my showcase and called Rodney up and set up a lunch for us. That's how Rodney and I met. I started singing backup vocals for him and toured with his band: that was unbelievable. 
Through Rodney you met another of your musical heroes, Albert Lee. What was that like?
I was a huge fan of Albert's in college and then here he is in Rodney's band. I was just awestruck. Rodney not only has me singing background vocals, he hands this unbelievably awesome group of musicians over to me and says: 'Here, you take them, work up some of your songs with them.' Rodney really did a lot for my career.
Your last album, Don't Fence Me In, was not commercially successful. Did that worry you?
From an artistic viewpoint, it didn't. It would have been easy to write another 10 songs like the Wishes album and put a sequel out. But almost as soon as Wishes went gold and I started thinking about the follow-up album, this red buzzer went off in my head saying: 'Are you gonna play it safe or are you gonna start doing something real,' So I did what I had to do—sometimes that works commercially, sometimes it doesn't.
Though you have a gold album, RCA decided to drop you. That didn't seem to make a lot of sense.
It didn't make sense to a lot of people. I had been through several regime changes: a new head of the label would come in and bring in new staff. With the most recent changeover I just found we were at odds creatively, we didn't have the same kind of vision. He didn't really know what to do with me, so in that case it's really better for the artist and the label to have a mutual parting of the ways.
Your most recent hit was Helping Me Get Over You, a duet with Travis Tritt. How did that come about?
I am so proud of that. We wrote the song over the phone. Travis and I share a rhythm & blues and gospel music background, and we both love soulful vocals. We had a great time writing and singing together.
Another successful record for you was Amazing Grace. How did that happen?
Sparrow Records made a project called the Amazing Grace album, which was a compilation of country artists singing old traditional gospel hymns. I had been singing Amazing Grace as an encore in my shows for a couple of years, so it seemed right for me to record that. It's such a universal song, it stands on its own no matter where you take it. I grew up singing in the church, and some of those old gospel hymns are more familiar than nursery rhymes. They are something that I grew up with.
You also have Power in The Blood on the soundtrack of the new Robert Duvall film, The Apostle.
Amazing Grace did so well that Sparrow were working on a sequel, and I produced and sang Power In The Blood, which I think is the most exciting record I've ever made. Then the Apostle film came along, and Sparrow decided it would be just right for that. I'm so thrilled with it and that relationship has been so good. I've also been working on a couple of contemporary Christian and gospel projects for Sparrow this past year.
You are now on the new Lyric Street label. Where do you think that will lead?
When you get a record deal, you hope that your first album will be a huge success and make you a world superstar. If you didn't think like that, you wouldn't be in the music business to begin with. I feel I have had a good start, a good foundation on which to build, and that I have found the right place to continue the way that I need to. I've stopped putting myself through the torture of having to become a superstar on my time schedule. I think God gave me a gift, and he certainly gave me the desire to sing, perform and write, so he's got the whole thing under control. It's always unfolded at its own pace in just the right way.