Lady A - What A Song Can Do
BMLG Records
****1/2
Here's my one-sentence review of Lady A's WHAT A SONG CAN DO: The album has really hit the sweet spot. It's not just the trio's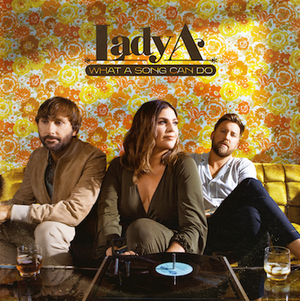 songwriting, or even their performance, on this 14-song set. It's that their collective sense of themselves is so secure, and joyful, that it resonates throughout this album. To me, that's such a good thing. Your mileage may vary, and that's fine. But hear me—and this CD—out. You don't have to change your mind, and you probably won't, especially if you're a die-hard trad country fan. This is music that is unashamedly for those who can still find solace in something as transitive and ephemeral as pop music. It is just plain joyous fun, as Lady A invite you to push the furniture to the walls and clear the floor so you can dance with abandon or sing along with these transporting tunes. The common denominator between every song is love, respect, friendship, empowerment and unity. Whether it's the up-tempo takes on Missing You and the potent Like A Lady, or the more subdued sounds of Working On This Love, they capture a spirit and sway that makes each entry as compelling as the next. This is the kind of music that makes you forget about how messed-up the world is and simply enjoy the moment.
Throughout Lady A exhibit their mastery of shimmery, enigmatic, dream pop-country that manages to enthrall without getting sticky goo all over the place. They seem to be in a place of contentment and, what's more, elation. That sentiment comes through clear enough on the title song, as they direct listeners to a simple yet powerful chorus. It sums up in a straightforward way just how important music is in our lives and is also a kind of thank you to their fans. Packed with excellent songs, Dave Haywood, Charles Kelley and Hillary Scott had a hand either collectively or individually in co-writing all bar one of them, collaborating with such co-writers as Natalie Hemby, Thomas Rhett, Ryan Hurd, Laura Veltz and Britain's own Amy Wadge. Whether it's their spot-on harmonies on Fire, the lilting admission of Worship What I Hate, an eagerly engaging tune such as Talk Of This Town, or the cool caress of Where Would I Be, there's little need to confine the music to any particular point of reference or origination.
In a world of negativity, Things He Handed Down reminds us of the type of person we should all aspire to be. A gentle, laidback ode to devotion to a much-loved father, Charles gives the song a sincere treatment as it relates the story of recognising all that your dad had done for you growing up and the advice and wisdom that he passed on. The trio are joined by Thomas Rhett, Darius Rucker and Carly Pearce for the twangy Friends Don't Let Friends, in which the lyrics remind us to hang on to the ones who'll stand by us no matter what. It suggests time spent with someone who's sincere and kind, not glib or calculating is well worthwhile. We could all use such a friend. True to the band's style, Be That For You is a happy, joyful number, a top down in the summertime type of song, that perfectly suits the trio's exuberant approach.
October 2021